New Holland TS6.130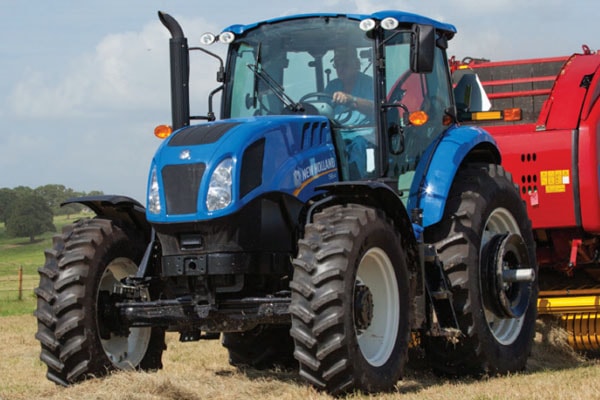 Double tap to zoom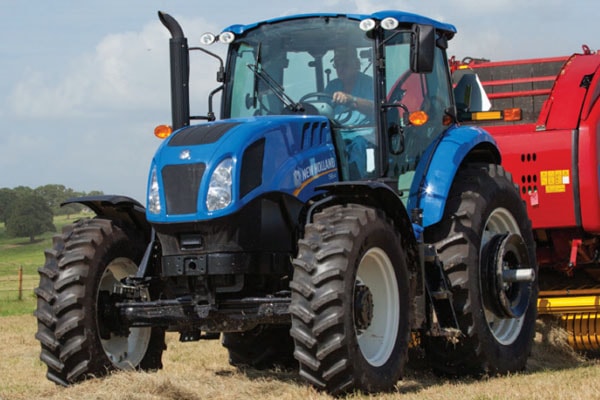 Features
ANYTHING BUT BASIC
TS6 tractors are Standard tractors are rugged, comfortable and flexible. The fact they are affordable is an added bonus.
MORE POWER AND TORQUE
Tier 4B engines provide more horsepower and torque than previous models while reducing emissions and fuel use.
REWARD YOURSELF WITH COMFORT
Both the VisionsView™ cab and open, flat-deck platform give you plenty of room and operating ease.
HIGH-CLEARANCE MODEL AVAILABLE
The TS6.120 High-Clearance tractor nimbly maneuvers down rows of vegetable and specialty crops.
ENGINE
A HUGE LEAP IN PERFORMANCE AND EFFICIENCY
TS6 Series engines are Tier 4B emissions certified, and deliver power and performance without compromise. The common rail fuel injection system provides precise metering of fuel injection which reduces engine noise, has better fuel combustion, higher horsepower per cylinder, lower emissions and enhanced fuel economy.
MORE POWER AND TORQUE THAN PREVIOUS TS6 MODELS
TS6 four-cylinder engines use the latest New Holland engine technology to maximize the power delivered per cylinder, resulting in performance that's significantly better than the Tier 3 engine used on previous TS6 models. With four valves per cylinder, and the electronically controlled common rail fuel system, these engines generate more torque, more quickly and hold it longer for better lugging ability. You get better throttle response and a noticeable increase in loaded engine performance in difficult crop or soil conditions.
ECOBLUE™ HI-ESCR TECHNOLOGY—ONE SIMPLE SOLUTION
New Holland's ECOBlue HI-eSCR after-treatment system is a simple solution that not only reduces emissions, but also improves fuel efficiency so you complete more work with less fuel.
CLEANER AIR WITH DUST EJECTOR
The engine gets cleaner air thanks to a new radiator fan shroud that creates a vacuum that pulls debris from the air filter.
ADDED VENTILATION
Slanted rear-side louvers provide additional ventilation for the Diesel Oxidation Catalyst (DOC).
TRANSMISSION
PROVEN CHOICES TO MATCH YOUR NEEDS
TS6 Series tractors offer a selection of reliable transmissions, including a choice of a 19-mph or 25-mph road speed (4WD only) and choice of mechanical or power (forward/reverse) shuttle.
POWER SHUTTLE
The easy-to-use, left-hand power shuttle provides fast, smooth direction changes and is ideal for loader work.
25-MPH (40-KPH) ROAD SPEED
Choose the faster 25-mph road speed (4WD only) for faster field-to-field travel and to shorten long transport trips.
10:1 CREEPER
For slow speed applications, an optional 10:1 Creeper is available on all transmission to provide speeds as slow as 0.136 mph. You engage it electro-hydraulically using a switch on the Command Arc™ console.
Specifications
| | |
| --- | --- |
| Model | TS6.130 |
| Engine |   |
| Engine type | 4 cylinder, 16 valve, high pressure common rail, air-to-air intercooled turbo diesel |
| Engine Make / Model | Fiat Powertrain Industrial / FPT NEF |
| Engine Displacement [cu in (L)] | 274 (4.5) |
| Rated Engine Horsepower @ 2200 RPM | 130 |
| Rated PTO Horsepower | 105 |
| Emissions Certification | Tier 4B/Final |
| Fuel Tank Capacity gal. (l) | 57.5 (217.6) |
| DEF (AdBlue®) Tank Capacity gal. (l) | 7.9 (30) |
| Electrical System |   |
| Alternator amps | 120 |
| Battery | 12 volt w/950 CCA |
| Transmission |   |
| Base Transmission | 8x8 synchronized hydraulic shuttle w/left hand shuttle |
| Optional Transmission | 8x8 synchronized mechanical shuttle w/left hand shuttle |
| Premium Transmission | 16x8 dual power synchronized hydraulic shuttle with left hand shuttle |
| Creeper Option | 10:1 gear ratio |
| Rear PTO & 3-Point Hitch |   |
| PTO (rpm) | 540/1000 |
| 3-Point Hitch | Category II w/flex link ends |
| Base 3-Point Hitch ASAE Lift Capacity [lbs (kg)] | 3735 (1693) |
| Option 3-pt. ASAE Lift Capacity [lbs (kg)] | 5499 (2499 |
| Option 2 3-pt. ASAE Lift Capacity [lbs (kg)] | 7326 (3323) |
| Hydraulic System |   |
| System Type | Fixed displacement pumps (steering, implement, aux) with combining/diverter valve |
| Hydraulic Implement Pump Flow [gpm (l/m)] | 13 (49) |
| Optional Auxiliary Hydraulic Pump [gpm (l/m)] | 9 (34) |
| Rear hydraulic remote valves* | Deluxe closed center with flow control and quick connect couplers |
| Axles |   |
| Front 4WD adjustable tread width in. (mm) | 61.4 (1,560) to 88.8 (2256) |
| Front std. 2WD adjustable tread width in. (mm) | 56 (1432) to 80 (2028) |
| Front HD 2WD adjustable tread width in. (mm) | 60 (1524) to 84 (2134) |
| Rear flange axle adjustable tread width in. (mm) | 64 (1620) to 80 (2028) |
| Rear bar axle adjustable tread width in. (mm) | 60 (1524) to 80 (2028) |
| Rear axle type | - |
| Front 4WD adjustable tread width in. (mm) | - |
| Rear 4WD adjustable tread width in. (mm) | - |
| Ground clearance** (lowest part of front axle) in. (mm) | - |
| Weight |   |
| Weight (shipping, 4WD, cab, flange axle) lbs. (kg) | 11,200 (5080) |
| Weight (shipping, 4WD, cab, bar axle) lbs. (kg) | 12,192 (5530) |
| Weight (shipping, 2WD, cab) lbs. (kg) | 9,921 (4500 |
| Weight (shipping, 4WD, ROPS, flange axle) lbs. (kg) | 10,362 (4700) |
| Weight (shipping, 4WD, ROPS, bar axle) lbs. (kg) | 11,002 (4990) |
| Max. tractor weight (G.V.W.), Cab, 4WD lbs. (kg) | 18,298 (8300) |
| Dimensions** |   |
| Wheel base 4WD (Std. Duty Class 3) in. (mm) | - |
| Wheel base 4WD (HD Class 3) in. (mm) | 103.9 (2640) |
| Wheel base 2WD standard duty (6 bolt hub) in. (mm) | 100.4 (2550) |
| Wheel base 2WD heavy duty (8 bolt hub) in. (mm) | 95.8 (2432) |
| Overall length 4WD w/ front weights in. (mm) | 184.7 (4690) |
| Overall length 2WD w/ front weights in. (mm) | 184.5 (4687) |
| Height to top of cab in. (mm) | 110.2 (2800) |
| Height to top of ROPS in. (mm) | 117.3 (2980) |
| Height to top of exhaust in. (mm) | 109.8 (2790) |
| Available Offering Configurations |   |
| Available Offering Configurations | 2WD, 4WD, Cab or ROPS, in Value and Plus packages, High-Clearance (TS6.120 only) |