New Holland TK4.80V ROPS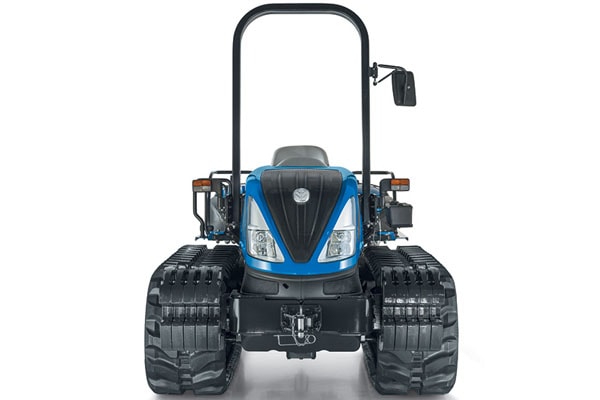 Double tap to zoom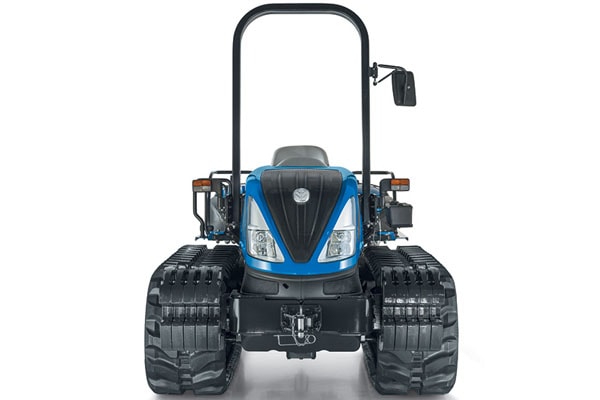 Features
MORE THAN 85 YEARS OF EXPERIENCE
The result of more than 85 years of manufacturing experience in the crawler sector, the new TK4 series tractors.
AT HOME WITH APPLES, CHERRIES, GRAPES AND NUTS
Built for stability and traction, the all-terrain TK4 tractors are perfectly designed to climb the hills and mountains of fruit orchards, vineyards and nut groves.
A MODEL FOR YOU
With four models from 65 to 86 PTO horsepower – two Specialty ROPS models and two Open Field machines with ROPS or heated and air-conditioned cab – you are sure to find the ideal machine for your needs.
INCREASED FRONT AXLE CAPACITY
The new TK4 track crawler machines can easily work with even bigger and heavier front implements thanks to the heavier, stronger front axle casting that permits the application of up to 1,100 lbs (500kg) of front ballast (TK4.100M only).
ENGINE
TOP LEVEL PERFORMANCE AND EFFICIENCY
New 74- and 98-horsepower FPT Industrial engines provide exceptional performance. They deliver maximum power continuously from 1,900 to 2,200 rpm to maintain the power and torque New Holland crawler tractors are known for. You get even greater fuel efficiency and more economical operation thanks to the new electronic engine management system.
NEW EXHAUST AFTER-TREATMENT SYSTEM
To meet the stringent Tier 4A emissions regulations, the TK4 Series engines use a Cooled Exhaust Gas Recirculation (CEGR) system and a Diesel Particulate Filter (DPF), strategically housed in the new front axle casting.
EASY-ACCESS AND QUICK STARTS ON COLD MORNINGS
A convenient flip-up hood allows for easy engine servicing and a grid heater is standard equipment for easy cold starting.
TRANSMISSION
GET YOUR WORK DONE WITH EASE
TK4 crawler tractors let you take control of your workday with the practical speed selection and low-effort shuttling of the 8x8 constant mesh transmission.
ALL THE RIGHT SPEEDS
The 8x8 transmission provides speed selection ranges from 1.1 to 7.5 mph, and includes six gears in the important 1- to 4-mph operating range, plus two higher gear speeds for light work or transport. The 16x8 creeper transmission provides a slow .03-mph speed for low-speed operations.
EXCLUSIVE STEERING-O-MATIC™
The exclusive, single-lever Steering-O-Matic™ system replaces a steering wheel for more legroom and allows you to make sharp turns with only one hand, freeing your right hand for implement control. Steering brakes are not needed and the durable wet clutch steering system design is the most advanced in its class.
OPTIONAL STEERING-O-MATIC PLUS SYSTEM
The patented optional Steering-O-Matic™ Plus system with Full Drive™ gives you one-hand control of steering and the drive system. The one lever incorporates six functions – clutch, neutral, left turn, right turn, left brake, right brake – and is servo assisted to reduce effort. Just push the multi-function lever forward to drive, and left or right for lateral movement. The Full Drive system allows you to brake the track for tighter turns. This quick, accurate steering is ideal for work in high-value crops.
Specifications
| | |
| --- | --- |
| Specifications |  TK4.80V ROPS |
| Engine | 74 gross engine hp / 65 PTO hp |
| Tracks | Steel |
| Track width | 35.4 in. (900 mm) |
| Overall width | 46 in. (1170 mm) |