New Holland SP410F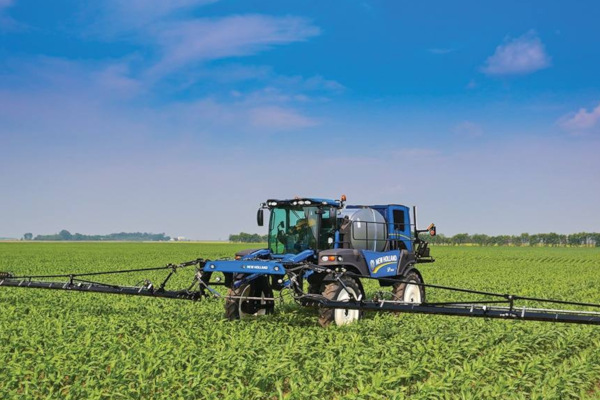 Double tap to zoom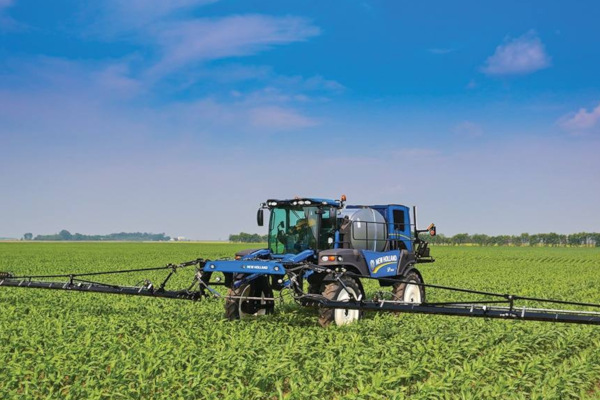 Features
Guardian™ SP370F and SP410F front boom sprayers allow you to cover ground faster to maximize acres sprayed per hour. They offer
the highest horsepower, large tank sizes and the smoothest ride for the most efficient spraying. It's easy to understand how Guardian
front boom sprayers help you achieve a new level of spraying freedom and productivity.
Up to 410 horsepower with power bulge
Guardian large-frame sprayers are powered by 328- and 382-horsepower engines from FPT Industrial that deliver up to 410
horsepower with power bulge. These engines provide increased torque with improved fuel efficiency to reduce your operating costs.
More efficient product flow
Plumbing changes have increased product flow capacity for maximum efficiency. Hypro product pumps provide more efficient product
flow and exceptional performance. Choose from either a 210 or 300-gpm capacity. The 300-gpm pump features ForceSeal technology
that provides for longer dry run time protection.
Smooth speed changes and traction control
You'll experience smooth hydro handle operation and smooth speed changes thanks to an improved hydrostatic drive system that
delivers smooth changes to the planetary wheel drive motors. A traction control switch gives you added control in poor conditions.
Two-wheel or four-wheel steer
Choose a Guardian™ SP370F or SP410F with two-wheel steering or the added maneuverability of the four-wheel steer option. With
the four-wheel-steer option engaged, the rear wheels follow the front wheels for less crop damage and a reduced 15-foot turning radius – the same small turn radius achieved with the two-wheelsteer chassis. When the four-wheel-steer chassis is in two-wheel steer mode, it turns at 21 feet.
Comfort zone
The state-of-the-art Guardian™ cab offers roomy comfort, extreme quiet and clear convenient controls that make long days feel shorter. Your view from the cab is unmatched for operating ease and confidence that is refreshing.
More than 6 feet of clearance for late-season work
A clearance up to 76 inches (193 cm) allows you to work late in the growing season. For truck transport, the two-position suspension allows you to easily lower overall height to 153 inches (12.75 ft.) from the operator's seat.
Specifications
| | |
| --- | --- |
| Model | SP410F  |
| Specifications |   |
| Engine | FPT Cursor 9 / 8.7 L / Tier 4B |
| Rated Power | 382 (284) |
| Power Bulge | 412 (307) |
| Fuel Tank Capacity | 150 (568) |
| DEF Tank Capacity | 24 (91) |
| Transmission | Hydrostatic drive with electronic controlled Danfoss H1 series heavy-duty twin 147 cc pumps |
| Speed Range | 4 User set speed ranges: 0 - 32 (0 - 51) |
| Crop Clearance | 74 (187.96) or 76 (193.04) |
| Tank Material | Stainless Steel |
| Tank Capacity | 1200 (4542) / 1400 (5300) / 1600 (6056) |
| Rinse System | Standard electric controls or optional Auto Rinse 150 gal. (568 L) poly tank with 2 in. (5.08 cm) fill connection |
| Mono Boom Width (ft) | 90/60, 100/60, 120/70 |
| Truss Boom Width (ft) | 120/73, 132/73, 135/73 |
| Spray-Air Boom Width (ft) | - |
| Nozzle Bodies | 3 way, 5 way, 3+1, IntelliSpray |
| Shipping Height (cm) | 154 (391) |
| Shipping Width (Mono) | 145 (368) |