New Holland DuraSwath™ 430 HB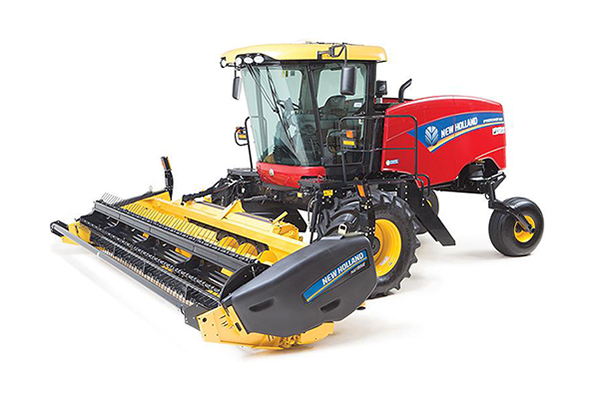 Double tap to zoom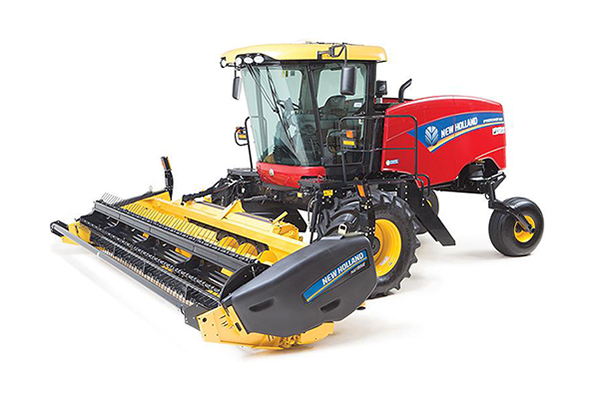 Features
HIGH-CAPACITY DURASWATH™ DRAPER HEADS
For high-capacity swathing of small grains, canola, forage and specialty crops, choose DuraSwath™ draper heads from New Holland. Available in 25, 30, 36 and 40-foot widths, DuraSwath headers cut big acreage down to size.
REEL ANGLE
The reel arms on each side of the header operate the reel at a steeper attack angle to reach crop in front of the knives for improved crop feeding, especially in lodged and down crops. You can adjust the reel attack angle as needed on the fly while swathing. All DuraSwath heads come with hydraulic reel fore/aft and vertical adjustment.
40-FOOT WIDTH
Choose the 40-foot DuraSwath™ 440HB head for the highest cutting capacity. This head is compatible with the six-cylinder Speedrower windrowers. The DuraSwath 440HB head cuts large acreages down to size and features a double knife drive, split reel and double reel drive and a center-delivery swath opening. A four-wheel transport integral option is available; all hitch components store right on the head, making it easy to go from field to transport.
STRONGER FRAME
The 6"x10" angled tube frame and low-profile end struts provide increased frame strength while also providing excellent visibility to the cutterbar so operators have better line of sight to the cutterbar while swathing.
IMPROVED REEL AND REEL DRIVE
The chain-driven reel provides faster reel speeds, increased reel speed range, and more power. This system also eliminates any overhang of the reel drive motor past the crop deflector to reduce crop run-down. The reel drive coupler now features a heavy spiral spring pin to provide increased shear protection, as well as a collar that positively retains the pin. Support collars on both sides of the outer reel bat spiders on each end of the header provide a robust connection of the bat support arms to the center tube on all UII reels.

• The collars bolt directly to the tube and to the bat support arms
• The collars surround the tube and are tightly clamped to the tube
• The cam-timing arm's connection to the reel bats incorporates cast knuckles that fully wrap around the bats to greatly improve durability.

All of these improvements are designed to provide trouble-free performance for the life of the header.
IMPROVED FINGER TINES
HCC reel features new, heavy-duty long plastic tines that enhance pickup of downed crop while increasing tine durability.
MORE ROBUST CUTTERBAR AND KNIFE DRIVES
An upgraded, low-profile cutterbar allows on-the-ground cutting—from 3/4 to 1-5/8 inches—while still maintaining a guard angle of two to eight degrees. The robust New Holland cutterbar system works well in all crops, and especially well in muddy, down and green crops. The Schumacher cutterbar system provides excellent cutting in all crops. The knife drive motor is both efficient and reliable to handle the torque resulting from tough conditions. Double heat-treated knife hold-downs have been improved to offer increased durability and easier service adjustment. Long-life, six-inch-wide, poly skid shoes reduce wear on header components in on-ground cutting applications. This design provides more reliable retention to the header, and less expensive repairs since you can replace six-inch sections rather than sections that are several feet long.
DRAPER BELTS PULLED, NOT PUSHED
Thick, durable, center-driven Raptor™ draper belts are pulled—not pushed—for improved feeding efficiency. Wider support ribs under the draper belts ensure the belts do not sag under heavy crop loads. This improvement combined with a continuous barrier seal at the front lip of the belts, and mating draper belt guards ensure crop easily transitions from the cutterbar to the draper belts without entering the belt roller area.
FLATTER TABLE AND BELT ANGLE
A flatter draper belt angle provides better feeding and improved visibility. There is ample crop capacity on the tables without the need for a cross auger in all but the heaviest crops. Cross augers are available for the 30, 36, and 40-foot models. The center deck opening adjusts from 56 to 72 inches, with an 80-inch opening possible when back panel extensions are removed. The continuous draper seal and segmented slide blocks keep deck slides free from material build-up.
GAUGE WHEEL OPTION
Fully castering gauge wheels with coil spring-over-shock absorbers provide three to eight inches of shock travel for superior ground following and flotation. A simple adjustment linkage provides a mechanical advantage reducing the effort needed for an easy one-person adjustment. The additional pair of transport wheels from the four-wheel transporter (available with a 40' header) can be placed directly next to the castering gauge wheels for tandem gauge wheel support on these large headers.
CROP DIVIDERS AND ROTARY SHEAR READY OPTION
Improved, narrower crop dividers reduce crop rundown and feature tool-free attachment and removal so you can remove them quickly for transport. The standard pipe dividers are best suited for taller crops while the optional floating tip dividers help with on-the-ground cutting. The rotary shear-ready option configures the DuraSwath to be ready for easy installation of cutting shears mounted on the crop dividers. The shears run directly off the knife circuit and help the head cut through downed, tangled, and difficult green crops.
Specifications
| | |
| --- | --- |
| DuraSwath™ 430 HB |   |
| Header drive |   |
| Cutting width ft. in. (m) | 30 (9.1) |
| Overall width ft. in. (m) | - |
| Approximate weight lbs. (kg) | 5631 (2554) includes reel |
| Versions available: Single-knife drive, single swath, single reel | X |
| Versions available: Single-knife drive, double swath, single reel | X |
| Versions available: Double-knife drive, single swath, single reel | X |
| Versions available: Double-knife drive, single swath, split reel | - |
| Versions available: Double-knife drive, double swath, single reel | X |
| Versions available: Double-knife drive, double swath, split reel | - |
| Windrow/swath width in. (mm) | 56 - 72 (1420 - 1830) center delivery windrow width |
|   | 54 - 65 (1370 - 1650) double swath end windrow width |
| Cutterbar |   |
| Cutterbar type | SCH ProDrive system; hydraulically-driven, planetary-reduction sickle drive, NH cutting system w/Standard or Stub Guards, or Schumacher (EasyCut) |
| Knives | - |
| Knife speed | 1400SPM |
| Sickle stroke in. (mm) | 3.35 (85) |
| Flotation | - |
| Cutting angle and height, degrees, in (m) | 0.75 (19) @ 8 degrees tilt |
| Header ground clearance - bottom of skid shoes in. (mm) | 47 (1200) w/tilt cyl. fully retracted; 43 (1100) w/tilt cyl. fully extended |
| Reel |   |
| Reel Choices (SF = steel fingers, PF = plastic fingers) | UII, 6-bat, w/SF or PF; HCC, 6-bat, flipover, w/PF |
| Speed range rpm | 10 - 75 |
| Drive | Single reels equipped with single, hydraulic-driven, chain-and-sprocket reduction drive w/15.9ci (260cc) motor; |
| Raptor Draper Belts |   |
| Belt width and construction | 42 in. (1.07 m) rubberized polyester belt with fiberglass reinforcement, tie bar end connection |
| Belt/roller guide design | V-guide on upper end of inner side of belt with V-groove in rollers |
| Roller design | Rubber vulcanized steel drive roller, steel idler roller |
| Speed range ft. (m) | 0 - 760 (0-232)/minute |
| Cleat design and height in. (mm) | 1/2" (13) high cleat, w/embedded fiberglass reinforcement |
| Chaff barrier seal design | Continuous, 1/2" height, rubber, inverted 'V' barrier on front edge of outside of belt, w/minimal clearance to draper guard |
| Belt angle degrees (@minimum cutterbar tilt) | 15 @ 2 degrees tilt |
| Auger |   |
| Type | - |
| Maximum diameter in. (mm) | - |
| Flighting depth in. (mm) | - |
| Conditioner (Rolls) |   |
| Type | - |
| Length in. (m) | - |
| Roll speed rpm | - |
| Roll pressure | - |
| Roll gap | - |
| Conditioner (Flails) |   |
| Length in. (m) | - |
| Speed rpm | - |
| Hood position | - |