New Holland FP240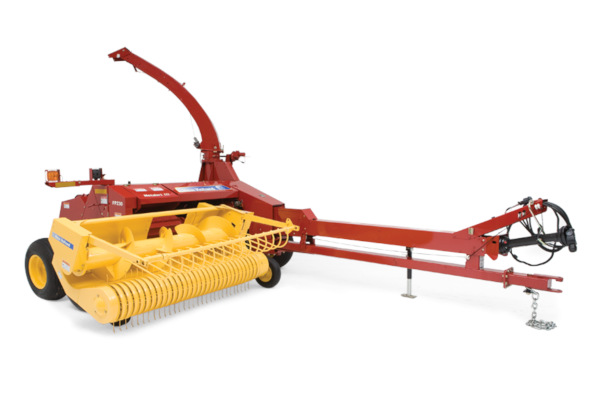 Double tap to zoom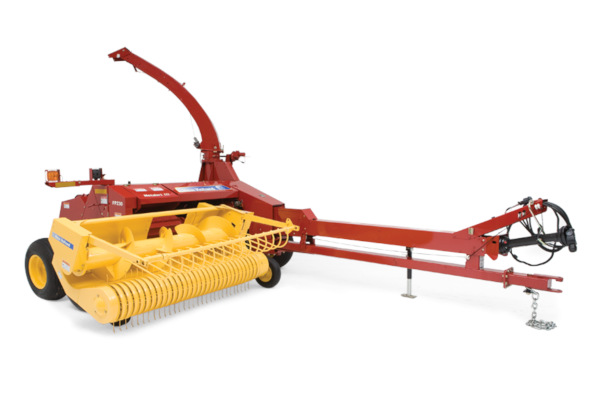 Features
CROP FLOW
UNIFORM CUT LENGTH IS KEY
No A uniform length of cut not only yields high-quality feed, it makes everything easier—unloading, blowing, storing and feeding. The key to a consistent chop is smooth crop flow through the forage harvester. It's a process New Holland has perfected. And it's what makes these forage harvesters so effective.
SMOOTH, POWER-DRIVEN FEEDROLLS
Top chop quality starts with four power-driven feedrolls that deliver material smoothly to the cutterhead. The front feedrolls are aggressive to handle heavy materials and pull in slugs. The smaller, rear feedrolls grip the crop tightly to ensure an even, precise cut. Spring-loaded upper feedrolls keep material compressed.
UNIFORM CHOPPING WITH 12-KNIFE CUTTERHEAD
The heart of these forage harvesters is the massive 12-knife cutterhead that's built to move more crop and chop it uniformly using full-width, spiral, hardened-alloy knives with tungsten edges. There's no better cutterhead on the market, and none that's easier to sharpen.
MORE CUT LENGTH CHOICES
You'll get the widest selection of cut lengths to meet your exact feeding requirements. Vary length of cut by changing feedroll speed, adding or removing knives or by using one of six optional recutter screens for nonprocessor machines.
NO SLOWDOWN AT THE BLOWER
Smooth crop flow continues at the blower. A 1000-rpm blower on the FP230 and FP240 moves crop fast for increased productivity.
SHARPENING AND ADJUSTMENT
FEATURES TO KEEP YOU CHOPPING AT PEAK EFFICIENCY
Chop quality is the hallmark of New Holland forage harvesters due to the built-in features that help to maintain them. Knife sharpening and shearbar adjustment are a snap. And the cutterhead reverses to ensure a true cutting edge on all knives.
FLIP-UP FEEDROLLS FOR EASY CLEANING
A New Holland exclusive, flip-up feedrolls allow you to routinely clean and inspect the shearbar and smooth roll scraper without taking them out of the machine. The upper feedroll lifts up without removing the crophead.
BUILT-IN KNIFE SHARPENERS
A built-in knife sharpener in these forage harvesters features a huge, 3-inch-diameter, ratchet-advanced stone for faster-than-ever sharpening.
EASY MAINTENANCE, LONG WEAR
Lightweight, hinged shielding panels lift easily, making lubrication, adjustment and inspection nearly effortless. And the shearbar is hardened on both the top and side for even wear and extra-long life. It's also reversible, so when one side wears down, just turn it around.
Specifications
| | |
| --- | --- |
| FP240 |   |
| Optional CropPro™ Crop Processor |   |
| Optional CropPro™ Crop Processor | Optional |
| Construction | Hardened ductile iron, steel shaft |
| Weight, lbs. (kg) | 520 lbs (231kg) |
| Roll width, in. (mm) | 26-7/8" (682.6 mm) |
| Roll diameter, in. (mm) | 7-7/8" (200 mm) |
| Roll gap, in. (mm) | 3/16" to 5/8" (4.8 to 15.9 mm) |
| Roll speed | 2650 rpm upper, 2250 rpm lower |
| Specifications |   |
| Weight (single axle), lbs. (kg) | 4700 (2130) |
| Length, ft. in. (m) | 21' 6" (6.5 m) |
| Height with standard spout, ft. in. (m) | 11' 2" (3.4 m) |
| Width, ft. in. (m) | 10' 8" (3.3 m) |
| Number/type of knives | 12 single-edge hardened alloy |
| Cutterhead, type/speed | Cylinder, 850 rpm |
| Cutterhead, diameter, in. (mm) | 21" (533.4 mm) |
| Throat opening, in. (mm) | 22" x 6-5/8" (558.8 mm x 167.7 mm) |
| Shearbar | Quick adjust, reversible, hard-faced on vertical and horizontal surfaces |
| Length of cut, in. (mm) | 3/16" to 7/16" (76.2 to 177.8 mm) |
| Blower speed | 1000 rpm |
| Recommended max. tractor hp | 300 hp |
| Minimum power required | 180 PTO hp |
| Knife sharpener | 3" manual, built-in |
| Recutter screens (non processor units) | 6 sizes available |
| Vertical wheel adjustment, in. (mm) | 6" (152 mm) |
| Tire sizes, single axle | 14Lx16.1 8PR standard |
| Tire sizes, tandem axle | 11Lx15-156PR |