New Holland U80C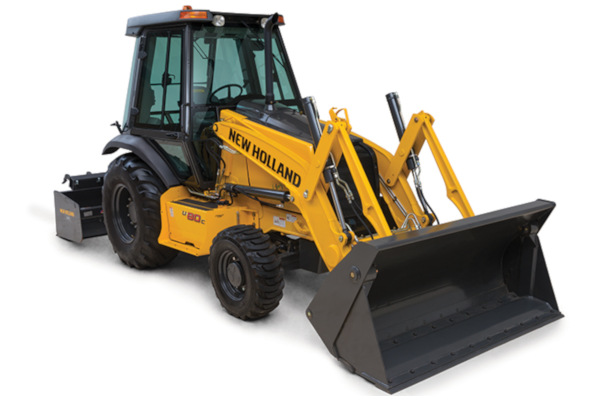 Double tap to zoom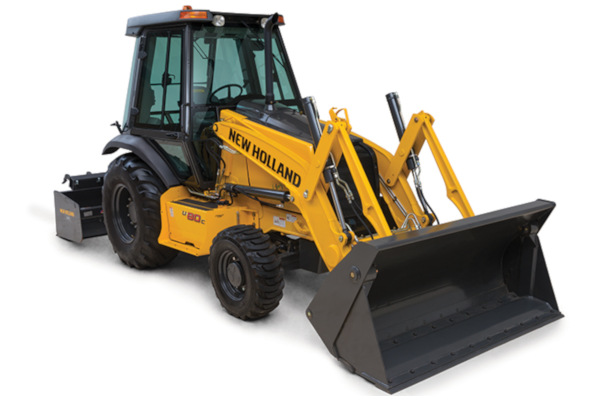 Features
CLASS-LEADING POWER AT BUCKET AND HITCH
The U80C tractor loader from New Holland delivers 74 gross horsepower of clean power with its Tier 4 Final certified engine. You get responsive power at both bucket and hitch, so the U80C pays its way by loading, stacking, scraping and leveling. Add the Glide Ride option, and the boom cylinders become the equivalent of giant shock absorbers to stabilize the load while traveling.
Place loads precisely
The curved-arm loader linkage provided on the U80C tractor loader provides hydraulic bucket leveling for less spillback, as well as excellent reach at maximum dump height for truck loading. The unique reverse-mounted loader arm cylinders give you maximum bucket breakout force and superior dump speed on the bucket.
Superior scraping and leveling performance
Rugged Class II three-point hitch with controllable down pressure provides excellent scraping and leveling performance.
Smooth direction changes
The synchromesh transmission with power shuttle gives you smooth control and easy forward-reverse shuttling.
Operating comfort
The large, efficient, flat-deck operator platform provides easy-to-use controls and unobstructed views for outstanding visibility.
Specifications
Engine
---
| | |
| --- | --- |
| Model | F5HFL463D*F005 |
| Bore x stroke, in (mm) | 3.9 x 4.33 (99 x 110) |
| Displacement, in³ (L) | 207 (3.4) |
| Horsepower (SAE J1349) Gross @ 2,200 rpm, (kW) | 74 (55) |
| Horsepower (SAE J1349)Net @ 2,200 rpm, (kW) | 68.4 (51) |
| Gross, lb-ft (Nm) | 233 (316) |
| Net, lb-ft (Nm) | 219 (298) |
Power Train
---
| | |
| --- | --- |
| Differential-lock | On the go push-button activation |
| Travel speeds, mph (km/h) | 1st |
| Forward | 3.8 (6.1) |
| Travel speeds, mph (km/h) | 2nd |
| Forward | 6.1 (9.8) |
| Travel speeds, mph (km/h) | 3rd |
| Forward | 12.8 (20.6) |
| Travel speeds, mph (km/h) | 4th |
| Forward | 24.0 (38.6)  |

Dimensions
---
Long Lip Bucket - 4 IN 1® Bucket
Height to:
19.5 L x 24 Tires - 17.5 L x 24 Tires
Top of canopy, ft/in (m)
8' 12" (2.73) - 8' 9" (2.67)
Top of cab, ft/in (m)
8' 12" (2.74) - 8' 10" (2.68)
Bucket hinge pin fully raised, ft/in (m)
11' 2" (3.41)
Bucket hinge pin @ SAE carry, ft/in (m)
1' 1" (0.33) - 1' 3" (0.37)
Overall length w/ 3-point hitch, ft/in (m)
16' 11" (5.15) - 16' 8" (5.09)
Width over tires:
6' 10" (2.07)
Dump angle @ full height
46° - 45°

Dump clearance @ full height, 45° dump:


Bucket, ft/in (m)
9' 8" (2.93) - 8' 11" (2.71)
Clam open, ft/in (m)
NA – 8' 8" (2.63)

Dump reach @ full height, 45° dump:


Bucket, ft/in (m)
2' 2" (0.66) - 2' 2" (0.66)
Clam open, in (m)
NA - 11.8 (0.29)
Ground clearance at front axle, in (m)
10.9 (0.28)
Wheelbase 4WD, ft/in (m) Wheelbase 2WD, ft/in (m)
7' 1" (2.15) 7'0" (2.14) - 7' 1" (2.15) 7'0" (2.14)
Reach from front axle centerline – bucket on ground, ft/in (m)
6' 3' (1.89) - 5' 12" (1.83)
Maximum clam opening, ft/in (m)
NA - 3' 3" (0.97)
Moldboard height, ft/in (m)
NA - 3' 1" (0.93)
Lift capacity to full height, lb (kg)
6,503 (2950) - 6,537 (2965)
Breakout force, Lift cylinders, lb (N)
9,271 (41 239) - 8,766 (38 993)
Breakpout force, Dump cylinders, lb (N)
9,607 (42 734) - 10,325 (45 928)
Travel speeds, mph (km/h)
1st - 2nd
Forward
3.8 (6.1) - 6.1 (9.8)
Travel speeds, mph (km/h)
3rd - 4th
Forward
13 (21) - 24.3 (39.1)