New Holland Workmaster™ 70 4WD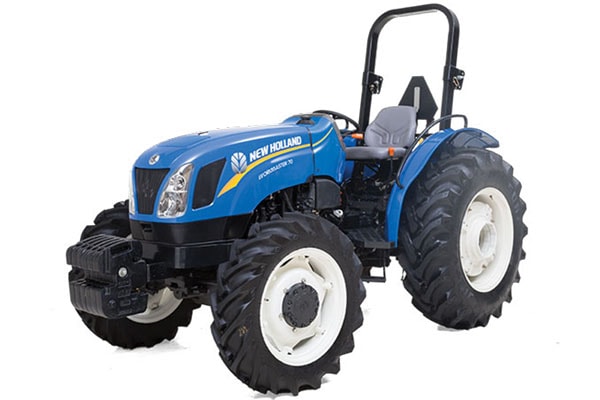 Double tap to zoom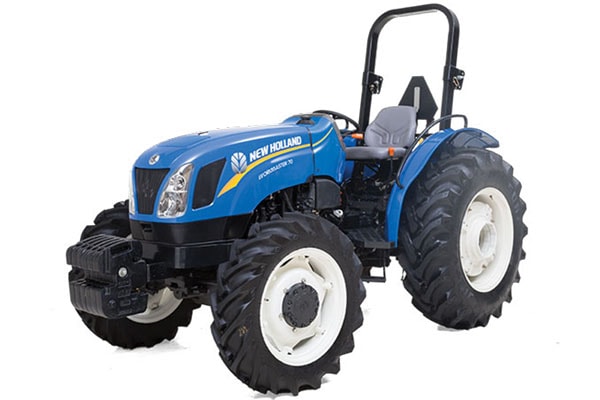 Features
TOUGH AND RELIABLE
Rugged construction and simple drivelines help make WORKMASTER tractors the dependable, economical choice.
CLEAN AND FUEL-EFFICIENT
Turbocharged, direct injected, common rail engines save fuel and meet strict Tier 4B Final emissions requirements with a system that's completely automatic.
2WD OR 4WD
For added grip and performance in slippery and challenging conditions, upgrade to the 4WD front axle with limited slip, front differential lock.
THREE HEAVY-DUTY MODELS
WORKMASTER models at 53, 60 and 70 horsepower serve as ideal mid-size tractors for municipalities, landscapers, grounds crews, farmers and ag lifestylers.
ENGINE
THE POWER BEHIND A JOB WELL DONE
Ample power and a durable design make routine chores and ambitious projects easy. Three WORKMASTER™ models let you choose between 53, 60 or 70 engine horsepower, that offer a quiet start-up and smooth, fuel-efficient operation. Tier IV emission compliant engines protect the environment and give you the flexibility to run on B7 biodiesel blends.
AUTOMATIC EMISSIONS SYSTEM
These engines meet strict Tier 4B emissions standards to boost air quality, and are approved to run on B7 biodiesel blends for fuel flexibility. The emissions system does not require extra fluids or operator intervention, so you can keep working for maximum productivity. This is the best tractor to reduce your carbon footprint—just what you'd expect from the Clean Energy Leader.
SMOOTH AND RESPONSIVE
The WORKMASTER 50, 60 and 70 feature a turbocharged engine. All models feature an indirect mechanical fuel injection for quick response and smooth operation while boosting fuel efficiency and reducing emissions. And timed glow plugs ensure an easy start on cold mornings.
TRANSMISSION
EXACTLY WHAT YOU NEED
You'll find the speeds you need to match any task in the new WORKMASTER™ tractors. Just like an automobile, gears are arranged in a simple pattern, and the WORKMASTER 50, 60 and 70 offer a convenient 8 x 8 synchronized shuttle that lets you easily flip from forward to reverse and back again. With operation this smooth, you'll cruise through chores and be ready to tackle your next big project.
MORE SPEEDS
Four synchronized gears in each of two non-synchronized ranges supply you with a total of eight forward and reverse gears between 1.76 and 19.1 MPH so you can match your speed to your application.
EASY MANEUVERS
After a long day of loader work, you'll understand why each WORKMASTER 50, 60 and 70 comes standard with a synchronized mechanical forward-reverse shuttle. Changing direction is fast and easy using the shuttle lever located under the left-hand side of the steering wheel, leaving your right hand free to operate a loader.
Specifications
| | |
| --- | --- |
| Model | Workmaster 70 4WD |
| Engine |   |
| Make | FPT - R753 |
| # Cylinders / Aspiration | 3, Turbocharged Intercooler |
| Displacement [cu.in (L)] | 136 (2.2) |
| Gross engine power [hp (kW)] | 70 |
| PTO horsepower [hp (kW)] | 62 |
| Rated speed (rpm) | 2600 |
| Fuel type | Direct Injection /Common Rail |
| Air Filter | 2 - stage |
| Standards | 4B final |
| Fuel tank capacity [gal (L)] | 17.2 (65) |
| Transmission |   |
| Traction clutch | Dry, 11" (279.4 mm) diameter, organic plate |
| 8x8 synchro shuttle | 8Fx8R with synchro mesh and epicyclical final drive |
| Standard Rear Tire | 14.9-28 (R1) |
| Optional Rear Tire | 18.4-24 (R4), FWD |
| Brakes |   |
| Service brakes | Individual mechanically actuated wet disc |
| Parking brake | Engage hard-lever, press brake pedals to lock service brakes |
| Rear Axle |   |
| Rear differential lock | Mechanical foot pedal engagement |
| Front Axle |   |
| Front differential lock | Limited slip, FWD |
| FWD clutch engagement | Mechanical, FWD |
| Hydraulics |   |
| System type | Open center, fixed displacement gear pump |
| Implement pump capacity [gpm (lpm)] | 12 (45) |
| Steering & services system [gpm (lpm)] | 5.5 (21) |
| Total maximum tractor flow [gpm (lpm)] | 17.5 (66) |
| Remote valves | Open center, float detent available for #1, 1 or 2 FIO or DIA |
| Rear 3-point hitch |   |
| Category | II/I |
| Position control, draft sensing | One lever, standard mechanical draft control |
| OECD lift capacity @ 24" behind ball ends [lbs (kg)] | 2,701 (1225) |
| PTO type |   |
| PTO type | Independent Mechanical Engagement |
| Rear PTO |   |
| Rear PTO | 540 RPM Standard / 540/540E Economy optional |
| Electrical |   |
| Alternator | 75 |
| Battery capacity (cold cranking amps) | 720 |
| Lighting | 2 halogen headlights, 2 halogen corning worklights, flashing safety lights/turn signals  |
| Accessory power outlets | Standard equipment, 7-pin implement outlet |
| General |   |
| ROPS | Foldable |
| Dimensions |   |
| Shipping length [in (mm)] | 134.0 (3404) |
| Shipping width [in (mm)] | 77.5 (1970) |
| Shipping height [in (mm)] | 97.6 (2479) |
| Shipping weight [lbs (kg)] | 5,059 (2995) |