New Holland T7.290 SideWinder II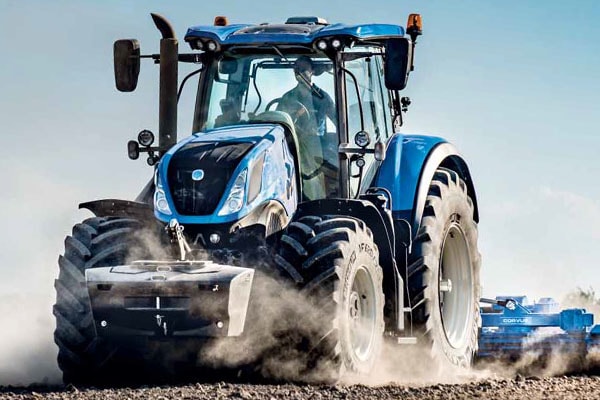 Double tap to zoom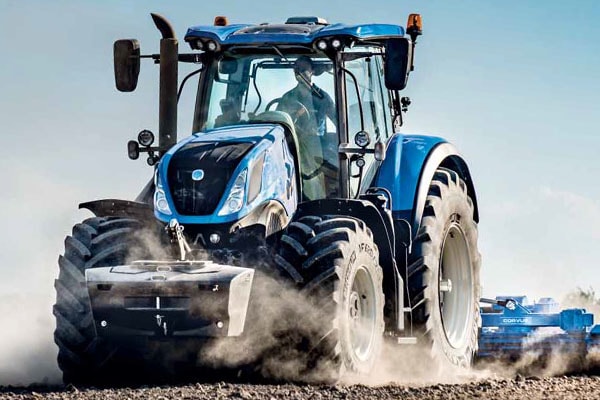 Features
CLEANER, MORE PRODUCTIVE POWER
T7 tractors boast New Holland's cutting-edge and award-winning ECOBlue™ HI-eSCR (High-Efficiency Selective Catalytic Reduction) engine technology for Tier 4B emissions compliance, with absolutely no change in operation.
EXCEPTIONAL VISIBILITY AND DRIVING EASE
New best in class lighting packages, upgraded seat options, Comfort Ride™ cab suspension and innovative easy-to-use controls improve operator comfort and productivity.
REDUCE YOUR OPERATING COST
The ECOBlue™ HI-eSCR technology further reduces engine emissions and also maintains the low fuel consumption that you've come to expect from New Holland.
EVEN MORE VERSATILITY
The nine-model T7 Series line-up provides a choice of engine power, hydraulic options and transmission choices for every application.
ENGINE
THE POWER AND EFFICIENCY YOU'VE COME TO EXPECT FROM NEW HOLLAND
T7 tractors boast New Holland's cutting-edge and award-winning ECOBlue™ HI-eSCR (High-Efficiency Selective Catalytic Reduction) engine technology, developed by New Holland's sister company FPT Industrial. These engines comply with the even-more-stringent Tier 4B emissions standards. These T7 engines continue to "breathe" better and maintain the performance advantages you've come to expect from the T7 Series line.
ECOBLUE™ HI-eSCR ENGINE TECHNOLOGY
This new system is an evolution of the existing ECOBlue™ SCR system, and you will benefit from the highest NOx conversion efficiency in the industry. This multi-patented system uses a new Engine Control Unit, which not only manages the engine, but also the HI-eSCR after-treatment system by controlling the supply and dosing modules. Using a dedicated closed-loop system, it continuously monitors the NOx levels in the exhaust gases, ensuring that during every cycle the precise amount of DEF is injected to achieve NOx conversion of over 95%, all while guaranteeing low fluid consumption.
CLEAN, HIGH-PERFORMANCE POWER
T7 engines continue to provide industry-leading power, torque, transient response and Engine Power Management. The ECOBlue™ HI-eSCR after-treatment system enables the engine to breath clean, fresh air, therefore optimizing it's combustion, power and torque density.
EFFICIENT OPERATION
ECOBlue™ HI-eSCR is an after-treatment system that does not interfere with or restrict the engine's performance, enabling it to maximize its efficiency and power. It does not require any exhaust gas to be recirculated through the engine and does not require regeneration of particulate filters. Total fluid consumption will be the same or better from equivalent Tier 4A machines, and this system allows New Holland to continue leading the industry with 600-hour service intervals.
PROVEN SIMPLICITY
ECOBlue™ HI-eSCR is a single system solution with less complexity. Since no exhaust gas is recirculated through the engine, no additional cooling requirements are needed, allowing the engine to operate at peak efficiency, while optimizing power and torque. The New Holland system uses proven technology with more than 35,000 machines working around the world, and requires no change in tractor operation.
ENGINE SPEED MANAGEMENT
In applications where a constant PTO speed is required, just select Engine Speed Management. This ensures the speed you select is accurately maintained even under changing loads. In many applications, this allows you to maintain a fixed forward speed in difficult terrain.
ENGINE POWER MANAGEMENT
Engine Power Management (EPM) is a renowned New Holland tractor feature. In short, the engine develops more power and torque according to the load on the transmission, hydraulics and PTO. Now T7 tractors also feature EPM when driving in reverse, ideal for snow blowing or mowing.
SAVE FUEL TO REDUCE YOUR CARBON FOOTPRINT
Emissions released from burning diesel are a significant contributor to a farm's overall carbon footprint. ECOBlue™ HI-eSCR technology for Tier 4B compliance reduces NOx emissions and maintains the T7 Series' impressive fuel efficiency, bringing about a substantial cut in your farm's carbon emissions.
TRANSMISSION
MEETING YOUR NEEDS
T7 Series tractors offer transmission choices for every application. Choose from the Auto Command™ (CVT), Power Command™ full powershift or the Range Command™ semi-powershift transmissions to make you work more efficiently.
AUTO COMMAND™ CVT
Designed and built by New Holland, the multi-award-winning Auto Command™ continuously variable transmission (CVT) has reached an important milestone, with more than 10,000 transmissions built. The Auto Command transmission benefits from four direct drive points with 100% mechanical efficiency. These points have been precision engineered to ensure they perfectly match the most frequently used speeds during heavy draft work, secondary cultivation, high-speed transport and high-speed field work, such as baling or mowing. Advanced, double-clutch control further enhances efficiency. Quite simply, it is the smoothest and most productive CVT around.
MAKING THE MOST OF AVAILABLE TORQUE
New Holland developed Auto Command transmissions to take advantage of the low running speed and high torque of New Holland engines. With the 31-mph Economy transmission, the engine runs at a fuel efficient 1550 rpm.
ACTIVE STOPSTART
A key safety feature of the Auto Command CVT transmission is Active StopStart. When the tractor comes to a standstill, the transmission prevents the tractor from moving backward or forward, even with a heavy load, so there's no risk of roll back on steep inclines. For safe parking, you can easily engage an electronic brake using the shuttle lever.
BALANCING FUEL ECONOMY AND PRODUCTIVITY
When working in Auto and Cruise modes, use the droop control button located to your right to reduce the engine speed needed to achieve maximum travel speed. The result: you reach 31 mph at much lower engine revolutions, saving you fuel. In PTO mode, you can regulate the acceptable reduction in PTO speed before forward speed is reduced. Perfect when operating in a field of uneven soil types with areas of compaction.
PUSH-BUTTON SIMPLICITY. YEARS OF PROVEN TECHNOLOGY
The Power Command™ transmission is a full-powershift that allows you to select the gear speed you want by simply pushing upshift or downshift buttons. An optional shuttle-controlled electronic park brake enables you to use the shuttle lever to secure the tractor when neutral is selected. Only New Holland offers such a simple and secure transmission choice.
A SPEED FOR EVERY NEED
The Auto Command transmission allows you to set a target speed between 0.01 mph right through to 31 mph. No steps. No range changes. Just seamless speeds to match your every need.
FULL POWERSHIFT FROM T7.175 TO T7.260
You can choose a standard 25-mph 18x6 or one of two optional, extra-high-ratio 19x6 transmissions—the Economy 19x6 that delivers 25 mph at a reduced engine speed or the Fast Mover transmission for 31-mph transport speed.
SMOOTHER SHIFTING IN FIELD AND TRANSPORT
The IntelliShift™ gear change management system delivers smooth gear changes all day long. It analyzes transmission load, speed and transmission oil temperature ensuring that your T7 Series tractor delivers a seamless powershift between each and every ratio.
EASY SHUTTLE
Operating the clutchless forward/reverse shuttle is easy. A fingertip shuttle lever is located to the left of the steering column. You can also control shuttling with the CommandGrip™ controller on T7 tractors equipped with the SideWinder™ II armrest, and program the transmission to automatically manage transmission shifts during a direction change. A shuttle-controlled electronic park brake is standard on T7 tractors with the Auto Command CVT transmission and an option on other T7 tractors. It allows you to use the shuttle lever to secure the tractor when neutral is selected.
WORK TOGETHER: AUTOMATION, COMFORT AND PRODUCTIVITY
Using the Auto Transport and Auto Field modes reduces the effort of operating the tractor over a long working day. These modes are easy to both set up and use. With Auto Transport, the tractor shifts seamlessly through ratios like an automatic transmission. It even senses if the tractor is being pushed by a loaded trailer when descending a hill and holds the current gear to provide engine braking. The Auto Field mode manages both the engine speed and transmission to optimize performance and economy. In PTO applications, where a constant engine speed is the priority, the system selects the transmission ratio to match the load on the engine. In draft applications when the tractor is under load, Auto Field allows engine speed to drop to take full advantage of the available torque rise before selecting a lower ratio.
Specifications
| | |
| --- | --- |
| Model | T7.290 SideWinder II |
| New Holland Engine* | Nef |
| No. of cylinders / Aspiration / Valves / Emission level | 6/ EVGT / 4 / Tier 4B |
| Selective Catalytic Reduction (SCR) system | Standard |
| Fuel system - high pressure common rail | Standard |
| Max. EPM horsepower - ISO TR14396- ECE R120 [hp[CV] (kw)] | 290 (212) |
| Rated engine horsepower - ISO TR14396- ECE R120 [hp[CV] (kw)] | 270 (199) |
| PTO horsepower hp (kw) | 240 (178) |
| Rated engine speed (rpm) | 2100 |
| Viscous coupled cooling fan | Standard |
| Reversible fan | Optional |
| Exhaust brake | Optional |
| Diesel tank capacity [gal (Liters)] | 166 (630) |
| DEF/AdBlue® tank capacity [gal (Liters)] | 25 (96) |
| Power Command™ Transmission |   |
| Power Command™ full-powershift (40 kph) | Not available |
| Number of gears / with creeper (F x R) | Not available |
| Min. speed / Min. speed with creeper mph (kph) | Not available |
| Power Command™ full powershift (40 kph ECO or 50 kph) | Not available |
| Number of gears / with creeper (F x R) | Not available |
| Min. speed / Min. speed with creeper mph (kph) | Not available |
| Auto Command™ Transmission |   |
| Auto Command™ continuously variable transmission (40 kph ECO) | Standard |
| Min. speed / Max. speed (mph) | 0.02 / 25 @ 1450 rpm |
| Auto Command™ continuously variable transmission (50 kph ECO) | Optional |
| Min. speed / Max. speed (mph) | 0.02 / 31 @ 1650 rpm |
| Hydraulics |   |
| Closed Center Load Sensing (CCLS) | Standard |
| Main pump flow Standard / MegaFlow™ option*** gpm (Lpm) - (Range & Power Command) | Not available |
| Main pump flow Standard / MegaFlow™ option (Auto Command) | 43.5 / 58 (165 / 220) |
| Electronic Draft Control (EDC) | Standard |
| Remote Valves |   |
| Type | Electro hydraulic |
| Max. no. rear valves | 5 |
| Joystick control | Optional |
| Max. no. mid mount valves | 3 |
| Front loader ready | Not available |
| Rear Linkage | Standard |
| Front Linkage | Optional |
| PTO |   |
| Auto soft start | Standard |
| Engine speed at 540 / 1000 (rpm) | Not available |
| Engine speed at 540E / 1000 (rpm) | Not available |
| Engine speed at 1000 / 1000E (rpm) | Not available |
| 540 / 540E / 1000 / 1000E shiftable | 1930/1598/1583/1583 |
| Auto PTO management | Standard |
| Front PTO (1000rpm) | Optional |
| Cab |   |
| Comfort Ride™ cab suspension | Standard |
| Headland Turn Sequence II System (HTS2) | Standard |
| IntelliView™ IV large screen 10.4" display | Standard |
| ISO 11783 connector | Standard |
| IntelliSteer™ auto guidance | Optional |
| Axles |   |
| 4WD front axle | Not available |
| Suspended front axle | Standard |
| Supersteer™ front axle | Not available |
| Steering angle standard / Terraglide™ / SuperSteer™ axle (°) | 55 |
| Bar rear axle | Optional |
| Wheelbase |   |
| Standard front axle | Not available |
| Suspended front axle | 117.9 (2995) |
| Supersteer™ front axle | Not available |
| Weights |   |
| Minimum unballasted / shipping weight - Standard front axle lbs (kg) | Not available |
| Minimum unballasted / shipping weight - Terraglide™ suspended front axle lbs (kg) | 22,707 (10300) |
| Minimum unballasted / shipping weight - SuperSteer™ front axle lbs (kg) | Not available |
| Max. permissible weight at 50 kph lbs (kg) | 35,274 (16000) |