New Holland T6.155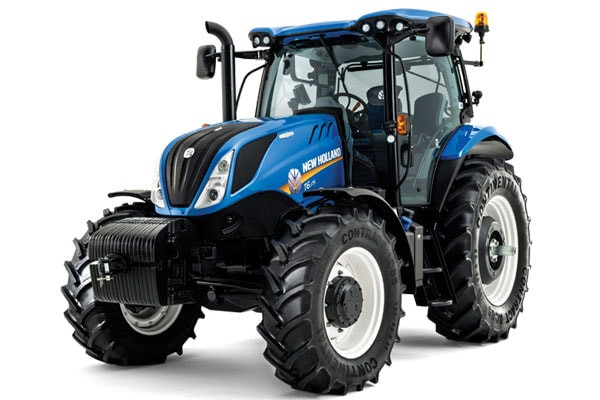 Double tap to zoom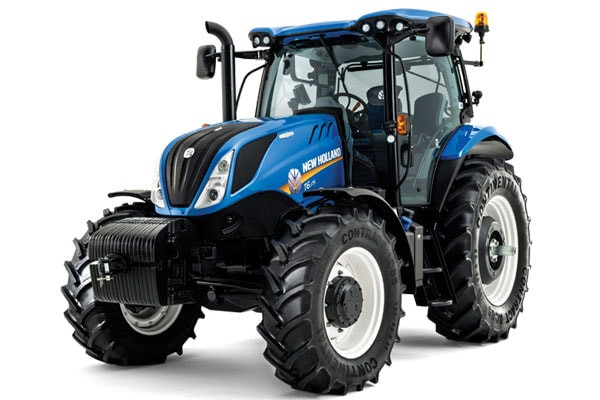 Features
POWERFUL PRODUCTIVITY
Choose from five models from 95 to 125 PTO hp with enormous 42% torque rise plus up to an additional 34 hp from Engine Power Management.
TAILORED FOR YOU
An endless list of options includes a front hitch and PTO (available with standard FWD only), a choice of transmissions, seats, and front axles, including three front-wheel-drive (FWD) axle choices or the economical heavy-duty 2WD axle.
COMFORTABLE HORIZON™ CAB
At New Holland, we believe a long, hard day in the field shouldn't feel like one. That's why we designed the Horizon™ cab for day-long comfort and productivity.
FLEXIBILITY GUARANTEED
The T6 has you covered, from haymaking to loader work and row-crop applications.
ENGINE
POWERFUL. RESPONSIVE. EFFICIENT.
New T6 Series tractors give you power without compromise. The new Tier 4B certified engines have some impressive numbers—numbers that not only look good on paper, they translate into increased lugging power and efficiency.
ECOBLUE™ HI-ESCR TECHNOLOGY—ONE SIMPLE SOLUTION
New T6 engines comply with the even-more-stringent Tier 4B emissions standards by using New Holland ECOBlue HI-eSCR (High-Efficiency Selective Catalytic Reduction) technology. This after-treatment system allows the engine to breathe clean, fresh air to optimize combustion, torque rise and fuel efficiency.
TORQUE RISE AND RESPONSE THAT OUTPERFORMS PREVIOUS T6 MODELS
T6 engines achieve better performance by maximizing power output from each cylinder. The new engine control unit brings the engine to maximum torque more quickly and holds through the lower RPM longer to outperform former T6 Series engines. New Tier 4B 4-cylinder engines can outperform prior 6-cylinder engines due to this latest technology.
ENGINE POWER MANAGEMENT WITH POWER BOOST
T6 engines deliver extra horsepower when under load—a boost above rated horsepower—to get you through tough conditions.
CONSTANT RPM WITH ENGINE SPEED MANAGEMENT
In applications where a constant PTO speed is required, just select Engine Speed Management to ensure the speed is maintained even under changing loads. In many applications, this allows you to maintain a fixed forward speed in difficult terrain.
THE SAME TOTAL FLUID CONSUMPTION
Even with increases in horsepower, torque and lugging ability compared to previous T6 models, fluid use (Fuel and DEF) remain unchanged.
TRANSMISSION
CHOICE OF AWARD-WINNING TRANSMISSIONS
New Holland provides you with a wide selection of proven transmissions. Which one is best for you?

The Auto Command Continuously Variable Transmission (CVT) (T6.145, T6.165, T6.175, T6.180) is built for the demands of large farms, contractors or specialized crop operations that log high annual tractor hours completing challenging field work, long-distance hauling and speed-critical applications.
• Standard 25 mph (40 kph)
• Fast Mover 31 mph (50 kph)

The NEW Dynamic Command™ transmission (All models) is a no-compromise, best-in-class solution for contractors, mixed farms, dairy and hay operations that require a multipurpose tractor for cultivation as well as hauling and transport between locations.
• 23x23 Standard 25 mph (40 kph)
• 24x24 Economy 25 mph (40 kph)
• 24x24 Fast Mover 31 mph (50 kph)
• 48x48 Creeper Standard 25 mph (40 kph)
• 48x48 Creeper Economy 25 mph (40 kph)
• 48x48 Creeper Fast Mover 31 mph (50 kph)

The Electro Command semi-powershift transmission (all models) is the perfect match for the materials handling jobs and light field work of livestock, dairy and hay farms. It pairs the benefits of a semi powershift with an economical price.
• 16x16 19 mph (30 kph) for 2WD only
• 16x16 25 mph (40 kph)
• 17x16 Economy 25 mph (40 kph)
• 17x16 Fast Mover 31 mph (50 kph)
• 32x32 with Creeper 25 mph (40 kph)
EFFICENT AUTO COMMAND™ TRANSMISSION
Quite simply, the Auto Command Continuously Variable Transmission (CVT) is the smoothest, easiest to operate, and most productive CVT around. Designed and built by New Holland, Auto Command benefits from multiple direct drive points with 100% mechanical efficiency which have been precision engineered to ensure that they perfectly match the most frequently used speeds during field operation. Advanced double clutch control further enhances efficiency.
GO WITH THE FLOW—OPTIMUM PERFORMANCE WITH BALERS, MOWERS, SNOW BLOWERS AND MORE
Auto Command Continuously Variable Transmission (CVT) provides you with infinite speed control for optimum performance of balers, mower-conditioners, snow blowers and other material flow implements.
SIMPLE OPERATION
Auto Command simplifies operation easy with four driving modes, Auto, Cruise, Manual or PTO, to ensure optimum operating efficiency and convenience. To change directions, you can either move the CommandGrip™ handle, use the power shuttle switch on the CommandGrip™ handle or use the steering column mounted shuttle lever.
DYNAMIC COMMAND™ POWERSHIFT TRANSMISSION
The new industry-leading Dynamic Command transmission provides smooth, uninterrupted power and effortless operation. You get a full 24 gears in forward and reverse with speed overlap that allows you to easily select the best range for your application -- with no break in torque as you move through eight gears.

A TRUE POWER SHUTTLE
A dedicate gearbox controls the true power shuttle for faster, more accurate forward/reverse shifting. You can program forward and reverse gears, as well as set the shuttle shift aggressiveness to match your preferences.

ADVANCED FEATURES BOOST PRODUCTIVITY
The Auto Shift option builds on the productivity of the Dynamic Command transmission by allowing you to automatically move through the gears within a range based on engine speed. You also get these productivity-boosting features with the Auto Shift option:

• Smart Range Shift: Skip overlap gears when moving between ranges for rapid acceleration
• Dynamic StartStop: No clutching needed for smoother loader work. Simply press the brake and your Dynamic Command tractor comes to a standstill. Release the brake pedal and drive reengages and puts the tractor in motion.
• Auto Shift: Automatically shifts within a range so you can pay attention to driving.
• Ground Speed Management (optional): Maintains a target ground speed by automatically shifting and throttling up or back based on load.
• Kick down: When there's a rapid change in foot throttle position, the engine responds with max power and adjusts the gear to get the best acceleration possible.
• Dynamic IntelliShift™: This system analyzes engine speed, transmission shaft speed, ground speed and more for smooth, seamless shifting.
• Transport Power Management™: When travelling over 14 mph, this system automatically switches the engine to a power curve that provides more consistent acceleration rates.
ELECTRO COMMAND™ TRANSMISSION
Electro Command tractors with mechanical mid-mount valves provide a standard control arrangement with a powershift control button on the range shift handle as well as on the console for convenience. The ergonomic seat armrest-mounted multi-function handle is optional for T6 models with mechanical mid-mount valve and standard on all other models.
ERGONOMIC POWER SHUTTLE
You can operate the convenient, column-mounted electro hydraulic power shuttle without taking your hand off the wheel for increased safety during loader work. You can even regulate the shuttle aggressiveness setting, and making changes while on the move. An innovative memory shuttle system allows you to select the ratio you need in forward and reverse and the tractor automatically shuttles between your chosen forward and reverse gears.
Specifications
| | |
| --- | --- |
| Model | T6.155 |
| Power |   |
| Engine Type | Turbo Diesel w/ Common Rail Electronic Fuel Control |
| Make / Model | FPT Industrial NEF |
| # of Engine Cylinders | 4 |
| Displacement [cu. in. (L)] | 274 (4.5) |
| Valves per Cylinder | 4 |
| Rated Engine Speed (rpm) | 2200 |
| Aspiration | Turbo/Air-to-Air Intercooled |
| Max Boosted Engine HP | 155 |
| Rated Engine HP | 125 |
| PTO HP | 105 |
| Engine Speed at PTO Speed 540/1000 | 1969/1893 |
| Emissions Certification | Tier 4B |
| Tier 4B Emissions System | ECOBlue™ HI-eSCR System (Selective Catalytic Reduction; After Treatment only) |
| Diesel Fuel Tank Capacity [gal. (L)] | Standard Tank - 52.2 Gal (197.2), with Auxiliary Tank - 58.6 Gal (222) |
| DEF (AdBlue®) Tank Capacity [gal. (L)] | 10.4 Gal (39.5) |
| Service Interval eng. Hours | 600 |
| Electrical |   |
| Alternator | 120 Amp Std. Value & Plus, 150 Amp Standard Elite and Auto Command™ with 200 Amp Optional |
| Battery | 1300 CCA |
| ISO BUS Class 2 (Optional with Plus and Elite, Standard on AC) | Optional |
| ISO BUS Class 3 (Optional on Auto Command Tractors only) | - |
| Transmission |   |
| Standard [mph (kph)] | 16x16 Electro Command™ 1.41-25 (2.27-40) |
| Option 1 [mph (kph)] | 32x32 Electro Command with AutoShift and Creeper 0.12-25 (.19-40) |
| Option 2 [mph (kph)] | 16x16 Electro Command with AutoShift 1.41-25 (2.27-40) |
| Option 3 [mph (kph)] | 17x16 Electro Command with AutoShift 1.67-25 (2.68-40) |
| Option 4 [mph (kph)] | 17x16 Electro Command with AutoShift 1.67-31 (2.68-50) |
| Standard CVT [mph (kph)] | - |
| Option 1 [mph (kph)]. | - |
| 3 Point Hitch |   |
| Standard Lift Capacity - 80mm rams with 21.1 gpm fixed pump (Value) lbs. (kg) | 8,338 (3782) |
| Standard Lift Capacity - 80mm rams with 33.5 gpm CCLS pump (AC) lbs. (kg) | 9,214 (4179) |
| Optional Lift Capacity - 90mm rams with 29.9/33.5 gpm CCLS pump (Plus, Elite, AC) lbs. (kg) | 11,649 (5284) |
| Hydraulics |   |
| Fixed Displacement Implement Pump Flow - Value [gpm (l/m)] | 21.1 (80) |
| Steering Pump Flow [gpm (l/m)] | 12.4 Gal/Min. (47) |
| CCLS Hydraulic Implement Pump Flow- Plus & Elite [gpm (l/m)] | 29.9 Gal/Min. (113) |
| CCLS Hydraulic Implement Pump Flow- Auto Command [gpm (l/m)] | 33.5 Gal/Min. (127) |
| Deluxe Rear Remote Options (N/A on Auto Command) | 2 Mechanical Remotes Standard with 3 and 4 remotes Optional |
| Electrohydraulic Rear Remote Options | 3 Electro-hydraulic remotes Std. on AC with 3 & 4 Opt on Elite, 4 on AC |
| Mid-Mount Valve Options | 2 or 3 Mechanical or 2 or 3 Electro-hydraulic |
| Axles |   |
| Axle Class | 3 & 4 |
| Option 1 | Standard Front Axle |
| Option 2 | Suspended Front Axle |
| Option 3 | Supersteer Front Axle |
| Weight* |   |
| Shipping Weight (Typical Weight, less ballast, Cab 4WD) - Minimum [lbs. (kg)] | 10,560 (4790) |
| Shipping Weight (Typical Weight, less ballast, Cab 4WD) - Average [lbs. (kg)] | 11,376 (5160) |
| Shipping Weight (Typical Weight, less ballast, Cab 4WD) - Maximum [lbs. (kg)] | 12,513 (5676) |
| Dimensions** |   |
| Overall Length [in. (mm)] | Standard Front Axle - 179" (4547), Suspended FWD - 179.4" (4556), SuperSteer - 183.3" (4655) |
| FWD Wheelbase [in. (mm)] | Standard FWD - 104" (2642), Suspended FWD - 105.7" (2684), SuperSteer FWD - 109.8" (2788) |
| Height, Top of Cab [in. (mm)] | High Roof - 115.2" (2925), Low Roof - 110.5" (2712) |
| Height, Top of Exhaust [in. (mm)] | High Roof - 114.8" (2915), Low Roof - 109.1" (2770) |