New Holland T5.95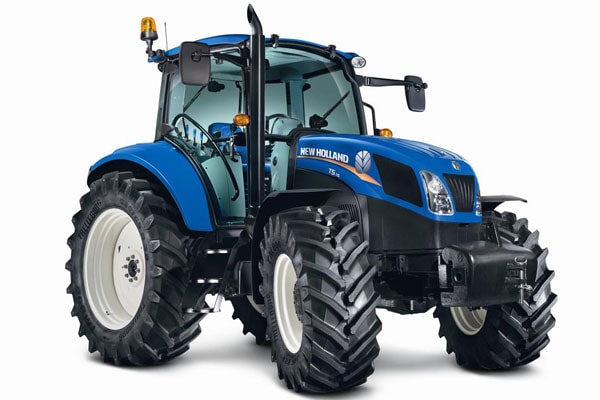 Double tap to zoom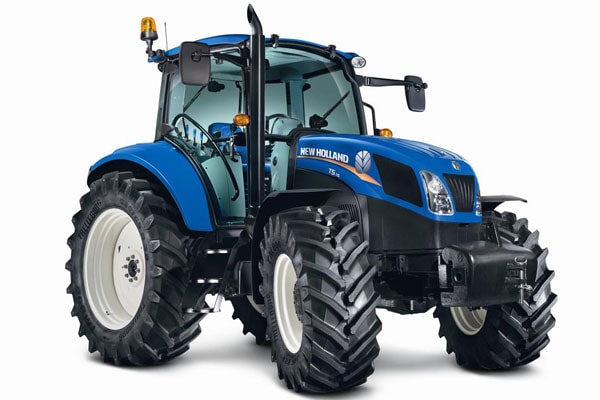 Features
YOUR SECOND OFFICE: NOW IN THE FIELD
T5 tractors will be used in a wide variety of applications, so we made sure customers like you can get the versatility you need.
T5: SYNONYMOUS WITH "EASE"
Comfort and at ease is what you'll feel in the cab of a T5.
FOCUS ON FARMING, NOT YOUR WALLET
Your success depends on spending more time working and less time maintaining your tractor, so the T5 is designed to keep you moving in the fields and not down the road for parts.
POWERFULLY PRODUCTIVE
The F5D engine benefits from a Cooled Exhaust Gas Recirculation (CEGR) system with a Diesel Particulate Filter (DPF) for Tier 4A emission compliance.
PROVEN POWER
COMMON RAIL IS COMMON SENSE
A utility tractor needs to have power, and a new T5 will certainly give you that. This 3.4L (207 cubic-inch) turbocharged F5D engine provides you with responsive power. This engine utilizes a high pressure common rail fuel injection system to enhance combustion, which is crucial for lowering emissions for Tier 4A compliance. New Holland introduced common rail to the agriculture industry in 2003. Today, these enhanced engines are the latest generation to reap the rewards of this technology, optimizing performance and quietness significantly in comparison to the previous Tier 3 NEF engines.
KEEP GOING IN DIFFICULT CONDITIONS
When you ask for more power, your F5D engine will give it to you with an enormous torque backup of 35%. So, when you're working in demanding conditions, like round baling high-moisture hay in uneven swaths, you'll maintain both your forward speed and PTO speed while these large portions are fed into your baler. 
CLEAN ENERGY LEADER
In order to fulfill Tier 4A emissions standards, F5D engines are equipped with a Cooled Exhaust Gas Recirculation (CEGR) system and a Diesel Particulate Filter (DPF). Rest assured, Fiat Power Train (FPT) has ample experience with CEGR and DPF on passenger cars and commercial light-duty trucks. CEGR is the wise choice for the T5 tractors because it keeps their physical dimensions small, which is what you expect from a utility tractor. CEGR also enhances engine density up to 36 HP per liter of displacement because fuel injection and CEGR are electronically monitored. Finally, the cooling requirements and costs associated with installing a CEGR system on a smaller engine are inherently lower, making this system a smart choice.
TRANSMISSIONS
T5 Series tractors offer transmissions tailored to your needs, whether you're looking for a basic transmission for loader work, one that's perfect for haying, or one that gives you ultimate convenience—the Electro Command™ semi-powershift.
12X12 POWER SHUTTLE
The entry-level 12X12 power shuttle transmission is the perfect choice for your general applications. This transmission has the ideal mix of speeds, making it perfect for matching the needs of your implements. Traditional, robust operation makes this transmission great for operators in search of simplicity.
20X20 POWER SHUTTLE WITH CREEPER
The 20X20 power shuttle transmission is ideal for special applications, like vegetable farms. Tackle planting and harvesting with creep speeds as low as .12mph (.2kph) and then cruise back to your farm at a top transport speed of 25mph (40kph). When combined with the premium features and comfort of a T5, you certainly won't mind spending time going slow out in the fields.
24X24 DUAL COMMAND™ WITH POWER SHUTTLE
The 24X24 Dual Command™ transmission features a Hi-Lo Splitter full load powershift. Activated on the go, this transmission increases the amount of torque at the wheels in transport situations to prevent slow down on hills. This is ideal for demanding field conditions, offering a 15% reduction in forward speed to increase available torque by up to 18%. The exclusive PowerClutch button, which is conveniently located on the back of the gear lever, shifts between eight speeds in the three main ranges without the need to depress the clutch pedal. This feature will certainly help reduce your fatigue on those long working days.
ERGONOMIC POWERSHUTTLE
The column-mounted electrohydraulic Powershuttle can be conveniently operated without taking your hand off the steering wheel, helping to enhance your safety during loader work. You can conveniently regulate the aggressiveness setting, even while moving, with an the ergonomically positioned switch on the B pillar. A softer setting is perfect for general field work, while a more aggressive setting is great for near instantaneous direction changes during loader work.
SHIFT TO THE NEXT LEVEL WITH 16x16 ELECTRO COMMAND™ WITH POWER SHUTTLE (T5.105, T5.115)
With the Electro Command™ transmission, one shift lever is all you need, and moving your thumb is all that's required. On the side of the Electro Command lever are two buttons used to shift up and down through each of the 4 gears in each range. You get a total of 16 forward and reverse gears, or 32X32 with the optional creeper. When you choose an Electro Command™ model, you also get these additional exclusives:
• Comfort Ride™ cab suspension option
• Terralock automatic traction management system
• Auto PTO option
Specifications
| Model | T5.95 |
| --- | --- |
| Engine |   |
| Make | FPT F5D |
| Type | 4-cylinder diesel |
| Displacement, cu. in. (L) | 207 (3.4) |
| Gross engine horsepower | 98 |
| PTO horsepower | 82 |
| Emissions | Tier 4A with Cooled Exhaust Gas Recirculation (CEGR) and a Diesel Particulate Filter (DPF) |
| Transmissions |   |
| Standard | 12x12 Power Shuttle |
| Option 1 | 20x20 Power Shuttle with creeper |
| Option 2 | 24x24 Dual Command™ Power Shuttle |
| 3-Point Hitch |   |
| Lift capacity at 24", lbs. (kg) | 6,393 (2900) |
| 1 Optional ram at 24", lbs. (kg) | N/A |
| 2 Optional ram at 24", lbs. (kg) | 10,452 (4741) |
| Front hitch lift capacity at 24", lbs. (kg) | 3,968 (1800) |
| Hydraulics |   |
| Rear remotes - base/optional | 2 / 3 |
| Main pump flow, gpm (L/min) | 16.1 (61) |
| Optional main pump flow, gpm (L/min) | 21.1 (80) |
| Steering and services pump, gpm (L/min) | 10.0 (38) |
| Opt. steering and services pump, gpm (L/min) | 11.4 (43) |
| PTO |   |
| Base PTO (RPM) | 540/1000 |
| Front PTO speeds (RPM) | 1000 |
| Dimensions |   |
| Weight [lbs. (kg)] | 9,370 (4250) |
| Overall width, in. (mm) | 82.6 (2098) |
| Overall height, in. (mm) | 105.4 (2677) |
| Overall length, in. (mm) | 163.8 (4161) |
| Wheelbase, in. (mm) | 92.5 (2350) |