New Holland T4.120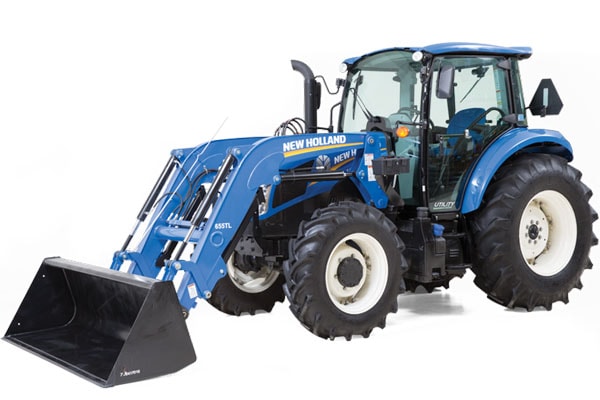 Double tap to zoom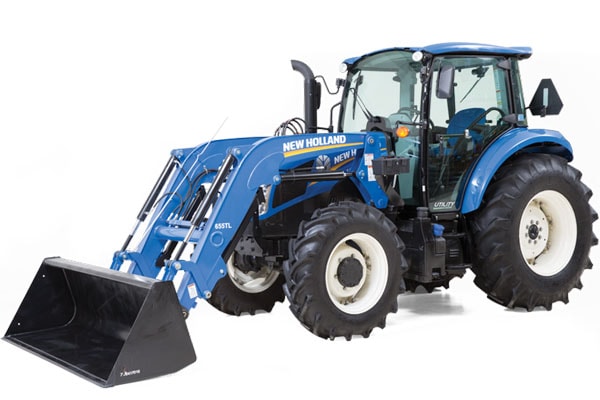 Features
ENGINE
COMMON RAIL IS COMMON SENSE
The common rail fuel system utilized in the F5G engine is the latest in fuel injection technology. An electronic control module is programmed to provide optimum engine performance. Common rail was first introduced to the agricultural industry by New Holland in 2003, which means that these engines are the latest to reap its rewards. The benefits in comparison to conventional engines include:
Reduced engine noise
Better combustion
Higher engine power density
Lower emissions
Enhanced fuel economy

EXCEPTIONAL FUEL ECONOMY
The Tier 4B F5G engine continues the New Holland legacy of best-in-class fuel economy with an estimated 3% better fuel economy than the previous Tier 4A models. To put it simply, you maintain performance while controlling your fuel bill at the same time. In addition, maximum power is achieved at a mere 1,900 RPM and is available up to 2,300 RPM, which is typical for work applications. A flatter torque curve throughout the optimum range provides you with operational flexibility.
PROVEN ENGINE AND EMISSIONS SYSTEM
New Holland's strategy for Tier 4B compliancy is to equip tractors between 75 and 120 horsepower with the ECOBlue™ Compact SCR + Light CEGR after-treatment system. The cooling requirements and costs associated with this system are less significant within this horsepower range compared to larger-horsepower tractors. In addition, a utility tractor's dimensions are of vital importance for maneuvering in tight spaces. Using this system provides T4 series tractors with some of the efficiencies the SCR system that the larger-horsepower tractors benefit from, yet remain compact enough to maintain the utility tractor size. To give you further peace of mind, New Holland's engine development partner, FPT Industrial is the only company which has completely eliminated Diesel Particulate Filters (DPF) from all of its engines with outputs of over 75hp. What does that mean in practice? Well, it means that only FPT Industrial engines offer the benefits of optimized fuel consumption and reduced operating costs across this vast power range.
TRANSMISSION
TRANSMISSIONS TAILORED TO YOUR NEEDS
Depending on your needs, you can equip your T4 tractor with the transmission that is well suited for you.
12X12 POWER SHUTTLE
The 12 x12 transmission with power shuttle is perfect for loader work. This transmission provides operators with a synchronized gearshift lever on the CommandArc console. The power shuttle lever is conveniently located on the left-hand side of the steering console for easy direction changes. This is especially important for loader applications or when working in confined areas where multiple direction changes occur more frequently.
12X12 MECHANICAL SHUTTLE
A 12x12 mechanical transmission is the simplest, most economical transmission available on all T4 models. The mechanical shuttle is located on the left-hand side of the steering console. This transmission is perfect for basic haying applications, like raking and tedding, where shuttling is needed less frequently.
CREEP THROUGH THE FIELDS
A 20x20 creeper option is available with a power shuttle that goes 0.15-mph (0.24 kph). The creeper lever is located on the left-hand console for easy shifting when going into or out of creeper mode.
MOVE QUICKLY
All 12x12 and 20x20 creeper transmissions come standard in 20-mph configurations. In order to get from the farm to the field, field to field or even just down the road, a 25-mph transport speed is available.
ADVANCED FEATURES. ADVANCED CAPABILITIES.
A simple improvement to your daily chores can make a big difference. With the addition of an easy-to-use Hi-Lo transmission, your T4 provides you with advanced features you have come to know and expect from New Holland. On cab models an Electronic Draft Control (EDC) mouse pod, tilt and telescopic steering column and fender-mounted rear hitch and PTO switches come with the transmission to provide you advanced features for advanced capabilities.
24X24 DUAL COMMAND™ WITH POWER SHUTTLE
With the Dual Command™ transmission you revolutionize the way you think about shifting gears. The gearshift lever provides two quick shifting functions to reduce operator fatigue and increase productivity. First, it allows for Hi-Lo speeds in each of the four gears using push-buttons on the side of the lever. Secondly, a PowerClutch button on the back side of the lever allows you to shift between any of the gears in any of the three ranges without clutching with your foot. An added bonus is the standard speed of 25-mph, helping you get to the job or back home faster.
40X40 DUAL COMMAND™ CREEPERWITH POWER SHUTTLE
The 40x40 Dual Command™ creeper transmission is available to provide the Hi-Lo and PowerClutch features at speeds as slow as 0.15-mph. A simple lever on the left-hand side console of the cab shifts the transmission into and out of the creeper gears, allowing you to get the job done in the field while still being able to get from one location to another quickly with a top speed of 25-mph.
POWER SHUTTLE
Dual Command™ transmissions come with an electrohydraulic shuttle lever designed to enhance your efficiency. When you shuttle forward or backward, this lever conveniently returns to the central rest position allowing for quick and easy direction changes. To put the tractor in neutral, simply press the button on the end of the lever. Additionally, the shuttle lever has two different aggressiveness settings to tailor the tractor's forward/reverse transition to your preference or the job at hand.
Specifications
| | |
| --- | --- |
| Model | T4.120 |
| Engine |   |
| Make | FPT F5G |
| Type | 4-cylinder diesel |
| Displacement, cu. in. (L) | 207 (3.4) |
| Gross engine horsepower | 117 |
| PTO horsepower | 99 |
| Emissions | Tier 4B with ECOBlue™ Compact SCR + Light CEGR |
| Transmissions |   |
| Standard | 12X12 Mechanical Shuttle |
| Option 1 | 12X12 Power Shuttle |
| Option 2 | 20X20 Power Shuttle with Creeper |
| Option 3 | 24x24 Dual Command™ |
| Option 4 | 40x40 Dual Command™ with Creeper |
| 3-Point Hitch |   |
| Lift capacity @ 24", lbs. (kg.) | 5,620 (2549) |
| Optional ram @ 24", lbs. (kg.) | 7,351 (3334) |
| Hydraulics |   |
| Rear remotes - base | 2 (3 Optional) |
| Imp. pump - base gpm (L/min) | 16.9 (64) |
| Service pump - base gpm (L/min) | 9.7 (37) |
| PTO |   |
| Base PTO RPM - 12x12 | 540/540E |
| Optional PTO RPM - 12x12 | 540/1000 |
| Base PTO RPM - 24x24 Dual Command™ | 540/540E |
| Optional PTO RPM - 24x24 Dual Command™ | 540/1000 |
| Dimensions* |   |
| Weight - Cab/4WD, lbs. (kg.) | 8,157 (3700) |
| Weight - Cab/2WD, lbs. (kg.) | 7,473 (3390) |
| Weight - ROPS/4WD, lbs. (kg.) | 7,672 (3480) |
| Weight - ROPS/2WD, lbs. (kg.) | 6,988 (3170) |
| Overall width, in. (mm) | 75.7 (1923) |
| Overall height - Cab roof, in. (mm) | 102.1 (2594) |
| Overall height - top of ROPS, in. (mm) | 106.5 (2706) |
| Overall length - 4WD, in. (mm) | 160.9 (4086) |
| Overall length - 2WD, in. (mm) | 163.1 (4144) |
| Front weights length, in. (mm) | 10.3 (262) |
| Wheelbase 4WD, in. (mm) | 89.9 (2285) |
| Wheelbase 2WD, in. (mm) | 92.2 (2343) |