New Holland T4.65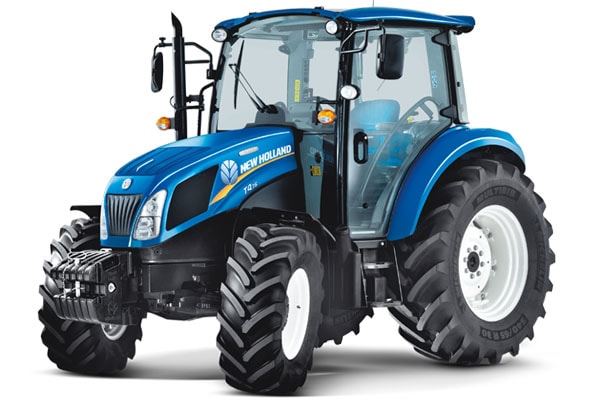 Double tap to zoom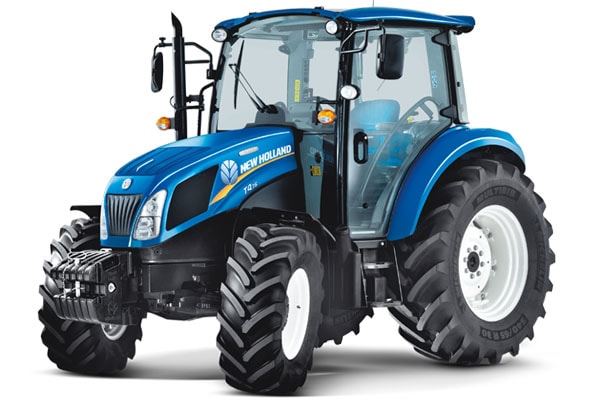 Features
ENGINE
RELIABLE, FUEL-EFFICIENT POWER
The new PowerStar now has more power than ever, boasting a 207 cubic-inch, 3.4 liter engine producing 50 or 65 PTO horsepower. Coupled with four-cylinders and turbo charged, these diesel engines rise to the challenging conditions with smooth lugging power. You get the power you need for field PTO work, tough roadside mowing or heavy loader work.
PM Catalyst, Efficient Emissions Technology
The PowerStar meets Tier 4B emissions Regulations by using advanced PM (Particulate Matter) Catalyst technology. This is a simple, flow through particulate filter that captures soot, contained in exhaust gas, and passes it through the PM Catalyst and, when it touches the walls, it is burned off. The end results is the filter does not block due to the high flow of exhaust gases and will not require the regular regeneration that occurs with a DPF (Diesel Particulate Filter).
Common Rail. Common Sense.
More responsive tractors. Lower fuel bills. This is the result of Common Rail technology that delivers less engine noise and precise fueling for optimal response and has reduced fuel consumption by up to 13% over our previous PowerStar models.
BUILT-IN FUEL EFFICIENCY
In addition to meeting Tier 4B emissions standards, PowerStar engines allow you to use plain diesel, 7% biodiesel or 20% biodiesel*. You'll benefit from fuel flexibility while you help create cleaner air from fewer emissions and reduce imports of foreign oil.
*Must meet ASTM 6751 Standards and reduces service interval to 300 hours
TRANSMISSION
SMOOTH SHIFTING AND SHUTTLING*
New Holland offers a wide selection of transmission choices, so you can equip your PowerStar tractor to suit your operation.
• 8 x 8 Synchro shuttle transmission gives you two ranges with four synchronized gears in each range.
• 12 x 12 Synchro shuttle transmission provides three ranges with four synchronized gears in each range
• Regardless of transmission choice a left-handed shuttle is included.
* Not available on T4.65
HYDRAULIC POWER SHUTTLE
New Holland has created a simple, effective, affordable alternative to achieve easy, clutch-free shifting between forward and reverse. The hydraulic power shuttle option is ideal for jobs with frequent direction changes, like loader and blade work. With the shuttle lever is located to the left of the steering wheel, shuttling is effortless and there's no need to remove your left hand from the steering wheel. When you choose the hydraulic shuttle option, you also get the benefit of a wet PTO clutch for extended life.
CREEPER TRANSMISSION
Choose an optional creeper range, on Power Shuttle transmission choices, for additional working gears with speeds below 1 mph.
OPTIONAL HIGH-SPEED TRANSPORT
Save time between jobs with a 24.9-mph (40-kph) top travel speed. It's optional on models equipped with FWD axle. (Speeds will vary with tire selection)
Specifications
| | |
| --- | --- |
| Engine | T4.65 |
| Type | 4-cylinder diesel |
| Make / Model | F5C |
| Aspiration | Turbocharged |
| Displacement, cu. in. (L) | 207 (3.4) |
| Rated Speed (RPM) | 2,300 |
| Gross engine HP | 64 |
| PTO horsepower | 50 |
| Emission legislation | US EPA Tier 4B |
| Cold Start | Grid Heater |
| Transmission |   |
| Standard | 12x12 hydraulic shuttle |
| Option 1 | - |
| Option 2 | - |
| Option 3 | - |
| Creeper Range | - |
| PTO |   |
| Type | Fully independent |
| Base equipment PTO speed | 540 @ 1,958 engine RPM |
| Optional PTO speed (540E) | 540 @ 1,592 engine RPM |
| 3-Point Hitch |   |
| Category | II/I |
| Draft Sensing | Top link |
| ASAE lift capacity @ 24" lbs. (kg) | 3,664 (1662) |
| Link arms | Flexible |
| Stabilizers | Telescopic |
| Hydraulics |   |
| System type | Open center |
| Mechanical Shuttle Transmission: Implement pump flow GPM (l/min) | - |
| Mechanical Shuttle Transmission: Steering & services pump flow GPM (l/min) | - |
| Power Shuttle Transmission: Implement pump flow GPM (l/ min) | 12.5 (47.5) |
| Power Shuttle Transmission: Steering & services pump flow, GPM (l/ min) | 9.5 (36) |
| Remotes | Up to 3 |
| Dimensions |   |
| Wheelbase (2WD) in. (mm) | - |
| Wheelbase (4WD), in. (mm) | 83.9 (2132) |
| Overall length in. (mm) | 151 (3836) |
| ROPS height (folded) in. (mm) | - |
| Cab height in. (mm) | 94.8 to 97.8 (2409 to 2484) |
| Weights |   |
| ROPS (2wd) lbs. (kg) | - |
| ROPS (4wd) lbs. (kg) | - |
| Cab (2wd) lbs. (kg) | - |
| Cab (4wd) lbs. (kg) | 6,239 (2830) |