New Holland Genesis T8.350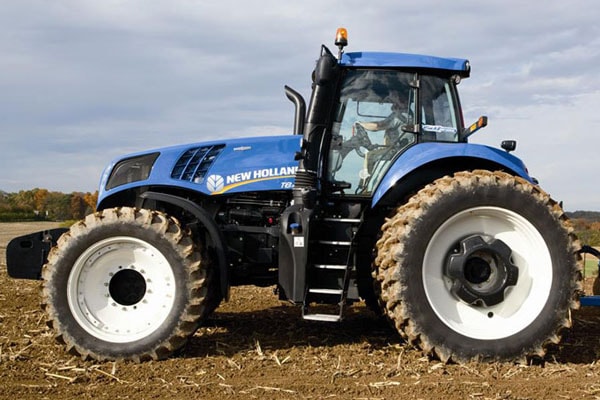 Double tap to zoom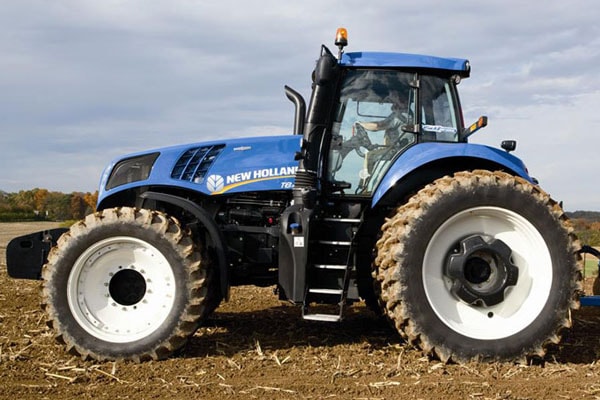 Features
MORE POWER AND PRODUCTIVITY
GENESIS T8 Series tractors are the most powerful conventional tractors in the world.
ABSOLUTE DRIVING PLEASURE
New Holland's award-winning SideWinder™ II armrest makes the GENESIS T8 Series intuitive to operate.
MAXIMUM VERSATILITY
The GENESIS T8 wheelbase is the longest in the industry for a smooth, stable ride, yet the sculpted frame design makes these tractors the most maneuverable in this class.
LOWER OPERATING COST
Operating costs for the GENESIS T8 tractors with ECOBlue HI-eSCR technology have been maintained when compared to T8 Tier 4A tractors.
ENGINE
THE POWER AND EFFICIENCY YOU'VE COME TO EXPECT FROM NEW HOLLAND
Your GENESIS® T8 tractor is powered by an ECOBlue™ HI-eSCR (High-Efficiency Selective Catalytic Reduction) Cursor 9 engine developed by New Holland's sister company FPT Industrial. These engines, which comply with the even-more-stringent Tier 4B emissions standards, offer you four key benefits:
Performance: You get more power, torque, torque back-up and engine power management while maintaining outstanding transient response.
Efficient operation: Fluid consumption (diesel plus DEF) is the same or better than Tier 4A T8 tractors. You will also benefit from reduced life-long operating costs.
Simplicity: the simpler engine installation ensures a higher power potential and the reduced cooling system delivers more efficient operation.
Consistency: There's no change in vehicle operation. Like the previous Tier 4A models, the new Tier 4B models use an after-treatment system using AdBlue™ Diesel Exhaust Fluid (DEF) to transform harmful nitrogen oxides into harmless water and nitrogen.
INSIDE ECOBLUE™ HI-ESCR
This new system is an evolution of the existing ECOBlue SCR system featuring the highest NOx conversion efficiency in the industry. This multi-patented system uses a new Engine Control Unit, which not only manages the engine, but also the HI-eSCR after-treatment system by controlling the supply and dosing modules. Using a dedicated closed-loop system, it continuously monitors the NOx levels in the exhaust gases, ensuring that during every cycle the precise amount of DEF is injected to achieve NOx conversion of over 95%, all while guaranteeing low fluid consumption.
SAVE FUEL TO REDUCE YOUR CARBON FOOTPRINT
Emissions released from burning diesel are a significant contributor to a farm's overall carbon footprint. ECOBlue HI-eSCR technology for Tier 4B compliance reduces NOx emissions while maintaining impressive fuel efficiency, bringing about a substantial cut in your farm's carbon emissions. Visit www.carbonid.newholland.com to find out how much carbon you could save!
ENGINE POWER MANAGEMENT
Engine Power Management (EPM) is a renowned New Holland tractor feature. In short, the engine develops more power and torque during demanding hydraulic, PTO and transport operations. On a GENESIS® T8.380 tractor, EPM will deliver up to 71 horsepower extra, but only when it is needed, to maintain performance.
THE IMPORTANCE OF TRANSIENT RESPONSE
At New Holland, we're passionate about transient response. It's your productivity guarantee. Put simply, since your Cursor 9 engine breathes only clean fresh air, it can react more quickly when placed under load—a lot more quickly in fact. So when you're transporting heavy trailers or grain carts and you encounter a hill, you'll be able to maintain constant forward speed with no slow down. Transient response. We've got it covered.
TRANSMISSION
SMOOTH OPERATION IN THE FIELD OR ON THE ROAD
A choice of New Holland transmissions enhances GENESIS® T8 tractor versatility. Select the Ultra Command™ transmission—the most powerful full powershift in the business—or the Auto Command™ continuously variable transmission (CVT) for unsurpassed CVT operation.

ULTRA COMMAND™ FULL POWERSHIFT(GENESIS® T8.320 through GENESIS® T8.410)
With a minimum of 18 forward speeds, eight of them in the critical 3- to 8-mph tillage range, Ultra Command powershift transmissions offer more speed choices than other tractors in this class. It matches mechanical efficiency with easy control, so you can use speeds to perfectly match every application. The CommandGrip™ multi-function controller on the SideWinder™ II armrest gives you fingertip access to automated features, including Ground Speed Management. Choose between 18x4, 19x4 (economy overdrive or 31-mph high-speed) and 23x6 creeper powershift transmissions.
GROUND SPEED MANAGEMENT (GSM)
When load conditions change in the field, GSM will automatically maintain a fixed forward ground speed. First, you set your desired working speed, then select the GSM function and the automated system will then match engine and transmission speeds to maintain this fixed forward speed, so you get a perfect balance of productivity without compromising economy. During road transport, GSM automatically shifts the transmission according to load and throttle settings. With heavy loads, GSM downshifts to assist with engine braking on steep inclines.
POWER SHUTTLE
You can operate the forward/reverse shuttle using either the lever mounted to the left of the steering column or the CommandGrip™ controller on the SideWinder™ II armrest. It's easy to program your preferred forward/reverse shuttling speeds.
AUTO COMMAND™ CVT OFFERS ADVANCED FEATURES(GENESIS® T8.320 through GENESIS® T8.435)
Designed and built by New Holland, the latest-generation continuously variable transmission (CVT) has evolved from the award-winning T7 Auto Command, which has reached a milestone, with more than 10,000 built. Combine the simplicity and efficiency of Auto Command with the GENESIS® T8.435, with 435 EPM HP, and you have the world's most powerful conventional CVT tractor. Ever.
4 POINTS OF 100% MECHANICAL EFFICIENCY
The Auto Command transmission delivers an industry-leading four direct drive points with 100% mechanical drive efficiency. Precision-engineered to ensure that they perfectly match to the most frequently used speeds during planting, tillage, secondary cultivation activities, high-speed field work like baling or mowing, and high-speed transport activities. Quite simply, it is the smoothest and most productive CVT around.
A SPEED FOR EVERY NEED
Auto Command technology gives you infinite and seamless speed-changing ability. Set your target speed anywhere between 65 feet per hour right through 31 mph and regulate it to the nearest 0.01 mph. No steps. No range changes. Just seamless speeds to match your every need. Control your Auto Command CVT effortlessly with the CommandGrip™ handle and program three forward and three reverse target speeds. You can even adjust your speed on the fly with the thumbwheel.
MAKING THE MOST OF AVAILABLE TORQUE
New Holland developed the Auto Command transmission to exploit the low running speed and high torque of FPT Cursor 9 engines. With the 25-mph transmission option, the engine can run at a fuel-efficient 1400 rpm.
4 DRIVING MODES TO SUIT YOUR DRIVING STYLE
Auto Mode. Select the desired target speed and Auto Command will match the engine and transmission to maintain it.Cruise Mode. When you achieve the desired operating speed, Cruise Mode allows you to set the transmission to maintain the speed for economy and productivity.Manual Mode. Set the required engine and forward speed.PTO Mode. As soon as the PTO is engaged, Auto Command will operate to guarantee a constant engine speed .
FAST DIRECTION CHANGES
Changing direction is simple with Auto Command. Either move the CommandGrip™ handle forward or back, use the forward/reverse button on the CommandGrip handle or use the shuttle lever mounted on the steering column.
ACTIVE STOPSTART
A key safety feature of Auto Command is Active StopStart. When you bring the tractor to a standstill, the transmission prevents the tractor from moving backwards or forwards—even when transporting fully loaded trailers or hauling manure. When you start out from a stop, there is no risk of rollback on steep inclines. For safe parking, engage the electronic brake using the shuttle lever.
Specifications
GENESIS® T8.350
Engine*
FPT Cursor 9
No. of cylinders / Aspiration / Valves / Emission level
6 / eVGT /24 / Tier 4B
ECOBlue™ SCR HI-eSCR system (selective Catalytic Reduction)
Standard
Fuel System - high pressure common rail
Standard
Displacement cubic in. (L)
531 (8.7)
Max. EPM horsepower** - ISO - ECE R120, 1800 rpm kW/hp (CV)
258/351
Max. horsepower - ISO - ECE R120, 1800 rpm kW/hp (CV)
323/315
Rated EPM horsepower - ISO - ECE R120, 2000 rpm kW/hp (CV)
232/315
Rated horsepower - ISO - ECE R120, 2000 rpm kW/hp (CV)
206/280
PTO HP (SAE) kW/hp (CV)
175/235
Viscous coupled cooling fan
Standard
Diesel capacity Auto Command CVT (full to drained) gal. (L)
163 (617)
Diesel capacity Ultra Command FPS (full to drained) gal. (L)
179 (678)
DEF/AdBlue® tank capacity (full to drained) gal. (L)
26 (99)
Service Interval hours
600
Ultra Command™ Full-Powershift transmission
 
18 x 4 Ultra Command™ Full-Powershift (40 kph)
Standard
19 x 4 Ultra Command™ Full-Powershift (40 kph ECO or 50 kph)
Optional
23 x 6 Ultra Command™ Full-Powershift (40kph with Creeper)
Optional
Auto Command™ Continuously Variable Transmission (CVT)
 
Auto Command™ Continuously Variable Transmission (CVT)
Optional
Auto Command™ Continuously Variable Transmission (40kph)
Standard
Auto Command™ Continuously Variable Transmission (50kph) -
Optional
Electrical
 
12 volt alternator amps
200
Batteries
2-12V
Axles
 
Rear axle dimension standard/optional in. (mm)
4/4.5 (102/114)
Rear axle length in. (mm)
120 (3050)
Terraglide™ front axle suspension
Optional
MFD tread adjustability in. (mm)
60-88 (1524-2235)
Track Spacing (center to center) in. (mm)
Not available
Hydraulics
 
System type
Pressure-flow compensating (PFC)
Standard pump flow gpm (Lpm)
44 (166)
MegaFlow™ option gpm (Lpm)
75 (282)
Remote Valves
 
Type
Electro Hydraulic
Remotes - Electro-hydraulic STD (opt
4 (5/6)
Linkage
 
Rear linkage category lbs. (kg)
Cat III/IIIN
Cat III/IIIN Lift capacity 43"links/38" links, 4" rear axle lbs. (kg)
12,900 (5851) / 14,900 (6758)
Cat III/IIIN Lift capacity 43"links/38" links, 4.5" rear axle lbs. (kg)
15,900 (7212) - 19,500 (8119)
Cat IVN/III Lift capacity 43"links/38" links, 4.5" rear axle lbs. (kg)
17,500 (7938) / 19,500 (8845)
Cat HD IVN/III, 5" rear axle lbs. (kg)
NA
Front linkage lift capacity (610 mm in front of ball ends)
12,800 (5810)
PTO
 
Front PTO/ 3-point hitch lbs. (kg)
Optional
Front hitch lift capacity
12,800 (5810)
Front PTO and shaft size
1000 rpm, 1 3/8", 21 spine
Cab
 
Comfort Ride™ cab suspension
Optional
IntelliSteer® guidance complete
Standard
Cab sound level dBA
68
Volume-size cu. ft. (cu. m)
109.5 (3.1)
Glass sq. ft. (m sq.)
68.5 (6.4)
Estimated average standard weight***
 
Estimated average standard weight*** lbs. (kg)
22,377 (10,150)
Max Ballasting
 
Max Ballasting lbs. (kg)
31,791 (14,420)
* Developed by FPT Industrial
** Power boost available during mobile PTO, hydraulic or transport speeds
*** Weight is based on tractor equipped with standard equipment, minimum fuel, no ballast, no operator and single wheel equipment.