New Holland P2070 Precision Hoe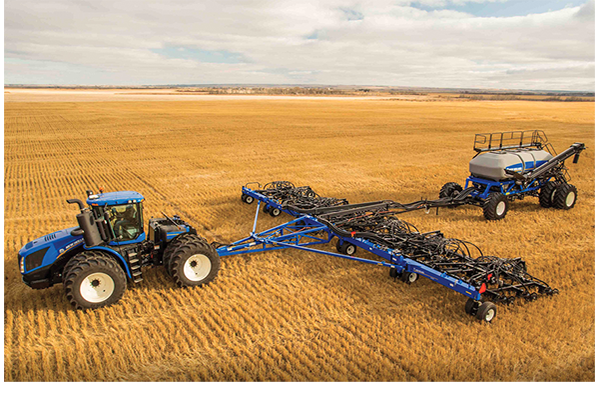 Double tap to zoom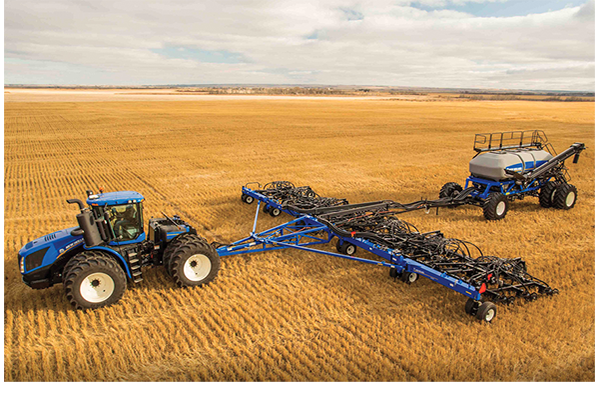 Features
PRECISION SEEDING COMBINED WITH UNMATCHED DURABILITY
The P2070 Precision Hoe Drill includes an innovative, patented design for individual opener depth control and provides outstanding ground-following capabilities, delivering accurate, consistent depths across the width of the drill. This feature combined with an innovative opener design delivers the ultimate in seed placement and crop emergence. With a compact design for easy, narrow transport, the P2070 is a leader in productivity, efficiency and transportation safety.
ADJUSTABLE INDIVIDUAL DEPTH CONTROL
For more precise seed control, the P2070 includes patented individual depth control with an easy-to-use adjustment bolt on each opener for zero to 2-inch seeding depth in 1/8-inch increments. Packing & Trip Pressure are adjustable in cab via the Intelliivew™ IV display which provides additional fine tuning to seed depth and packing pressure on the go.
SUPERIOR, UNMATCHED DESIGN FOR TRASH FLOW
The three-rank design with a staggered shank layout ensures optimal trash flow on the P2070. The innovative fold-back design provides unsurpassed safety and maneuverability. Independent frame sections allow maximum flexibility with an innovative, tight steering hitch for towing behind air carts.
EXCLUSIVE TRUE-PARALLEL LINK ROW UNIT
A patented true-parallel link row unit on the P2070 includes a dual pivot arm that maintains the proper opener angle in relation to the soil surface to provide a consistent seed depth and faster, uniform crop emergence. This unique feature is especially useful for achieving precise depth control with small-seed crops. The short distance between tire & opener maintains proper seed fertilizer placement throughout entire 15 inches of upward and downward opener travel.
EXCLUSIVE FOLD BACK FRAME DESIGN
The innovative fold back design on the P2070 provides the optimal convenience and transport safety. When in transport the drill fits within envelope of most 4 wheel drive tractors and provides excellent transport visibility and maneuverability. The tight compact fold-back design provides the opportunity to conveniently store the drill indoors and protect your investment during the off season. The standard equipped auto-fold process allows the operator to remain in cab and perform all transport functions via the IntelliView™ IV display. The frame folds/unfolds one side at a time to minimize negative hitch weight allowing for tow between air cart configurations. In addition locking center castors provide outstanding maneuverability during transport and allow the operator to back up safely. Tow behind air cart configurations include a innovative tight steering hitch which is designed to follow the tractor tracks.
ELECTRONIC HYDRAULIC CONTROLS
The P2070 electronic controls feature is for use with ISO-compatible monitors such as IntelliView™ IV monitor. No need to get out of the cab - for extra convenience, fold and unfold are performed from the comfort of the cab with a push of a button. In addition packing & trip pressure are also adjustable in cab via the IntelliView™ IV display. The operator has the ability to save/recall on the go 5 combination target pressure presets to match various soil and field conditions.
Specifications
| | |
| --- | --- |
| Model | P2070 PRECISION HOE  |
| Configuration |   |
| Seeding Method | Precision hoe |
| Row Spacings, in (mm) | 10, 12 (254, 305) |
| Seed Supply; Air Cart or Integral Tank | Air cart |
| Type of Frame & Transport Folding Method | 3 & 5-section, horizontal rear fold |
| Machine Dimensions and Weight |   |
| Working Width, Minimum, ft-in (m) | 50' (15.3) |
| Working Width, Maximum, ft-in (m) | 70' (21.3) |
| Transport Width, Minimum, ft-in (m) | 17' 8" (5.4) |
| Transport Width, Maximum, ft-in (m) | 17' 8" (5.4) |
| Transport Height, Minimum, ft-in (m) | 16' 6" (5.03) |
| Transport Height, Maximum, ft-in (m) | 16' 6" (5.03) |
| Transport Length, Minimum, ft-in (m) | np |
| Transport Length, Maximum, ft-in (m) | np |
| Number of Furrows, Minimum | 50 |
| Number of Furrows, Maximum | 84 |
| Basic Weight, Minimum, lb (kg) | 27,592 (12542) |
| Basic Weight, Maximum, lb (kg) | 37,985 (17266) |
| Variants Available | 6 |
| Primary Opener Assembly |   |
| Opener Type | Double pivot toggle trip hoe on parallel arms |
| Depth Gauging System | By press wheel |
| Opener-Mounted Press Wheel Description | 4.8" wide round pneumatic tire |
| Seeding Depth, Maximum, in (mm) | 2 (51) |
| Down Pressure, Minimum lb (kg) | 135 (61) |
| Down Pressure, Maximum lb (kg) | 200 (91) |
| Trip Load, lb (kg) | 275-550 (125-249) |
| Type of Fertilizer Delivery | Double shoot |
| Frame Mounted Press Wheels |   |
| Frame Mtd. Press Wheels - Width range, in (mm) | See opener-mounted press wheel |
| Frame Mtd. Press Wheels - Wheel / Tire Description | Steel Wheel or Semi-pneumatic Tire |
| Tires and Frame |   |
| Center Frame Tire Size; Min, Max | 11 x 15FI, 12.5 x 15FI |
| Wing Frame Tire Size; Min, Max | 11 x 15FI, 12.5 x 15FI |
| Frame Height Control | Fixed |
| Number of Ranks | 3 |
| Distance Between Ranks in (mm) | 39 (991) |
| Under Frame Clearance in (mm) | 30 (762) |
| Opener to Road Clearance in (mm) | np |
| Sales Literature |   |
| Literature Number | PL-3061-09 |
| Literature Date | 07-2009 |