New Holland P2050 Air Drill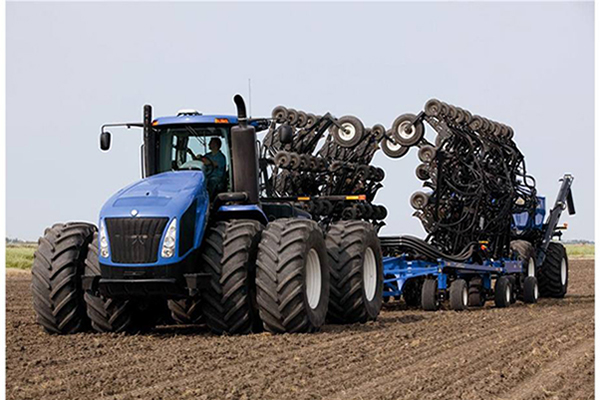 Double tap to zoom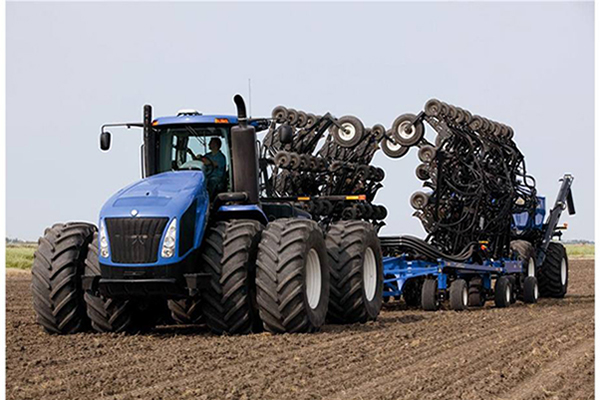 Features
UNMATCHED SEEDING ACCURACY IN WIDTHS UP TO 58 FEET
The P2050 air hoe drill is available in width from 27 to 58 feet with your choice of multiple four-bar configurations for 7.2-, 10- or 12-inch row spacing. Based the legendary 5000 Flexi-coil air drill, New Holland is proud to offer the P2050 with the same outstanding features and benefits. This 'Bulletproof' design has earned the reputation for being tough, durable and dependable when the going gets tough. Key features such as the non-slab flexible frame, provides industry leading ground following capabilities which results in superior seed and fertilizer placement. Single point depth control along with unmatched trash flow allows operators to spend more time in the field to get the job done right. The P2050's outstanding features and benefits focus on the essential agronomic principals that lead to better stands, higher yields and higher profits.
SMOOTH RESIDUE FLOW
The P2050 provides a 32-inch frame clearance that allows heavy residue flow through the drill. The frame is carried by press wheels at the rear and casters on the front, which means there are no wheels in the frame to interfere with residue flow.
FLEXIBILITY INCREASES DEPTH ACCURACY
The P2050 model's flexible frame provides unmatched depth accuracy by allowing openers to follow the contours of the ground. Flexibility also dissipates frame stress for more durability than traditional welded joints. Where the frame flexes, durable, self-lubricating joints with chrome pins and polyurethane pads add lasting performance.
LEVEL FROM FRONT TO BACK
Parallel linkage between the front casters and the rear press wheels keeps the frame level and maintains seeding depth in changing conditions.
SUPERIOR FLOATATION
Dual walking casters provide optimum floatation. Walking casters are standard on the center section of larger models and optional on wing sections.
EFFECTIVE ON-ROW PACKING
For the best possible crop emergence, the P2050 offers multiple press wheels and closing options to match the drill to your specific field conditions and field finish requirement. Choose between 350-pound standard trips or 550-pound trips for challenging conditions and double-shoot operations.
ACCURATE, REPEATABLE SEED DEPTH
Single-point depth setting on the P2050 provides simple control of the depth across the entire machine for exact, repeatable seed depth in every field.
Specifications
| | |
| --- | --- |
| Model | P2050 AIR DRILL  |
| Configuration |   |
| Seeding Method | Min-Till / Conventional Till hoe |
| Row Spacings, in (mm) | 7.2, 10, 12 (183, 254, 305) |
| Seed Supply; Air Cart or Integral Tank | Air cart |
| Type of Frame & Transport Folding Method | 3 & 5 section vertical folding |
| Machine Dimensions and Weight |   |
| Working Width, Minimum, ft-in (m) | 27' (8.2) |
| Working Width, Maximum, ft-in (m) | 58 ' (17.7) |
| Transport Width, Minimum, ft-in (m) | 18' 10" (5.7) |
| Transport Width, Maximum, ft-in (m) | 19' (5.8) |
| Transport Height, Minimum, ft-in (m) | 11' 8" (3.6) |
| Transport Height, Maximum, ft-in (m) | 17' 9" (5.4) |
| Transport Length, Minimum, ft-in (m) | 27' (8.3) |
| Transport Length, Maximum, ft-in (m) | 32' (9.7) |
| Number of Furrows, Minimum | 28 |
| Number of Furrows, Maximum | 85 |
| Basic Weight, Minimum, lb (kg) | 17,000 (7711) |
| Basic Weight, Maximum, lb (kg) | 33,700 (15286) |
| Variants Available | 15 |
| Primary Opener Assembly |   |
| Opener Type | Conventional single pivot spring trip hoe |
| Depth Gauging System | Fixed to frame |
| Opener-Mounted Press Wheel Description | See Frame-Mounted Press Wheels |
| Seeding Depth, Maximum, in (mm) | np |
| Down Pressure, Minimum lb (kg) | Not regulated separately |
| Down Pressure, Maximum lb (kg) | Not regulated separately |
| Trip Load, lb (kg) | 550 (249) |
| Type of Fertilizer Delivery | Single/double shoot |
| Frame Mounted Press Wheels |   |
| Frame Mtd. Press Wheels - Width range, in (mm) | 3.0 to 5.5 (76 to 140) |
| Frame Mtd. Press Wheels - Wheel / Tire Description | Steel Wheel or Semi-pneumatic Tire |
| Tires and Frame |   |
| Center Frame Tire Size; Min, Max | 9.5L x 15FI, 11L x 15FI |
| Wing Frame Tire Size; Min, Max | 9.5L x 15FI |
| Frame Height Control | Hydraulic |
| Number of Ranks | 4 |
| Distance Between Ranks in (mm) | np |
| Under Frame Clearance in (mm) | 28 to 32 (711 to 813) |
| Opener to Road Clearance in (mm) | np |
| Sales Literature |   |
| Literature Number | PLA-41004-08 |
| Literature Date | 04 - 2008 |