New Holland SP.300C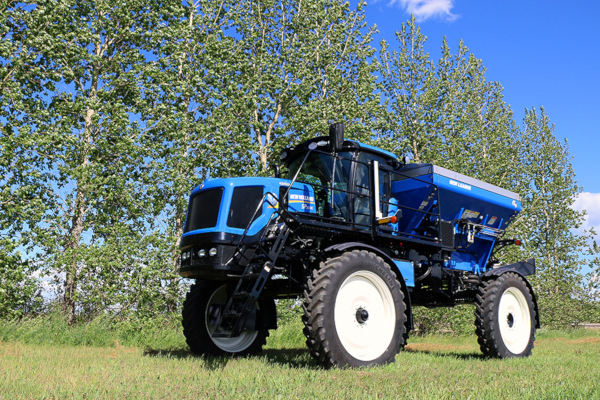 Double tap to zoom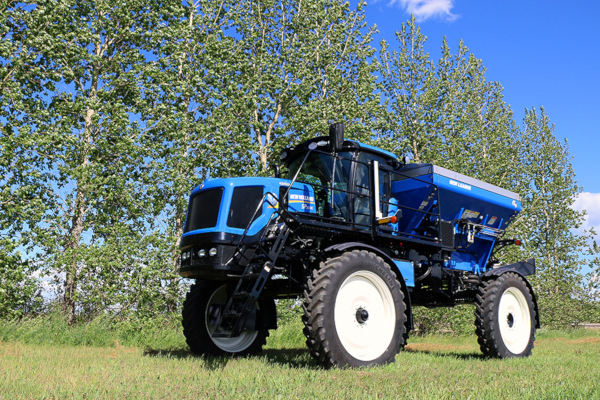 Features
CAB
NEW CAB DESIGN
The New Holland Guardian Sprayers are now offered with a new and improved cab. The new cab has a wide array of options to enable the operator to stay in the field longer, with superior comfort.
• New shape and styling
• Larger door – easier access
• Two rear windows improve visibility
• New cab mounting to improve support and ride
• Standard light package - 2 HID & 12 halogen for a total of 14 working lights
• Optional light package includes - 8 HID & 8 halogen for a total of 16 working lights
• New, all-glass headlights
• Larger, safer ladder
• Available in Deluxe or Luxury
TANK
CAPACITY UP TO 1,200 GALLONS
Choose the tank that suits your needs – 1,000 or 1,200 gallon tanks in poly or stainless steel construction. Stainless steel tanks have integrated saddles. A deep sump design allows for complete draining and less product waste.
TANK RINSE SYSTEM
Select a manual or electric 100-gallon rinse system option to flush the solution tank. A convenient fill station area next to the ladder makes it easy to fill the rinse tank.
BOOMS
COVERAGE UP TO 120 FEET WIDE
You can cover acres in a hurry with boom widths up to 120 feet. The high-strength, truss boom or mono boom system provides outstanding reliability for the toughest conditions. When product coverage is critical, the Guardian rear boom models can also be configured with the optional Spray-Air® boom systems.
DRIVETRAIN
MORE POWER TO THE GROUND
The simple, reliable mechanical drive system used on Guardian Rear Boom Sprayers transfers more power to the ground for higher productivity, better fuel economy and lower operating costs.
POWERFUL, QUIET TIER 4B ENGINES
Electronically controlled Cummins engines meet Tier 4B standards and provide high torque rise for added power when you need it.
3 MODELS, 2 HORSEPOWER CHOICES
Cummins QSB 6.7-liter engines power all three rear-boom models. These gutsy engines respond with extra power when needed, yet are the quietest in the industry for their horsepower range. Engines meet strict Tier 4B standards to keep air clean and reduce your farm's carbon footprint.
SINGLE-PASS COOLING
All Guardian Rear Boom Sprayer models use the same stacked, one-pass cooling package. Instead of modules being layered front to back, they are positioned on top of each other so they all receive the same, cool air flow. The high-volume fan pulls air through the entire system in a single pass, allowing for more efficient flow of cooler air through all of the cores for maximum efficiency.
HEAVY-DUTY, FULLY SUSPENDED AXLES
A crop clearance up to 48 inches allows you to perform. The structural steel front axle features massive 2.5 inch kingpins and bushings. A full 11 inches of suspension travel provides for a very smooth ride. The rear axle features a heavy-duty design with formed steel receiver tubes to handle harsh ground conditions. The active suspension system uses four air bags, gas shock absorbers, trailing arms and a large-diameter anti-sway torsion bar to keep the boom parallel to the ground. This system maintains a constant height and smooth ride.
Specifications
| | |
| --- | --- |
| Model | SP.300C  |
| Engine |   |
| Make / Displacement Liter | Cummins QSB / 6.7 / Tier 4b |
| Rated Power hp (kW) | 300 (224) |
| Power Bulge hp (kW) | 310 (231) |
| Fuel Tank Capacity gal (Liter) | 120 (454) |
| DEF Tank Capacity gal (Liter) | 15 (56.8) |
| Electrical |   |
| Alternator Amp | 160 |
| Battery Disconnect Switch | Yes |
| Forward Lighting (Standard) | 4 high/low on grill, 10 Field working, 2 amber warning |
| Rear Lighting (Standard) | 6-working, 2-backup, 2-red tail/brake, amber warning with red signal |
| Beacon | 1 Amber Rotating |
| Drive Train |   |
| Transmission / Type | Automatic/ Allison/ RDS 3000 |
| Torque Converter | Standard |
| Speed range | 6 speed automatic |
| Differential / Lock system | Axle Tech with auto "Limited Slip" |
| Service Brakes | Four (4) wheel heavy duty power discs on front and rear axle |
| Parking Brakes | Spring applied hydraulic release |
| Wheel Drive | 2WD with optional front wheel assist |
| Angle Drive shaft w/ planetary hubs in (mm) | - |
| Drop Boxes in (mm) | Gear style drop boxes with 48 (1219) clearance |
| Speed Range w/std. tires/angle drive mph (kph) | - |
| 1st Range | - |
| 2nd Range | - |
| 3rd Range | - |
| 4th Range | - |
| 5th Range | - |
| 6th Range | - |
| Speed Range w/std. tires/drop box mph (kph) | 0 to 40.6 (65) |
| 1st Range | 7.6 (12.2) |
| 2nd Range | 14.2 (22.8) |
| 3rd Range | 18.7 (30) |
| 4th Range | 26.4 (42.5) |
| 5th Range | 35.2 (56.6) |
| 6th Range | 40.6 (65.3) |
| Aux Hydraulics |   |
| System Capacity gpm (lpm) | 59 (223.3) 2500 psi |
| Performance | Pressure compensating. Max system pressure at idle. Closed loop flow. |
| Chassis |   |
| Frame | C-Channel bolted - 3x9x3/8 110,000 psi |
| Paint | Epoxy primer/urethane top coat |
| Suspension | Air bag with Sway control - adjustment on all 4 air bags |
| Front in (mm) | >11 (279) travel |
| Rear in (mm) | > 9 (229) travel |
| Angle Drive Tire Options | - |
| 2WD Drop Box Tire Options - Front:(F:) & Rear (R:) | IF320/90R50, 380/90R46, VF380/90R46, 480/80R38, 520/85R38, F: 520/85R38 R:710/R38, F: 480/80R38 R:30.5x32R3 |
| 4WD Drop Box Tire Options - Front:(F:) & Rear (R:) | 380/90R46, VF380/90R46, 520/85R38, F:520/85R38 R:710/70R38, F:480/80R38 R:30.5x32" R3 |
| Dual Rear Tire options | 520/85R38, 710/70R38, 380/90R46 |
| Fenders | Standard |
| Steering | Hydrostatic Power Steering / 2 Hydraulic Cylinders |
| Turning Radius ft (m) | 15 (4.57) |
| Adjustable Axle Track Width in (mm) | 120 (3048) to 150 (3810) |
| Fixed Axle Track width (optional) in (mm) | - |
| Wheel Tread Adjustment from Cab | Optional hydraulic adjust |
| Wheel Base in (mm) | 150 (3810) |
| Crop Clearance with Standard Tires in (mm) | 48 (1219) |
| Overall Chassis Length ft (m) | 27 (8.23) (boom unfolded) |
| Overall Width with Truss boom in (mm) | 171 (4343) |
| Overall Width with Mono boom in (mm) | 146 (3708) |
| Height in (mm) | 155 (3937) |
| Dry Weight lbs (kg) | 23,250 (10546) |
| Liquid System |   |
| Polyethylene Tank gal (Liter) | - |
| Stainless Steel Tank gal (Liter) | - |
| Tank Agitation | - |
| Tank Agitation | - |
| Rinse Tank Capacity gal (Liter) | - |
| Clean water/Hand wash gal (Liter) | - |
| Rinse System | - |
| Chemical Eductor | - |
| Fast Fill in (mm) | - |
| Solution Pump |   |
| Make / Model | - |
| Gpm (lpm) @ psi (bar) | - |
| Rate Control System |   |
| Make and Model Standard | Viper Pro™, Envizio Pro XL, Viper® 4 |
| GPS | Optional (Intellisteer Kit) |
| Boom Height Control | Optional Raven Ultraglide/Ultrasonic or PowerGlide/Touch wheel system |
| Boom |   |
| Mono Boom Type | - |
| Truss Boom Type | - |
| Width Options ft (m) | - |
| Sections | - |
| Height Adjustment in (mm) | - |
| Breakaway | - |
| Boom Pipes in (mm) | - |
| Nozzle Bodies Center in (mm) | - |
| Nozzle Bodies | - |
| Flow Control | - |
| Fence Line Spray Tip | - |
| Pressure Strainer | - |
| Boom (In line Filters) | - |
| Foam Marker (Optional) |   |
| Capacity gal (Liter) | Foam injection uses 100 gallon (379) rinse water, holds 3 gallons (11) of foam concentrate |
| Air Compressor | Engine driven |
| Combo Liquid (SP.300C only) |   |
| Polyethylene Tank gal (Liter) | 1200 (4543) |
| Stainless Steel Tank gal (Liter) | 1200 (4543 |
| Tank Agitation | Poly - Twinjet nozzles |
| Flow Control | - |
| Rinse Tank Capacity gal (Liter) | 100 (379) |
| Clean water/Hand wash gal (Liter) | 3 (11.35) |
| Rinse System | Manual or electric |
| Chemical Eductor | Optional 3.6 gal. SS w/ rinse system |
| Fast Fill in (mm) | 2 (50.8); 3 (76.2) optional |
| Liquid Skid Dry Weight lbs (kg) | 7250 (3288) |
| Pressure Strainer | 50 or Optional 80 mesh y-strainer |
| Boom (In line Filters) | Optional 50 or 100 mesh |
| Combo Dry (SP.300C only) |   |
| Chassis required | SP.300C |
| Box Type | New Leader G4 |
| Box Material | 409 Stainless steel |
| Products | Dry fertilizer |
| Capacity Single Bin cu ft (ton) | 255 (8.29) |
| Optional MultApplier - large bin cu ft (ton) | 134 (4.35) |
| Optional MultApplier - small bin cu ft (ton) | 100 (3.25) |
| Conveyor system | #5 straight HD 30" wide belt conveyor |
| Spinner material | 304 Stainless steel |
| Spinner disc diameter | Dual 24 (610) |
| Number of Fins/Spinner | 4 |
| Feed Rate height | 5 (127) |
| Rate Control System Options | Viper Pro™, Envizio Pro XL, Viper® 4 |
| Dry Weight lbs (kg) | 3,240 lbs. (1467 kg) |
| Spread Pattern Width ft (m) | Up to 100 (32) |
| Pan test kit | Standard |
| Overall Dry Box Length in (mm) | 126 (3200) |
| Overall Dry Box Width in (mm) | 102 (2591) |
| Overall Dry box Height in (mm) | 64 (1626) |
| Overall Dry box Loading Height in (mm) | 140 (3590) |