New Holland SP.400F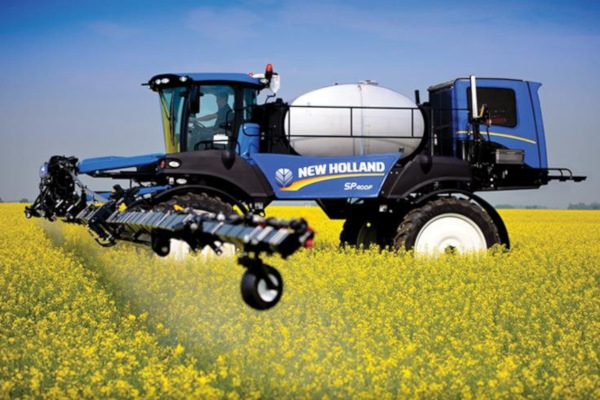 Double tap to zoom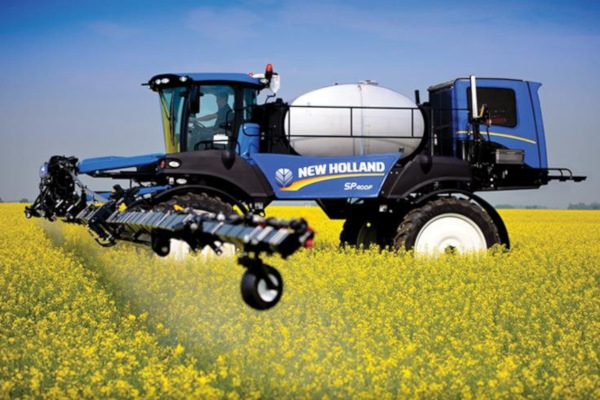 Features
Front boom — the easier way to spray
With the boom in front, you get the best visibility without looking over your shoulder. Nozzles are located behind the front boom, so you
have a complete, unrestricted view of every nozzle. Greater visibility means you can run the boom closer to the ground to reduce drift.
Comfort zone
The state-of-the-art Guardian™ cab offers an array of features to make long days feel shorter. A wider and longer cab gives you more
room for maximum comfort. An enhanced glass area with curved rear cab windows allows you to see behind the sprayer and from
the front tires to the left and right boom, providing superior visibility.
Choice of cab, display and four-wheel steering
New Holland allows you to choose either the Guardian™ Deluxe cab or the upgraded Luxury cab option for even greater functionality
and comfort. You can further customize your Guardian™ sprayer with optional equipment, including the IntelliView™ IV display, a
Raven display, and four-wheel steering that minimizes crop damage when turning on headlands.
Power and size for maximum productivity
The industry-leading SP.400F maximizes your productivity with up to 400 horsepower, a tank up to 1,600 US gallons and a boom up
to 135 feet wide. A next generation planetary drive system on New Holland's three top models — the SP.400F, SP.345F and SP.300F
— delivers increased torque and maximum power transfer to the ground.
Specifications
| | |
| --- | --- |
| Model | SP.400F  |
| Engine |   |
| Make / Displacement Liter | Cummins QSL / 8.9 /Tier 4B |
| Rated Power (hp) (kW) | 380 (283) |
| Power Bulge (hp) (kW) | 400 (298) |
| Alternator (Amp) | 200 |
| Fuel Tank Capacity (U.S. gal) (L) | 150 (568) |
| DEF Tank Capacity (U.S. gal) (L) | 15 (57) |
| Drive Train |   |
| Transmission / Type | Hydrostatic drive with Twin Sundstran heavy duty pumps |
| Speed Ranges | Full range with 4 user defined speed ranges |
| Wheel Motors | Danfoss H1 series drive motors with Oerlikon Fairfield Torque Hub® gearbox final drives |
| Service Brakes | 4 wheel internal wet disc |
| Parking Brakes | All 4 wheels |
| Wheel Drive | 4 wheel drive |
| Leg Profile / Clearance (in) (mm) | Narrow 18 (457) profile, 72 (1829) clearance |
| Ground Speed w/ std. tires (mph) (kph) | 0 to 32 (51.5) |
| 1st Range (mph) (kph) | User defined |
| 2nd Range (mph) (kph) | User defined |
| 3rd Range (mph) (kph) | User defined |
| 4th Range (mph) (kph) | User defined |
| 5th Range (mph) (kph) | N/A |
| Aux Hydraulics |   |
| System Capacity (gpm) (lpm) | 26 (98) or 44 (167) option |
| Performance | Closed center, pressure compensated, Eaton pump with 2500 psi operating pressure |
| Chassis |   |
| Frame | 100,000 psi High Strength steel |
| Cab Mount | Front Mount Cab |
| Tank Mount | Mid Mount Tank |
| Engine Mount | Rear Mount Engine |
| Suspension | Hydraulic with accumulators |
| Front (in) (mm) | 20 (508) (10 (254) up / 10 down) |
| Rear (in) (mm) | 20 (508) (10 (254) up / 10 down) |
| Tire Options | 380/105R50 177 IF, 380/90R50 170 IF, 420/95R50 177 VF, 520/85R42 170, 650/75R42 170 |
| Fenders | Standard |
| Turning Radius (ft) (m) | 15' (4.6) |
| Tread Width Adjustment (in) (mm) Note: Based on 380 tire options | 120 (3048) to 160 (4064), spread equal side to side |
| In-Cab Tread Width Adjustment | Standard equipment hydraulic adjust |
| Wheel Base (in) (mm) | 177 (4496) |
| Crop Clearance with Standard Tires (in) (mm) | 72 (1829) |
| Overall Chassis Length (ft) (m) | 30.3 (9.24) |
| Overall Width (in) (mm) | 12.8 (325) |
| Weight and Balance Front to Back | 50/50 |
| Height (in) (mm) | 13.2 (335) |
| Liquid System |   |
| Tank Capacity (US Gal) (Liter) | 1200 (4543), 1400 (5300), 1600 (6057) cross mounted |
| Polyethylene Tank (US Gal )(Liter) | NA |
| Stainless Steel Tank (US Gal) (Liter) | 1200 (4543), 1400 (5300), 1600 (6057) |
| Tank Agitation | Sparge tube |
| Rinse Tank Capacity (US Gal, inch)(Liter, mm) | 150 US gallon (568) with 2 (51) quick fill |
| Rinse System | Manual or electric |
| Chemical Eductor (US Gal) (Liter) | Optional 3.6 (14) SS w/ rinse system |
| Fast Fill (in) (mm) | 2 (51); 3 (76) optional |
| Solution Pump |   |
| Make / Model | Hypro 9306C Standard |
| Gpm (lpm) | Up to 220 (833) at the pump |
| High Flow Option | Hypro 9307C up to 310 (1174) |
| Rate Control System |   |
| Controller Options | Raven, Envizio Pro XL™, Viper Pro™, Viper® 4 or Intelliview IV™ |
| Flow Control | RFM 100/Optional RFM 60 |
| GPS (optional) | Optional (Intellisteer Kit) |
| Boom Height Control | Raven Ultraglide with Ultrasonic sensors |
| Boom |   |
| Boom Mount | Front Mount, 100% visibility |
| Mono-boom Widths (ft)' | 90/60, 100/60, 120/70 |
| Truss-boom Widths (ft)' | 120/73, 132/73, 135/731 |
| Spray-Air® boom Widths (ft)' | 90, 100, 120 |
| Height Adjustment (in) (mm) | 22 (559) - 118 (2997) |
| Breakaway | On the secondary boom wing |
| Boom Pipes (in) (mm) | 1 (25) stainless steel |
| Nozzle Body Spacing (in)(mm) | 15 (381) or 20 (508) |
| Nozzle Body Spacing Spray-Air® only (in) (mm): | 10" (254) |
| Nozzle Body Options | 3 way, 5 way, 3+1 |
| Electric Fence Line Spray Nozzle | Standard |
| Sections | 5 sect. (10 section option) |
| Suspension Nitrogen Accumulators | Optional |
| Primary Strainer (std. pump) | 50 or Optional 80 mesh y-strainer |
| Boom In-Line Strainers | Optional 50 or 100 mesh |
| Foam Marker |   |
| Capacity (US Gal) (Liter) | Foam injection uses 150 (568) rinse water, holds 3 (11.4) of foam concentrate |
| Air Compressor Standard | Engine driven |