New Holland Speedrower 200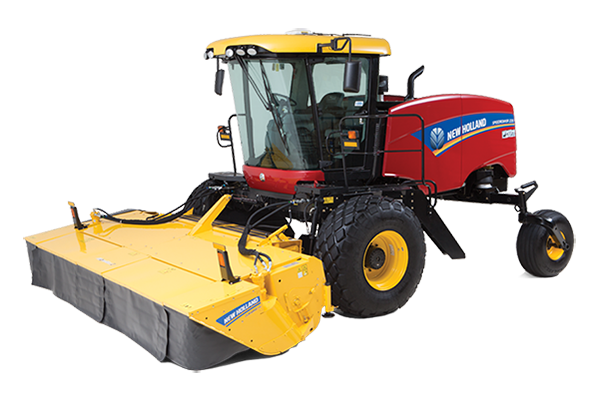 Double tap to zoom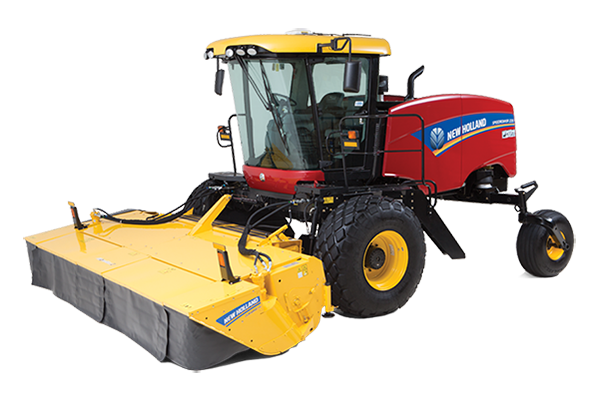 Features
Drivetrain
POWERFUL AND EFFICIENT
ABUNDANT HORSEPOWER
Choose from three Speedrower® windrower models with Tier 3 emission engines rated at 126, 190 and an industry-leading 226 horsepower. Full-flow turbochargers and intercoolers provide quick response and high fuel efficiency.
POWER MANAGE FEATURE
Power Manage is standard equipment on six-cylinder Speedrower windrowers working with Durabine disc headers. Power Manage allows you to reduce engine speed as much as possible while still maintaining cutting speed and not lugging down the engine. When turned "on," Power Manage maintains the disc speed you choose. If the engine drops below 1850 RPM, the header drive pumps are disabled until the engine recovers to 1900 RPM, then automatically returns to the selected disc speed.
IMPROVED HYDRAULICS
A more reliable hydraulic valve block design includes more robust hydraulic components for less downtime. The valve block is now located under the right-side platform, outside of the engine compartment, and the valves are color coded, all for easy serviceability. You get increased oil flow and increased oil cooling capacity pumps that provide more reliability and less downtime.
SIMPLE MAINTENANCE
New Holland makes maintenance and refueling easy, to keep you working at high speed. Regular maintenance areas, such as filter and fluid level check points, are easy to access and centralized for faster servicing.
FAST CHECKS AT GROUND LEVEL
Unlike other windrowers, Speedrower® windrowers allow you to refuel while you keep your feet on the ground. Reaching the engine and drive system is convenient, too. Just lift the side shields for complete access to routine maintenance points.
EASY ACCESS BEHIND REAR SCREEN
A rotary radiator screen, standard on all models, opens for convenient servicing of air conditioning condenser, hydraulic oil cooler, radiator and intercooler. The rotary screen precleaner reduces debris buildup on the rear screen by using the vacuum generated by the engine fan to continuously sweep the screen.
Specifications
| | |
| --- | --- |
| SPEEDROWER® 200 |   |
| Engine |   |
| Engine | New Holland 6-cylinder, Tier 3 |
| cu. in. (L) | 411 (6.7) |
| Type | Turbocharged with air-to-air intercooler |
| Rated horsepower hp (kW)* | 190 (142) @ 2200 rpm |
| Fuel injection pump | Electronically controlled high-pressure common rail |
| Batteries / alternator | 2, 12-volt 650 CCA / 150 amp |
| Fuel capacity gal. (L) | 120 (454) |
| Rotating wand cooling system pre-cleaner | Standard |
| Transmission |   |
| Transmission | Dual range hydrostatic |
| Final drive | Double reduction planetary |
| Steering | Hydrostatic |
| Speed range, depending on front drive tires: 2 speed drive mph (kph) | 0-31.4 (0-19.5) |
| Speed range, depending on front drive tires: 3 speed drive mph (kph) | 0-24.7 (0-39.8) |
| Length |   |
| Length with header in. (mm) | 283 (7188)*** with Durabine 416 |
| Length less header and lift arms in. (mm) | 199.2 (5060)*** |
| Height in. (mm) | 134.8 (3424)*** |
| Wheelbase in. (mm) | 144.1 (3659) |
| Front tread width in. (mm) | 154.8 (3932)*** |
| Rear tread width (adjustable) in. (mm) | 90-105-120 (2286-2667-3048) |
| Rear axle suspension | Standard |
| Tractor weight lbs. (kg) | 11,225 (5092)*** |
| Rear axle tires | 14L x 16.1 8PR |
| Rear axle ground clearance in. (mm) | 41.97 (1066)** |
| Header drive | Hydraulic |
| Header flotation | Independent hydraulic flotation (flotation weight at each end of header independently controlled from cab) |
| Hydraulic header tilt | Standard |
| Header power reverser | Standard |
| Adjustable windrow shields (on hay units) | Standard |
| In-cab windrow-width adjustment | Optional |
| Single lever header transport lock system | Standard |
| Cab |   |
| Cab | Deluxe, curved tinted glass |
| Cab suspension | Standard |
| Cab air filtration | Dual: 1 external air filter and 1 in-cab recirculation filter |
| Seat | Deluxe air suspension seat with fore / aft lumbar adjuster, ride dampening |
| Seat (leather heated) | Optional |
| Instructor seat | Standard |