New Holland ProRotor.3226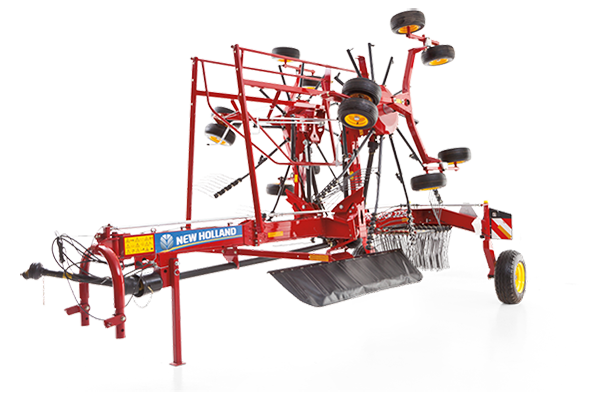 Double tap to zoom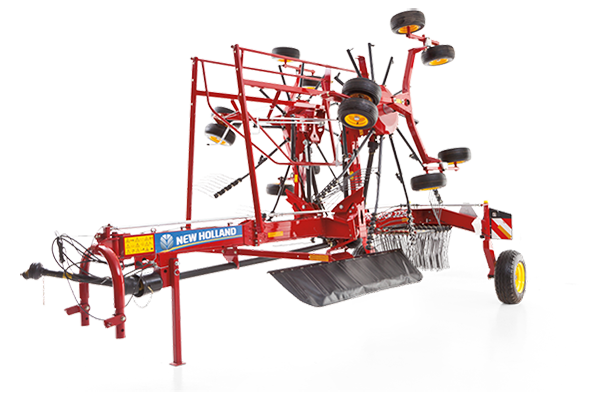 Features
PROROTOR™ 3226 DUAL ROTOR, CENTER-DELIVERY RAKE
The ProRotor 3226 rotary rake features a dual-rotor, center-delivery design and a large working width is perfect to bring together two swaths from your large mower-conditioner or self-propelled windrower head.
Raking up to 25 ft. 7 in. each pass ProRotor 3226 will make quick work of even your largest fields. The central chassis with rear-wheel steering allows this rake follow your tractor precisely forming long straight easy-to-bale windrows with gentle turns that are a ideal for large square and round balers.
Large hydraulic cylinders lift the rotors easily on headlands and the 85° maximum turning angle allows for fast maneuvering so you can work productively.
Rotors mounted on a pivot and rotor arms to flex in three-dimensions they follow ground contours close to rake even your rolling fields clean.
Specifications
| | |
| --- | --- |
| ProRotor.3226 |   |
| Finish |   |
| Paint | Powder Paint |
| Cutting Width/Discharge |   |
| Crop Delivery | Center |
| DIN Width - Sing Swath or Min (m/ft) | 23-Jul |
| DIN Width - Double Swath or Max (m/ft) | 7.8/25.6 |
| Dimensions |   |
| Length (m/ft) | - |
| Transport Length (m/ft) | 5.9/19.4 |
| Width (m/ft) | 2.8/9.2 |
| Transport Width (m/ft) | 2.8/9.2 |
| Transport Height w/ arms removed (m/ft) | 3.5/11.3 |
| Height (m/ft) | 4.1/13.5 |
| Capacity (hph/aph) | 8.4/20.8 |
| Weight (kg/lb) | 1640/3616 |
| Rotor Diameter (m/ft) | 3.4/11 |
| Clean Swept Working Width (not noted on supplied tables) (m/ft) | 2 x 3.0/2 x 9.8 |
| Cam Track Diameter (mm/in) | 260/10.2 |
| Minimum Tractor Requirement |   |
| Power Requirement (kw/hp) | 37/50 |
| PTO Speed | 540 |
| PTO Type | Single Wide Angle CV |
| Overrunning Clutch | Integral to PTO |
| Protection | Individual Radial Pin Clutch on each Rotor |
| Tractor Attachment |   |
| Hitch | 2pt Semi-Mounted Category 2 |
| Special Hitch Pin | NR |
| Operational |   |
| Rotor Articulation System | 3D |
| Num. Rotors | 2 |
| Num. Arms / Rotor | 11 Right / 11 Left |
| Num. Tines / Arm | 4 |
| Tine Arm Diameter (mm/in) | 35/1.4 |
| Tine Arm Attachment to Gearbox | 2 bolts |
| Tine Arm Removal for Transport/Storage | Lynch pin |
| Tine Diameter (mm/in) | 9/0.4 |
| Front Swath Board | Standard w/ Central Swath Board |
| Rear Swath Board | N/A |
| Swath Board Adjustment/Folding | Hydraulic Folding for Transport |
| Height Adjustment | Mech Hand Crank Adjustment |
| Rotor Headland Clearance (mm/in) | - |
| Removable Tine arms/ Folding Guards | Standard |
| Undercarriage Tires/Wheels | 16x6.5-8 PR6 |
| Axle | Dual Nose wheel / Single rear Optional Tandem Axle Kit |
| Hyd. Requirements | 1 Single Acting |
| Chassis Tires/Wheels | 10.0/75-15.3 |
| Rear Wheel Steering | Standard |
| Max. Turning Angle | 85 deg |
| Safety |   |
| Transport Lighting | Standard |
| Transport Safety Chain/Hitch Check Chains | N/A |
| SMV Emblem | Standard |
| Electrical/Lighting |   |
| Transport Lighting Requirement | ASAE 7 Pin |
| Electrical Requirements | NA |
| Operating Speed |   |
| Operational Speed | 8-14 k/h / 5-8.5 mph |