New Holland ProRotor.3223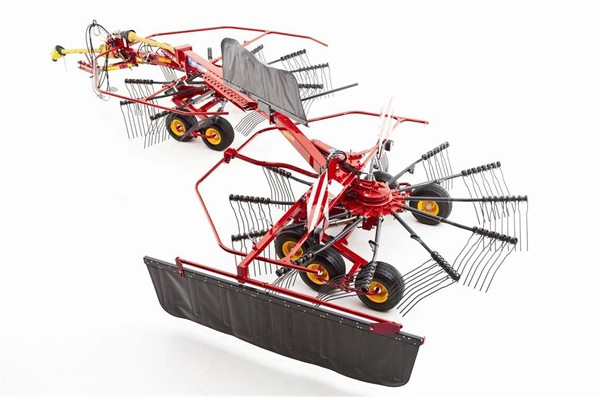 Double tap to zoom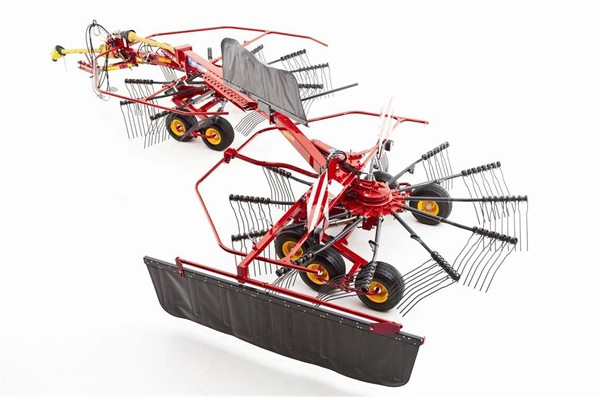 Features
PROROTOR™ 3223 DUAL ROTOR, SIDE-DELIVERY RAKE
For larger acreage operations the dual-rotor, ProRotor 3223 doubles your productivity is more versatility than single-rotor models. The tandem side-delivery design means you can "double up" swaths with every pass for more efficient harvesting. The single large windrow is ideal size for round balers, square balers, and pull-type forage harvesters. When you outfit a ProRotor 3223 with an additional front swath board it is possible to rake two individual windrows ideal for small square balers or to reduce windrow size in heavy crops.
The rear rotor atomicity trails the front a turning without the operator's intervention plus the design is more easily steered around obstructions and when reversing compared to pivot tongue rake hitches. Rotors lift hydraulically with a single hydraulic outlet providing 19 inches of tine clearance when crossing windrows.
With twice the productivity of single-rotor models and a modest 50 PTO Horsepower requirement ProRotor 3223 rakes can save you time in the field as well fuel in the tank.
For frequent travel on narrow rural roads, tine arms remove quickly and store away in storage rack. The compact folding also means this rake stores way easily taking up less valuable shed space.
Specifications
| | |
| --- | --- |
| ProRotor.3223 |   |
| Finish |   |
| Paint | Powder Paint |
| Cutting Width/Discharge |   |
| Crop Delivery | Left Side |
| DIN Width - Sing Swath or Min (m/ft) | 6.6/21.7 |
| DIN Width - Double Swath or Max (m/ft) | 7.1/23.3 |
| Dimensions |   |
| Length (m/ft) | 8.2/26.9 |
| Transport Length (m/ft) | 7.4/24.3 |
| Width (m/ft) | 3/9.8 |
| Transport Width (m/ft) | 2.2/7.2 |
| Transport Height w/ arms removed (m/ft) | - |
| Height (m/ft) | - |
| Capacity (hph/aph) | 7.3/18 |
| Weight (kg/lb) | 1350/2976 |
| Rotor Diameter (m/ft) | 4.9/16.1 |
| Clean Swept Working Width (not noted on supplied tables) (m/ft) | 3/9.8 |
| Cam Track Diameter (mm/in) | 260/10.2 |
| Minimum Tractor Requirement |   |
| Power Requirement (kw/hp) | 37/50 |
| PTO Speed | 540 |
| PTO Type | Double Wide Angle CV |
| Overrunning Clutch | Integral to PTO |
| Protection | Individual Radial Pin Clutch on each Rotor |
| Tractor Attachment |   |
| Hitch | Drawbar |
| Special Hitch Pin | Standard |
| Operational |   |
| Rotor Articulation System | Rear Rotor - 3D |
| Num. Rotors | 2 |
| Num. Arms / Rotor | 11 Front / 12 Rear |
| Num. Tines / Arm | 4 |
| Tine Arm Diameter (mm/in) | 35/1.4 |
| Tine Arm Attachment to Gearbox | 2 bolts |
| Tine Arm Removal for Transport/Storage | Lynch pin |
| Tine Diameter (mm/in) | 9/0.4 |
| Front Swath Board | Optional |
| Rear Swath Board | Standard |
| Swath Board Adjustment/Folding | Hydraulic/Mechanical |
| Height Adjustment | Hyd Lift/Mech Stop |
| Rotor Headland Clearance (mm/in) | 500/19.7 |
| Removable Tine arms/ Folding Guards | Standard |
| Undercarriage Tires/Wheels | 18.5x8.5-8 PR6 |
| Axle | Tandem Front / Tandem Rear + 2 additional support wheels on rear |
| Hyd. Requirements | 1 Single Acting, 1 Double Acting |
| Chassis Tires/Wheels | NA |
| Rear Wheel Steering | NA |
| Max. Turning Angle | NA |
| Safety |   |
| Transport Lighting | Standard |
| Transport Safety Chain/Hitch Check Chains | Transport Safety Chain |
| SMV Emblem | Standard |
| Electrical/Lighting |   |
| Transport Lighting Requirement | ASAE 7 Pin |
| Electrical Requirements | NA |
| Operating Speed |   |
| Operational Speed | 8-14 k/h / 5-8.5 mph |