New Holland MegaCutter 512 Front Mounted Mower Conditioner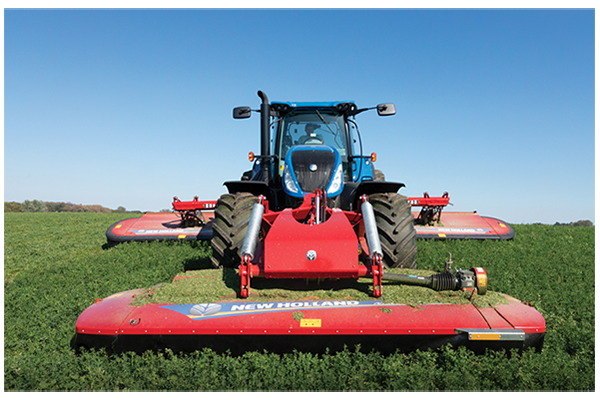 Double tap to zoom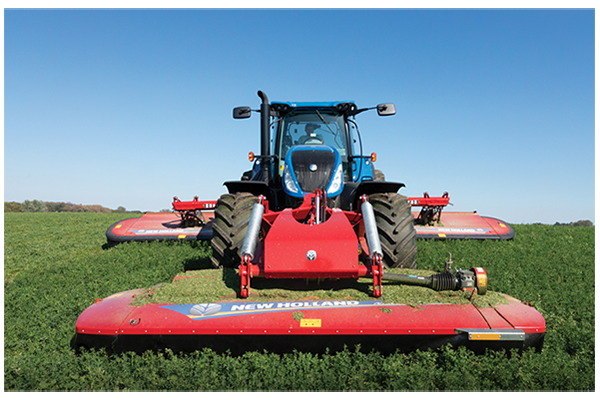 Features
16% WIDER CUTTING UP FRONT
With its big 11-foot, 10-inch cut, the MegaCutter™ 512 clears a wide path—one that's 16% wider than competitive 10-foot models—and provides more mower overlap, eliminating the need for complicated side-shift mechanisms. The wide cut also means you can set the tractor wide for fast drying of the center swath so there are no compromises.
RUGGED AND RELIABLE DISC CUTTERBAR
Challenging conditions are no problem for the MegaCutter 512 cutterbar. It's fully welded with integral box beam support to provide flexibility and support. There are three levels of protection that safeguard against cutterbar damage in the event of a collision while mowing: 1- Round disc profile produces less wind disturbance and resists stone jamming, 2- Discs are set back for less chance of direct collision, 3- Integrated shear-key system provides disc drive protection.
RELIABLE AND ADVANCED FLOTATION
To cut cleanly and remain well protected, front mounted mower-conditioners must provide a broad range of suspension travel. The rugged and reliable spring suspension system found on the MegaCutter™ 512 front mounted mower-conditioner does exactly that and easily adjusts to suit your working speeds and field conditions. This advanced suspension provides remarkable flotation, with a working range over 27 vertical inches and up to 24 degrees of angular movement to adapt to the most challenging terrain. Its innovative geometry and linkage allows the cutterbar to move up and back, while reducing cutterbar angle simultaneously to clear obstacles, protect valuable crop stubble, and reduce skid shoe wear. The reliable system does it all without hydraulic accumulators or cylinders which can leak down while mowing, so you can mow with confidence knowing You're protected.
A MOWER GEARBOX FOR ANY ROTATION
The main gearbox is ambidextrous so it can be set for clockwise (CW) or counter-clockwise (CCW) rotation by inverting the 1000-rpm main gearbox. The factory setting for CCW rotation with 1-3/8'', 6-spline PTO works with New Holland T7.270 tractor. An additional 1-3/8'', 21-spline yoke and the alternate CW PTO rotation setting are required for New Holland T8 Series tractors.
Specifications
| | |
| --- | --- |
| MegaCutter™ 512 Front Mounted Mower Conditioner |   |
| Operational |   |
| Working Width, ft. in. (m) | 11 ft. 10 in. (3.6) |
| Transport Width, ft. in. (m) | 11 ft. 3 in. (3.4) |
| Transport Height, ft. in. (m) | - |
| Weight, lbs (kg) | 2976 lbs. (1350) |
| Number of Discs | 9 |
| Number of Blades | 18 |
| Blade Length in. (mm) | 4 in. (105) |
| Stubble Height Range with standard shoes, in. (mm) | ¾'' in. to 2 ¼ in. (20 to 55) |
| PTO Speed, (rpm) | 1000 |
| Requirement Tractor Power ,hp (kw) | 95hp/70kw |
| Conditioner Rotor Speed, (rpm) | 900/600 |
| Hydraulic Valves Required | 1 Single Acting |
| Windrow Width, ft. in. (m) | 4 ft. 4 in. (1.3) |
| Standard PTO Yoke | 1 3/8" - 6 |
| Optional PTO Yoke | 1 3/8" - 21 |
| PTO Rotation | CW or CCW |
| Hitch Category | Category 2/3N |