New Holland Hydrabox 425V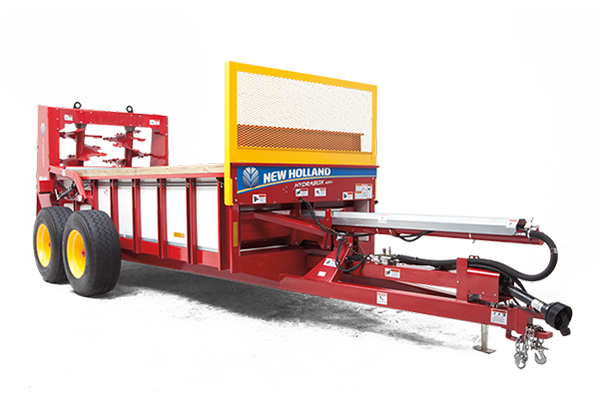 Double tap to zoom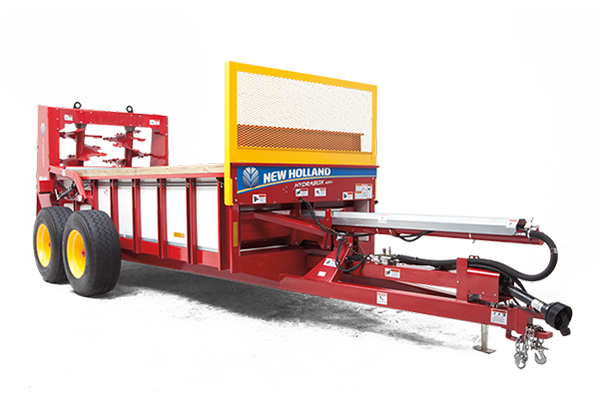 Features
DESIGN
UNIQUE VERTICAL BEATERS ARE STANDARD
Unlike the traditional horizontal beaters that spread only the width of the spreader, the standard vertical beaters on HydraBox models spread material up to 30 feet wide. This wide spread pattern is ideal for keeping material thin on active hay fields or spreading on fields before no-till seeding. These beaters are also easy to remove so the spreader may be repurposed for other jobs like stockpiling manure or poultry litter.
INDIVIDUAL BEATERS DESIGNED FOR PERFORMANCE
The reverse pitch of the uppermost flighting on each beater provides a more even spread pattern. The replaceable, wing-shaped beater teeth scoop and lift material to improve spread quality and reduce beater wear, extending the life of the flighting.
STRONGBOX FRAME
The frame of HydraBox spreaders is designed to carry your heaviest loads with a fully welded structure with floor supports that are spaced every nine inches. The tongue pulls directly from the axle, not the box, for greater reliability when hauling heavy loads year after year.
SELF-CLEANING POLY SIDES AND FLOORS
The simple hydraulic push design allows you to unload material quickly and completely. The solid poly sides and flooring reduce friction so loads move more easily. Unlike poly tongue-and-groove boards, New Holland solid poly sheets are self-cleaning each time the plunger moves.
DRIVETRAIN
SIMPLE HYDRAULIC PUSH
The Hydrabox hydraulic push is a simpler and more reliable mechanism than a traditional chain floor spreader since chains can stretch and wear over time.
UNIQUE OPPOSING TWIN PUSH DESIGN
The cylinders that engage the Hydrabox use a unique opposing twin push design. The staggered cylinders create a shorter distance between the tractor and the front of the spreader. This shorter tongue length permits a tighter turning radius that allows for better maneuverability in yards and feedlot pens. These cylinders can also be replaced independently if service is required, minimizing costs.
EASY USE AND MAINTENANCE
COMPLETE CLEANOUT
New Holland HydraBox™ spreaders are easier to use and maintain. The plunger face fully extends all the way to the beaters to ensure complete cleanout. The swinging beater tray drops open with a quick pull of a handle, allowing any build-up and fines to fall away, especially in freezing conditions.
TOP DOWN DRIVE FOR HIGHER GROUND CLEARANCE
A higher ground clearance compared to other spreaders is a result of the vertical beater top-down drive system.
AUTOMATIC LUBRICATION
The heavy-duty chain drives are automatically lubricated every time the endgate is raised, for longer chain life.
Specifications
| | |
| --- | --- |
| Hydrabox 425V |   |
| Specifications |   |
| Capacity, heaped bushels | 425 |
| Capacity, cu/ft. struck | 282 |
| Weight, lbs. (kg) | 9,260 (4200) |
| Unload rate @ 15 gpm | 31 seconds |
| Wheel hub | 8 bolt |
| Hub capacity, lbs. (kg) | 8,000 (3629) |
| Stress proof spindle size, in. (mm) | 3 (76) |
| Side loading height, in. (mm) | 61* (1549)* |
| Height at vertical beater, in. (mm) | 102* (2591)* |
| Vertical beater diameter, in. (mm) | 34 (864) |
| Removable beater assembly | Yes |
| Overall width, ft. in. (m) | 10' 2"* (3099)* |
| Overall length, ft. in. (m) | 27' 5" (8357) |
| PTO speed, rpm | 540 |
| Tractor requirement, min. PTO hp (kW) | 120 (90) |
| Hydraulic remote circuits required | 1 |