New Holland H5980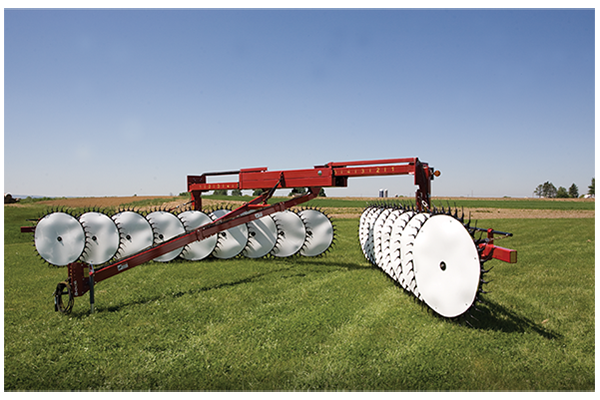 Double tap to zoom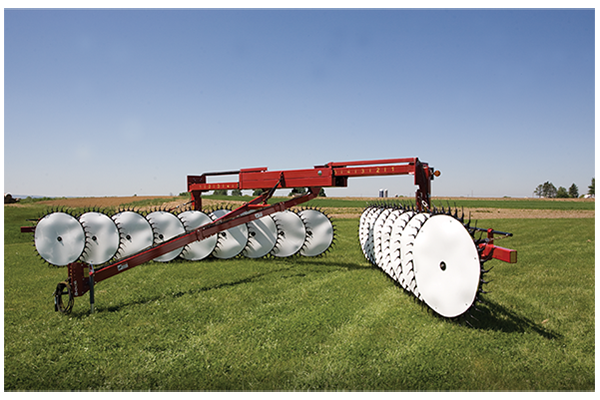 Features
DON'T SACRIFICE QUALITY FOR QUANTITY
The H5980 responds to changing field and crop conditions to create large, fluffy, premium windrows. An offset wheel design, hydraulic width adjustment and automatic wheel alignment boost efficiency. The patented mechanical rake beam adjustment lets you create the exact windrow density your conditions require.
OFFSET WHEEL DESIGN
An offset wheel design places eight 60-inch raking wheels on the left side and nine on the right, allowing 30-foot raking widths without the need for a center kicker wheel. So you get uniform dry down while traveling at speeds of up to 15 miles per hour.
HYDRAULIC WIDTH ADJUSTMENT
A simple hydraulic adjustment lets you change the windrow width from your seat. This convenient feature cuts hassle and downtime and produces a finished windrow as wide as 72 inches.
AUTOMATIC WHEEL ALIGNMENT
Rake wheel supports feature an integrated gusset and over-center stop to keep wheels automatically aligned, so you never have to leave the tractor for repositioning.
EXCLUSIVE DENSITY ADJUSTMENTS
A patented mechanical rake beam can be adjusted by up to 10 degrees to match windrow density to crop conditions. Increasing the rake arm angle creates fluffier windrows for faster dry down. During dry or windy conditions, reducing the angle results in tighter windrows for moisture retention and wind protection.
UNIFORM GROUND PRESSURE
Instead of correcting wheel pressure individually, gang adjustment easily regulates each rake beam. Not only do you save time, the uniform method also provides optimum raking action, reduces tine wear and promotes greater tractor fuel efficiency.
CUSTOM FLOTATION
Compression dampening spring assemblies provide flotation for each individual rake wheel. You'll notice the smoother operation when working on hilly or bumpy ground.
SMOOTH TRAVELING
The offset walking tandem wheels/tires on each side allow the H5980 to follow ground contours and maintain consistent tine height. The result is smooth, even raking, even when traveling over wheel tracks and irrigation borders.
DURABILITY
The H5980 is built to last with these durable features:
• Heavy-duty tapered roller bearings ensure long life of rake wheel bearings
• Anti-wrap hay guards keep crop from entangling in bearings
• Supports rotate on oil-impregnated bronze bushings for added endurance.
Specifications
H5980
 
Adjustments
 
Frame/raking wheel beam pitch
Ratchet jack at rear of center tongue
Raking wheel angle from vertical
Beam pitch adjustment from 0 to 10 degrees outboard at top w/stop bolts
Raking wheel ground pressure
Individual at each wheel and gang adjustment at the rear of each lifting pipe
Transport locks
Mechanical locks of rake beam angle and wheel raise/lower
Tractor-mounted control box
- Electro-hydraulic control of individual LH/RH wing angle
- Electro-hydraulic control of individual LH/RH frame width
- Electro-hydraulic control of individual LH/RH or combined wheel raise lower
Dimensions
 
Transport width, ft. in. (m)
12' 3" (3.7)
Transport length, ft. in. (m)
28' 3" (8.6)
Overall height, in. (mm)
90 (2286)
Maximum raking width, ft. in. (m)
30' 3" (9.2)
Maximum windrow width, in. (mm)
72 (1829)
Equipment
 
Hitch jack
Standard
Safety chains
Standard
Adjustable clevis hitch
Standard
Brake/turn/tail lights w/black box control
Standard
Work light
Standard
SMV Emblem
Standard
Ball Hitch
Optional
Frame Components
 
Design, in. (mm)
4 x 6 (102 x 152) telescoping horizontal members; inside 5 x 7 (127 x 178) fixed center members; 5 x 5 (127 x 127) vertical members; 3 x 5 (76 x 127) raking wheel beams
Transport axles
Offset walking beam
Transport tires
Four 9.5L x 15 SL implement tread
Maximum transport speed, mph (k/h)
20 (32)
Raking Components
 
Number of raking wheels
17 raking wheels with standard UV resistant wind panels
Wheel diameter, in. (mm)
60 (1524)
Raking teeth per wheel
36 rubber-mounted teeth in sets of 2
Raking wheel support
Tapered roller bearings
Tractor Requirements
 
Hydraulic remotes required
1 (detent function recommended)
Minimum pressure requirement, psi (bar)
2000 (138)
Minimum recommended tractor hp (kW)
65 (49)
Standard 7-pin outlet
Required
Weight, lbs. (kg)
 
Shipping
5960 (2703)
Operating
5700 (2586)