New Holland Haybine® 472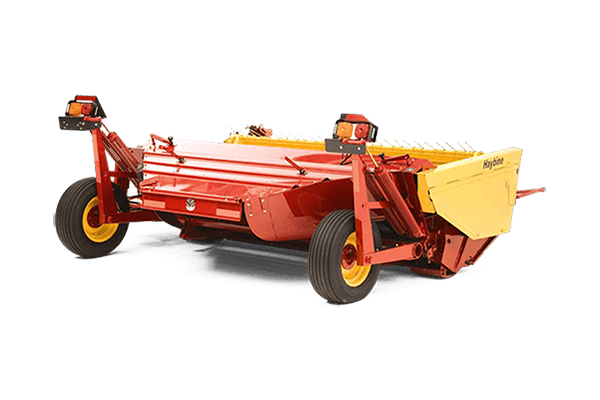 Double tap to zoom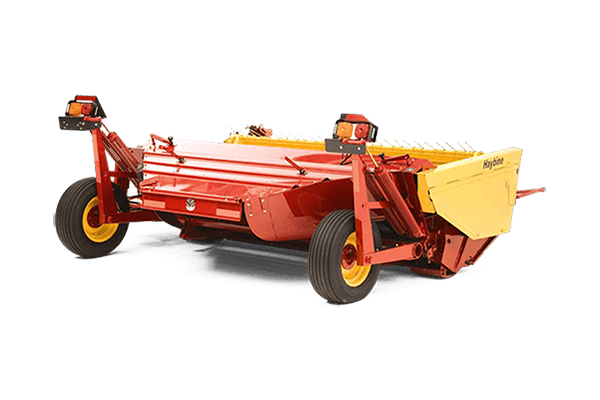 Features
LEGENDARY CUT QUALITY
Full header flotation and the reliable Haybine® cutterbar design assures close, even cutting every time.
PROVEN CONDITIONING
New Holland's plug-free roll-pressure system delivers smooth, thorough conditioning action.
SIMPLE ADJUSTMENTS
Crop and field conditions change, and New Holland makes it easy to adjust the cutting and conditioning action of your Haybine mower-conditioner to match your needs.
RELIABLILITY YEAR AFTER YEAR
High-volume haymakers and small family farms alike depend on Haybine performance season after season.
CUTTERBAR
SMOOTH, RELIABLE CUTTING
Haybine® mower-conditioners lead the pack in cutting through heavy, down and tangled crops. That smooth, reliable cutting starts with over-serrated, bolt-on knife sections, adjustable sickle hold-down clips and square back-bar guards. And Haybine sickle drive systems are designed to provide clean cutting, less wear and vibration, with minimum maintenance.
SINGLE KNIFE DRIVE (472 and 488)
The 472 and 488 feature New Holland's proven single knife drive system. The reliable wobble joint sickle drive delivers fast sickle speed for clean cutting with minimum maintenance.
ADJUSTABLE CUTTING ANGLE AND HEIGHT
It's easy to make a mechanical adjustment to knife and guard angle on the 472 and 488 models to suit crop and field conditions. Hydraulic cutting angle adjustment is standard with the H7150 trail frame, allowing changes on the go, right from the tractor seat, which is ideal for working in rocky fields. Adjustable header skid shoes allow for easy changes in cutting height.
CONSISTENT CROP FLOW AND UNIFORM CONDITIONING
The smaller 472 and 488 models feature a design where the reel sweeps crop directly from the cutterbar into the conditioning system for a smooth and direct crop flow. Reel speeds can be adjusted to compensate for crop conditions and ground speeds.
CONDITIONING

THE HEART OF EVERY HAYBINE—CONDITIONING
Get gentle but thorough conditioning from New Holland chevron-design intermeshing rubber rolls. Their unique spiraled pattern helps grip the crop and keep it moving. The lugs crack the stem every three to four inches to release moisture for fast drydown.
UNIQUE ROLL-PRESSURE SYSTEM
Don't get bogged down with crop plugging. The New Holland torsion-bar roll-pressure system applies near-constant pressure to the crop, even as the crop mat thickness changes, delivering the most consistent conditioning available. When the rolls reach their maximum opening, the pressure decreases automatically to permit slugs of crop to pass through without plugging.
EASY NO-TOOLS PRESSURE ADJUSTMENT
A turn of a crank is all it takes to change conditioning pressure to match field conditions. No tools are required. The critical roll-gap and roll tension can be adjusted for optimal conditioning, as well. For legumes, the roll should be maintained between 1/64 and 1/16 inches for optimum drydown.
MODEL 472 AND 488: STANDARD WITH RUBBER ROLL CONDITIONING
Model 478 and 488 are available with the proven New Holland chevron-design intermeshing rubber rolls. These rolls are nearly as wide as the cut to provide uniform conditioning to promote fast drying windrows or wide swaths.
Specifications
| | |
| --- | --- |
| Haybine® 472 |   |
| Auger |   |
| Auger | NA |
| Floating range, in. (mm) | NA |
| Speed, rpm | NA |
| Conditioner |   |
| Conditioner | Chevron-design intermeshing molded rubber rolls, torsion-bar roll pressure, single hand-crank adjustment |
| Roll length (crushing area), in. (mm) | 85 (2159) |
| Roll diameter, in. (mm) | 7-3/4 (199) |
| Drives    | Individual, #50 roller chain |
| Speed, rpm  | 818 |
| Pressure, lbs./in. (N/mm) | 2 to 38 (0.3 to 6.6) |
| Roll gap adjustment | Shims |
| Material discharge, in. (mm) | Adjustable gate for swath, windrow or intermediate widths |
|    | 38 and 72 (965 and 1829) |
| Cutterbar |   |
| Cutterbar | One assembly |
| Knives | Bolted, over-serrated sections, adjustable assemblies, timed, dual, counter-stroking sickles |
| Guards | Twin, forged steel, double-hardened hold-downs |
| Cutting height, in. (mm) | 1.25 to 4.25 (32 to 108) |
| Cutting angle, degrees | -7 or -10 |
| Hydraulic tilt | NA |
| Guard points max lift, in. (mm) | 18-1/2 (470) |
| Skid shoes | 2 |
| Sickle drive | wobble joint |
| Sickle speed, spm | 1632 |
| Sickle stroke, in. (mm) | 3 (76) |
| Cutting Width |   |
| Cutting Width, ft. in. (mm) | 7'3" (2210) |
| Dimensions |   |
| Overall width, operating, ft. in. (mm) | 11'11" (3632) |
| Overall width, transport, ft. in. (mm) | 10'4-3/4" (3168) |
| Overall length, transport, ft. in. (mm) | 13'1" (3988) |
| Overall height, operating, ft. in. (mm) | 3'5-3/4" (1060) |
| Overall height, raised, ft. in. (mm) | 4'8" (1422) |
| Drive |   |
| Drive | 540 rpm PTO |
| Hydraulic Cylinders |   |
| Hydraulic Cylinders | Optional header lift, Rope control |
| Minimum Tractor Req |   |
| Minimum Tractor Req | 30-hp (22.4 kw) |
|   | One remote hydraulic circuit required, capable of 1500 psi (10342 kpa) |
| Operating Speed |   |
| Operating Speed, mph (kph) | up to 8 (13) |
| Max safe transport speed, mph (kph) | 25 (40) |
| Reel |   |
| Reel | 4-tine bar |
| Peripheral speed, mph (kph) | 6.2 to 8.2 (10.4 to 13.2) |
| Speed Adjustment | Variable sheave |
| Diameter (maximum), ft. in. (mm) | 3'6-1/4" (1073) |
| Adjustments | Fore/aft, vertical, pitch |
| Drive  | Belt and chain |
| Bushings/bearings, in. (mm) | 1.25 (31.75) bearing w/collar at cam end and bushings at all other locations |
| Tires |   |
| Tires | 25 x 7.50-15 flotation |
| Tractor Hookup |   |
| Tractor Hookup | Equal-angle PTO |
| Weight |   |
| Weight, lbs. (kg) | 2110 (957) |