New Holland Duratank 3400S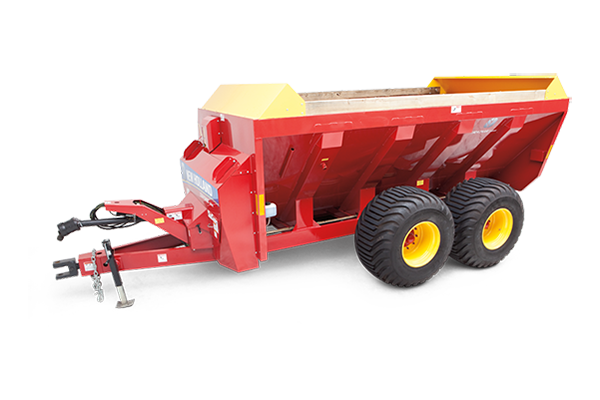 Double tap to zoom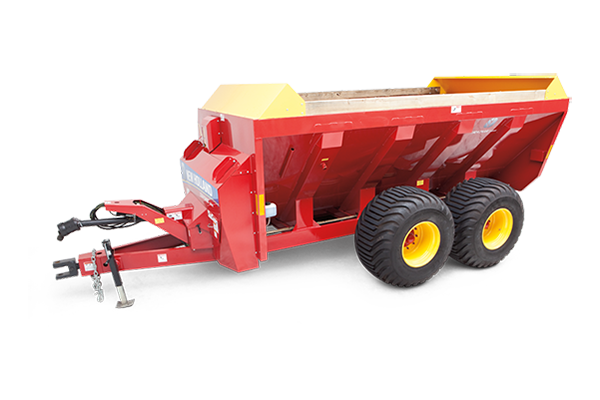 Features
DESIGN
RIGHT-SIDE DISCHARGE
Other side-discharge spreaders spread to the left and require you to look away from the tractor controls to monitor the performance of the spreader. The right-side discharge of DuraTank™ spreaders are designed to work with your body and tractor controls, allowing you to operate more comfortably. You spread right with New Holland.
OVERSHOT EXPELLER
The overshot expeller breaks up material and spreads in a uniform pattern. The expeller is less complicated to maintain since no shroud adjustments are necessary to maintain a uniform spread pattern.
EXPELLER PADDLE DESIGN
The expeller paddles are quicker to replace and less expensive compared to the hammers used on other brands. The quick-release poly-lined expeller trough reduces power consumption and paddle wear, especially in sticky or freezing conditions. With the pull of a handle, the expeller trough swings open to allow built-up material to fall.
SEGMENTED AUGER
Unlike other continuous flighted spreader augers, the DuraTank auger is segmented which provides continuous material movement yet doesn't overload the expeller in either dry or partially frozen conditions.
POLY LINER
The bolted and clamped poly liner reduces bridging, prevents materials from sticking in freezing conditions, and allows sticky materials to flow more easily to the auger for more even discharge. is bolted and clamped.
TANDEM AXLE FOR EASIER TURNING
The axle weight load is split 40/60 front to rear on the DuraTank spreader. This offset makes for smoother, easier turning on hard surfaces and provides greater floatation in soft field conditions.
CONVENIENT DOOR AND AUGER POSITION INDICATORS
Indicators are easy to see, even in low light conditions so you can monitor and control your spread rate with greater accuracy.
DURABILITY
GUSSETED TANK SUPPORTS
Gusseted tank supports distribute the weight of heavy loads and resist cracking. The largest model 3400S has a third tank support as well as lower tank support gussets for added strength.
HARDENED MAIN AUGER FLIGHTING
The main auger flighiing is also hardened to extend its service life and provides the needed strength when spreading dense, frozen or sand laden materials.
HYDRAULIC CYLINDERS
The master/slave main hydraulic cylinders synchronize the lifting and lowering to reduce stress on bearing and drives. The hydraulic cylinders are mounted from above using reinforced brackets for maximum durability.
HEAVY-DUTY TANDEM AXLE OPTION (3400S)
The 3400S is available with heavy-duty tandem axles with 4.5-inch spindles—perfect when spreading, heavy, sand-laden manure.
Specifications
| | |
| --- | --- |
| Duratank 3400S |   |
| Specifications |   |
| Capacity, gal. | 3,377 |
| Capacity, cu/ft. (m³) | 452 (12.8) |
| Weight, lbs. (kg) | 10,940 (4962) |
| Stress Proof Spindle Size, in. (mm) | 3.375 (85.7) std - 4.5" (114) opt |
| Wheel Hub | 10 bolt |
| Hub Capacity, lbs. (kg) | Std. 12,000 (5443) - Opt. 15,000 (6804) |
| Side Loading height, in. (mm) | 93 to 94* (2362 to 2388)* |
| Height at rear, in. (mm) | 101 to 102* (2565 to 2591)* |
| Tank Width-Top, in. (mm) | 97 (2464) |
| Overall Width, in. (mm) | 108 to 126* (2743 to 3200)* |
| Overall Length, ft. in. (mm) | 23' 7" (7188) |
| Auger Diameter, in. (mm) | 30 (762) |
| PTO Speed | 1000 RPM |
| Tractor requirement, PTO hp (kW) | 150 (112) |
| Hydraulic remote circuits required | 2 |