New Holland DuraDisc™ 210M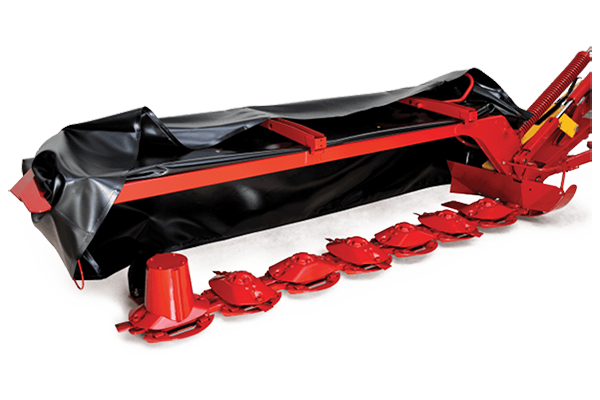 Double tap to zoom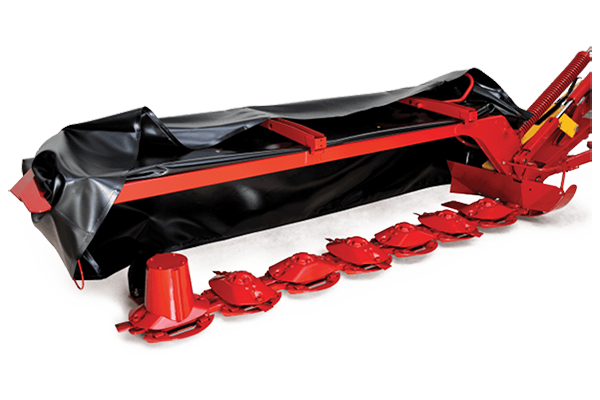 Features
INCREASED PRODUCTIVITY WITH BUILT-IN CONFIDENCE.
The New Holland heavy-duty DuraDisc™ 210M pull-type disc mower combines the benefits of a wide 10-foot, four-inch cut with easy hookup and a low horsepower requirement.
THE NEXT LEVEL OF DISC MOWER PRODUCTIVITY
You'll appreciate the smooth operation and maneuverability of the DuraDisc 210M. The 540-rpm PTO driveline features an 80-degree constant velocity joint for smooth, quiet operation and tight turning. A secondary CV driveline option allows you to "steer" around field obstacles on the fly.
CLEAN CUTTING WITH IN-FIELD FLOTATION
You get close, even cutting in uneven terrain with the DuraDisc 210M. The header is suspended from the main frame of the machine with large flotation springs that allow the header to float both vertically and laterally to cut close, but prevent damage and bulldozing in challenging conditions. You can adjust the flotation spring tension easily by turning the anchor bolts.
WIDE CUTTING AND WIDE SWATHS FOR FAST DRYING
Wheels are located inboard of the cutting edge to eliminate run-down of uncut crop. Crop deflectors direct the cut crop inside the tire path and into a wide 95-inch swath.
PROPER CUT QUALITY THE FAST, SIMPLE WAY WITH QUICKMAX™
Maintain a smooth, uniform cut quality by keeping knives sharp with the QuickMax™ knife change system. The special knife tool stored onboard the DuraDisc 210M lets you change bent or dull knives fast and get back to mowing. The QuickMax quick change knife tool and removable toolbox are attached to the right-hand side of the tongue for your convenience.
SAVE TIME WITH SIMPLE ATTACHMENT AND NARROW TRANSPORT
Tractor hookup is easy. Simply drop in the pin, hook up the PTO and three hydraulic hoses. Hydraulic tongue swing allows you to power the machine from transport to operating position and back. The right-hand end shield flips up for a narrow 10-foot, 10-inch transport width. A removable parking jack stand and convenient onboard storage location are provided. The left-hand shield can swing open for additional cutterbar access.
Specifications
| | |
| --- | --- |
| DuraDisc™ 210M |   |
| Cutterbar |   |
| Cutting width ft. in. (m) | 10'4" (3.2) |
| Cutting height in. (mm) | 0.95-3.2 (24-81) |
| Cutterbar tilt angle degrees | -2 to -10 |
| Cutterbar operating range degrees | +18 to -28 |
| Breakaway angle degrees | - |
| Cutterbar flotation | Vertical and lateral, adjustable springs |
| Type cutterbar | MowMax™ cutterbar, modular, with individual sealed reservoirs |
| Number of discs | 8 |
| Knives per disc | 2 |
| Disc cutting diameter in. (mm) | 19.7 (500) |
| Disc drive | Bevel gears in sealed modules |
| Disc speed RPM | 3000 |
| Cutterbar gear protection | Std. ShockPRO™: easy replace ShockPRO hub with a partial complement of sacrificial splines |
| Swath width, approx standard* in. (mm) | 95 (2413) |
| Swath width with optional swathboards* in. (mm) | - |
| Driveline |   |
| Minimum PTO horsepower required hp (kW) | 60 (44.7) |
| Input speed RPM | 540 |
| PTO shaft spline/size required | 6-spline / 1-3/8" |
| Driveline protection | Slip clutch |
| Overrunning clutch | Standard |
| Belt tension | - |
| Hydraulics and Hitch |   |
| Hydraulic circuits required | Two remotes |
| Minimum relief pressure required psi (bar) | 1500 (103) |
| Hitch | Drawbar clevis hitch |
| Dimensions and Weight |   |
| Overall width in. (mm) | 196 (4978) |
| Overall length in. (mm) | 183 (4648) |
| Height - transport position** in. (mm) | 62 (1575) |
| Weight, operating lb. (kg) | 2610 (1186) |
| Maximum transport speed | 20 mph/ 32.2 kph |
| Tires/wheels | 27 x 9.5 x 15 6 PR |