New Holland DuraDisc™ 108M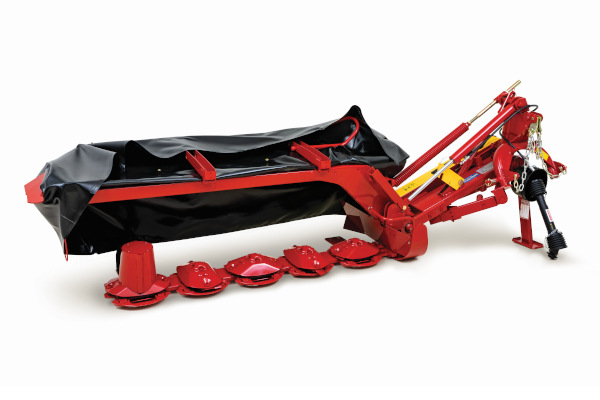 Double tap to zoom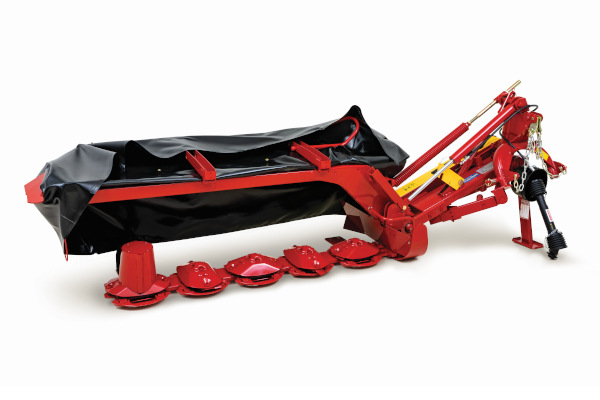 Features
DURABILITY IS STANDARD
DuraDisc™ heavy-duty disc mowers from New Holland combine fast cutting with trouble-free operation and easy servicing to assure you of the dependable performance you need season after season.
MOWMAX™ DISC CUTTERBAR 3-YEAR FACTORY WARRANTY
New Holland's MowMax™ disc cutterbar breezes through tough mowing conditions and is backed by three full years of factory warranty so you can cut close with confidence.
QUICKMAX™ KNIFE CHANGE SYSTEM KEEPS YOU SHARP
The QuickMax™ knife change system makes it quick and easy to keep knives sharp for the best cut quality.
CONVENIENTLY MOVE FROM ONE TASK TO THE NEXT
Quick-hitch compatibility on mounted models makes hooking and unhooking the mower from the tractor simple so you can move from mowing to tedding or raking seamlessly.
FAST, SMOOTH MOWING IN THREE SIZES
You can depend on rugged DuraDisc™ mounted disc mowers to slice through tough conditions and mow smoothly and quickly.
Choose from three mounted models:

• DuraDisc™ 107M - 5 discs - 6'8" cutting width
• DuraDisc™ 108M - 6 discs - 7'10" cutting width
• DuraDisc™ 109M - 7 discs - 9'2" cutting width
BUILT-IN CONVENIENCE TO SAVE YOU TIME AND EFFORT
During hay season, you need to make fast decisions and quickly move from one task to the next. A quick hitch makes the most of your time by allowing you to easily hook and unhook the mower when you need to switch to tedding, raking and baling. It's standard equipment on the DuraDisc™ 108M and 109M and optional on the 107M.
With the standard QuickMax™ knife change system, changing a dull or damaged blade takes less time than getting out of the tractor, so there's no excuse not to stay sharp. A special knife tool allows you to flip or replace knives easily from the front of the cutterbar. A storage location is provided onboard for easy access.
EASY SERVICE AND ADJUSTMENTS
Mounted disc mowers feature an exclusive V-belt tension spring with an easy-to-see tension indicator so you can check belt tension at a glance. Adjusting tension is easy too. There are no shields to remove. All it takes is a turn of a nut. Left- and right-hand swathboards are available to allow for swath width adjustment.
TRANSPORTATION MADE EASY
When you're ready to hit the road, use remote hydraulics to raise the DuraDisc Series mounted mowers to a locked vertical transport position. A removable parking jack stand and convenient onboard storage location are provided.
Specifications
| | |
| --- | --- |
| DuraDisc™ 108M |   |
| Cutterbar |   |
| Cutting width ft. in. (m) | 7'10" (2.4) |
| Cutting height in. (mm) | 1.25-3.5 (32-89) |
| Cutterbar tilt angle degrees | 0 to -10 |
| Cutterbar operating range degrees | +18 to -30 |
| Breakaway angle degrees | 30.5 |
| Cutterbar flotation | Vertical adjustable spring |
| Type cutterbar | MowMax™ cutterbar, modular, with individual sealed reservoirs |
| Number of discs | 6 |
| Knives per disc | 2 |
| Disc cutting diameter in. (mm) | 19.7 (500) |
| Disc drive | Bevel gears in sealed modules |
| Disc speed RPM | 3000 |
| Cutterbar gear protection | Std. ShockPRO™: easy replace ShockPRO hub with a partial complement of sacrificial splines |
| Swath width, approx standard* in. (mm) | 94 (2388) |
| Swath width with optional swathboards* in. (mm) | 62 (1575) includes LH & RH swathboards |
| Cutterbar |   |
| Cutting width ft. in. (m) | 7'10" (2.4) |
| Cutting height in. (mm) | 1.25-3.5 (32-89) |
| Cutterbar tilt angle degrees | 0 to -10 |
| Cutterbar operating range degrees | +18 to -30 |
| Breakaway angle degrees | 30.5 |
| Cutterbar flotation | Vertical adjustable spring |
| Type cutterbar | MowMax™ cutterbar, modular, with individual sealed reservoirs |
| Number of discs | 6 |
| Knives per disc | 2 |
| Disc cutting diameter in. (mm) | 19.7 (500) |
| Disc drive | Bevel gears in sealed modules |
| Disc speed RPM | 3000 |
| Cutterbar gear protection | Std. ShockPRO™: easy replace ShockPRO hub with a partial complement of sacrificial splines |
| Swath width, approx standard* in. (mm) | 94 (2388) |
| Swath width with optional swathboards* in. (mm) | 62 (1575) includes LH & RH swathboards |
| Driveline |   |
| Minimum PTO horsepower required hp (kW) | 55 (40.9) |
| Input speed RPM | 540 |
| PTO shaft spline/size required | 6-spline / 1-3/8" |
| Driveline protection | Belt drive to cutter bar |
| Overrunning clutch | Standard |
| Belt tension | Spring-loaded tensioner with adjustment gauge |
| Hydraulics and Hitch |   |
| Hydraulic circuits required | One remote |
| Minimum relief pressure required psi (bar) | 1500 (103) |
| Hitch | Category II quick hitch compatible |
| Dimensions and Weight |   |
| Overall width in. (mm) | 160.25 (4070) |
| Overall length in. (mm) | 50.5 (1283) |
| Height - transport position** in. (mm) | 119.5 (3035) |
| Weight, operating lb. (kg) | 1405 (639) |
| Maximum transport speed | - |
| Tires/wheels | - |
| DuraDisc™ 108M |   |
| --- | --- |
| Cutterbar |   |
| Cutting width ft. in. (m) | 7'10" (2.4) |
| Cutting height in. (mm) | 1.25-3.5 (32-89) |
| Cutterbar tilt angle degrees | 0 to -10 |
| Cutterbar operating range degrees | +18 to -30 |
| Breakaway angle degrees | 30.5 |
| Cutterbar flotation | Vertical adjustable spring |
| Type cutterbar | MowMax™ cutterbar, modular, with individual sealed reservoirs |
| Number of discs | 6 |
| Knives per disc | 2 |
| Disc cutting diameter in. (mm) | 19.7 (500) |
| Disc drive | Bevel gears in sealed modules |
| Disc speed RPM | 3000 |
| Cutterbar gear protection | Std. ShockPRO™: easy replace ShockPRO hub with a partial complement of sacrificial splines |
| Swath width, approx standard* in. (mm) | 94 (2388) |
| Swath width with optional swathboards* in. (mm) | 62 (1575) includes LH & RH swathboards |
| Cutterbar |   |
| Cutting width ft. in. (m) | 7'10" (2.4) |
| Cutting height in. (mm) | 1.25-3.5 (32-89) |
| Cutterbar tilt angle degrees | 0 to -10 |
| Cutterbar operating range degrees | +18 to -30 |
| Breakaway angle degrees | 30.5 |
| Cutterbar flotation | Vertical adjustable spring |
| Type cutterbar | MowMax™ cutterbar, modular, with individual sealed reservoirs |
| Number of discs | 6 |
| Knives per disc | 2 |
| Disc cutting diameter in. (mm) | 19.7 (500) |
| Disc drive | Bevel gears in sealed modules |
| Disc speed RPM | 3000 |
| Cutterbar gear protection | Std. ShockPRO™: easy replace ShockPRO hub with a partial complement of sacrificial splines |
| Swath width, approx standard* in. (mm) | 94 (2388) |
| Swath width with optional swathboards* in. (mm) | 62 (1575) includes LH & RH swathboards |
| Driveline |   |
| Minimum PTO horsepower required hp (kW) | 55 (40.9) |
| Input speed RPM | 540 |
| PTO shaft spline/size required | 6-spline / 1-3/8" |
| Driveline protection | Belt drive to cutter bar |
| Overrunning clutch | Standard |
| Belt tension | Spring-loaded tensioner with adjustment gauge |
| Hydraulics and Hitch |   |
| Hydraulic circuits required | One remote |
| Minimum relief pressure required psi (bar) | 1500 (103) |
| Hitch | Category II quick hitch compatible |
| Dimensions and Weight |   |
| Overall width in. (mm) | 160.25 (4070) |
| Overall length in. (mm) | 50.5 (1283) |
| Height - transport position** in. (mm) | 119.5 (3035) |
| Weight, operating lb. (kg) | 1405 (639) |
| Maximum transport speed | - |
| Tires/wheels | - |
– Not available ​
Note: Recommended for use with tractors having a fully enclosed cab
* Heavy swaths may fluff out to a wider swath after exiting the swathboard(s)
** Transport height is based on hitch pins being 24 in. (609 mm) above ground on DuraDisc 107M model and 18 in. (457 mm) above ground on DuraDisc 108M and 109M