New Holland BigBaler 340 CropCutter Rotor Cutter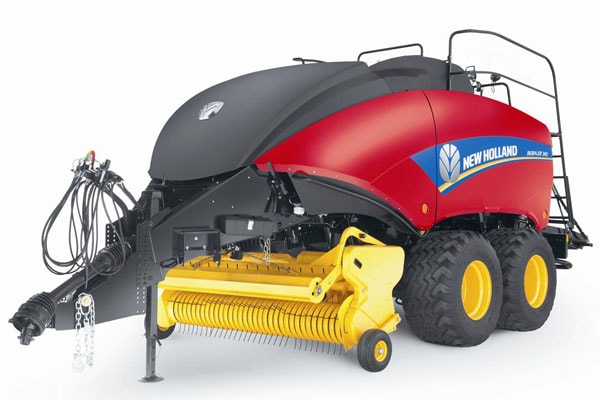 Double tap to zoom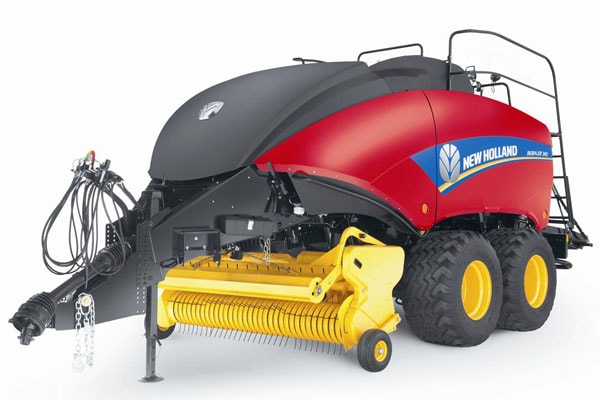 Features
Cropcutter™ Feeding Systems
GET THE BENEFITS OF SHORTER CHOP LENGTH
Chopping crop as it's fed into the baler provides a number of advantages. The shorter particle length allows for tighter packing of material in the bale, better fermentation in silage bales due to less air in the bale and more anaerobic bacteria activity. Cutting silage, hay or straw bales also allows for more efficient feeding and spreading of material. New Holland offers two flexible CropCutter™ feeding systems that allow you to adjust chop length to match your needs.
PACKER CUTTER (BIGBALER 230 AND BigBaler 330 only)
The simple, effective Packer Cutter uses three packer forks and six double tines to feed the crop through a set of serrated knives and into the precompression chamber. Use one to six knives for chop lengths as short as 4.5 inches. New Holland's staggered tine lengths/rotor lobes prevent crop pinching that's common with systems using tines or rotor lobes of the same length. A fill-flow floor improves crop flow in high-moisture conditions.
ROTOR CUTTER (BIGBALER 330 AND BIGBALER 340 ONLY)
For the widest range of chop lengths to match specific forage requirements, choose the Rotor Cutter system. Select from two cut length configurations—the short cut configuration delivers chop length as small as 1.5 inches, while the medium cut configuration delivers a chop length of 3.0 inches. The proven W-shaped rotor pattern divides the power requirement equally and also ensures an equal distribution of crop. The rotor now matches the width of the pre-compression chamber for straight-through, smoother crop flow, increased flake density and capacity.
SLIDE-OUT KNIFE DRAWER
The industry-leading, one-piece, slide-out knife drawer on CropCutter™ Rotor Cutter balers makes knife inspection and sharpening fast and easy. Sharp knives require less power and lead to a more consistent cut length.
Specifications
| | |
| --- | --- |
| BigBaler 340CropCutter™ Rotor Cutter |   |
| Bale dimensions |   |
| Width in. (mm) | 47.2 (1200) |
| Height in. (mm) | 35.4 (900) |
| Maximum length in. (mm) | 108 (3000) |
| Tractor requirements |   |
| Minimum PTO power hp | 150 |
| PTO speed rpm | 1000 |
| Hydraulic remotes |   |
| Single axle | 3 |
| Tandem Axle | 3 |
| Main drive |   |
| Protection | Shearbolt, overrunning clutch and slip clutch |
| Flywheel weight lbs. (kg) | 584 (265) |
| MaxiSweep™ pick-up |   |
| Width-flare to flare in. (mm) | 87.9 ( 2232) |
| Width-tine to tine in. (mm) | 86.6 (2200) |
| Flotation | Adjustable spring |
| Hydraulic pick-up lift | Standard |
| Gauge wheels 15 X 6.00-6-4ply | 2 |
| Pick-up protection | Slip clutch |
| Torque Setting ft. lbs. (Nm) | 1475 (2000) |
| Rotor cutter pickup cut out clutch ft. lbs. (Nm) | Optional -1549 (2100) |
| High performance rotor stop | Optional |
| CropCutter™ system |   |
| Abrasion resistant knife options | 15 or 29 |
| Knife distance in. (mm) | 3.1 (78) or 1.5 (39) |
| Knife removal | Sliding knife drawer |
| Knife activation, in - out | Hydraulic |
| Knife protection | Individual springs |
| Feeding system |   |
| Feeder | Rotor Width 47.2 in./1200 mm "W" lube configuration |
| Feeder protection | Slip clutch |
| Stuffer | Fork type with 6 tines |
| Stuffer protection | Shearbolt |
| Pre-compression chamber, volume ft.³ (m³) | 10.6 (0.3) |
| Plunger |   |
| Speed strokes/min | 48 |
| Length of stroke in. (mm) | 28 (710) |
| Tying system |   |
| Type | Double knot type |
| Number of twines | 6 |
| Knotter fan type | Electric |
| Knotter fan number | 3 |
| Knotter function alert | IntelliView™ monitor and visual |
| Knotter lubrication | Automatic greasing |
| Twine ball capacity | 32 |
| Bale density system |   |
| Proportional 3-way control | IntelliView™ monitor controlled |
| Manual override | Standard |
| Electronic control system |   |
| ISO 11783 connection ready | Standard |
| IntelliView™ III touch screen color monitor | Optional |
| IntelliView™ IV touch screen color monitor | Optional |
| Tires |   |
| Single axle. | 600/55X22.5 12 PR or 700/40X22.5 16 PR |
| Tandem axle with Auto-Steer™ | 500/50X17 14 PR |
| Large wheeled tandem axle with Auto-Steer™ | 550/45XR22.5 |
| Baler dimensions |   |
| Length chute closed (single piece) in. (mm) | 296.6 (7533) |
| Width (single axle 600/55X22.5 12PR tires) in. (mm) | 116.1 (2948) |
| Width (single axle 700/40XR22.5 16 PR tires) in. (mm) | 117.5 (2984) |
| Width (tandem axle 500/50X17 14PR tires) in. (mm) | 109.5 (2782) |
| Width (large wheeled tandem axle 550/45XR22.5 tires) in. (mm) | 113.2 (2876) |
| Width (large wheeled tandem axle 620/50XR22.5 tires) in. (mm) | 116.0 (2946) |
| Height (single axle) in. (mm) | 126.9 (3223) |
| Height (tandem axle) in. (mm) | 123.3 (3133) |