New Holland Big Baler 230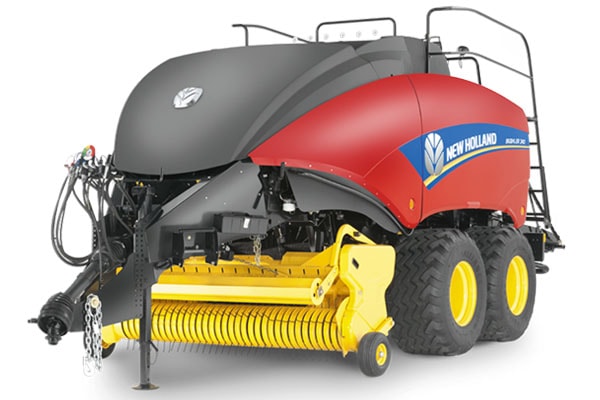 Double tap to zoom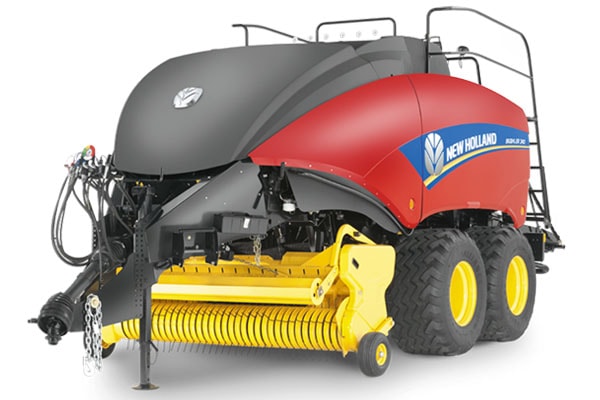 Features
Maxisweep™ Pickup
MAXISWEEP™ SPEED AND PEFORMANCE
The MaxiSweep™ pickup is designed to give you unsurpassed performance. Flare-to-flare width of the MaxiSweep pickup ranges from 77.5 inches on the BigBaler 330 standard to the industry's largest 92.6-inches on the BigBaler 340 CropCutter™ model.
"S"-SHAPED SIDE SHIELDING
This industry-exclusive design works to maintain crop flow into the augers. Material can even enter from the sides, especially important when picking up crop material at the edge of over-width windrows. The industry secret—top-undershot and bottom-overshot augers work in conjunction with the integrated crop flares to maintain constant, fast crop flows when negotiating curved windrows or slicing through overlapping end rows. Space between the end of the crop flare and outside tines is minimal to prevent crop from being missed.
STANDARD ROLLER WINDGUARD
The roller windguard is a standard feature. It rides the contour of the windrow on spring suspension to compress the windrow as it enters the pickup for increased throughput and better flow in extra-heavy windrows. Another standard feature is the full-width feed assist roller. Combined with the counter-rotating augers, it maintains constant and fast crop flow in the packer or rotor – a key component of continuous and high-capacity feeding.
FAST, SIMPLE ADJUSTMENTS
Adjusting pickup flotation is quick with no tools required. The spring-loaded suspension system maintains the pickup contact with the ground, even in rough, uneven terrain at high speeds. Spring-loaded gauge wheel adjustment means no tools required and nothing gets lost.
BEEFY CONSTRUCTION
Longer and thicker pickup tines are more durable and effective. Stronger 2-mm profiled pickup guards with welded tine bar supports, as well as stronger cam and cam bearings increase durability and pickup performance. Thick frame and side sheets increase rigidity—important when operating at higher speeds, driving over pivot tracks and uneven terrain.
Specifications
| | |
| --- | --- |
| BigBaler 230 |   |
| Bale dimensions |   |
| Width in. (mm) | 31.5 (800) |
| Height in. (mm) | 27.6 (700) |
| Maximum length in. (mm) | 108 (3000) |
| Tractor requirements |   |
| Minimum PTO power hp | 102 |
| PTO speed rpm | 1000 |
| Hydraulic remotes |   |
| Single axle | 2 |
| Tandem Axle | 2 |
| Main drive |   |
| Protection | Shearbolt, overrunning clutch and slip clutch |
| Flywheel weight lbs. (kg) | 538 (244) |
| MaxiSweep™ pick-up |   |
| Width-flare to flare in. (mm) | 77.5 (1968) |
| Width-tine to tine in. (mm) | 70.2 (1782) |
| Flotation | Adjustable spring |
| Hydraulic pick-up lift | Standard |
| Gauge wheels 15 X 6.00-6-4ply | 2 |
| Pick-up protection | Slip clutch |
| Torque Setting ft. lbs. (Nm) | 1069 (1450) |
| Rotor cutter pickup cut out clutch ft. lbs. (Nm) | — |
| High performance rotor stop | — |
| CropCutter™ system |   |
| Abrasion resistant knife options | — |
| Knife distance in. (mm) | — |
| Knife removal | — |
| Knife activation, in - out | — |
| Knife protection | — |
| Feeding system |   |
| Feeder | 2 packer forks 6 single tines |
| Feeder protection | Slip clutch |
| Stuffer | Fork type with 4 tines |
| Stuffer protection | Shearbolt |
| Pre-compression chamber, volume ft.³ (m³) | 8.8 (0.25) |
| Plunger |   |
| Speed strokes/min | 48 |
| Length of stroke in. (mm) | 28 (710) |
| Tying system |   |
| Type | Double knot type |
| Number of twines | 4 |
| Knotter fan type | Electric |
| Knotter fan number | 2 |
| Knotter function alert | IntelliView™ monitor controlled |
| Knotter lubrication | Automatic greasing |
| Twine ball capacity | 32 |
| Bale density system |   |
| Proportional 3-way control | IntelliView™ monitor controlled |
| Manual override | Standard |
| Electronic control system |   |
| ISO 11783 connection ready | Standard |
| IntelliView™ III touch screen color monitor | Optional |
| IntelliView™ IV touch screen color monitor | Optional |
| Tires |   |
| Single axle. | 600/55X22.5 12 PR or 700/40X22.5 16 PR |
| Tandem axle with Auto-Steer™ | 500/50X17 14 PR |
| Large wheeled tandem axle with Auto-Steer™ | 550/45XR22.5 |
| Baler dimensions |   |
| Length chute closed (single piece) in. (mm) | 294.4 (7477) |
| Width (single axle 600/55X22.5 12PR tires) in. (mm) | 101.1 (2568) |
| Width (single axle 700/40XR22.5 16 PR tires) in. (mm) | 102.5 (2604) |
| Width (tandem axle 500/50X17 14PR tires) in. (mm) | 94.4 (2398) |
| Width (large wheeled tandem axle 550/45XR22.5 tires) in. (mm) | 98.1 (2492) |
| Width (large wheeled tandem axle 620/50XR22.5 tires) in. (mm) | — |
| Height (single axle) in. (mm) | 123.3 (3133) |
| Height (tandem axle) in. (mm) | 123.3 (3133) |