Bush Hog 3510 Offset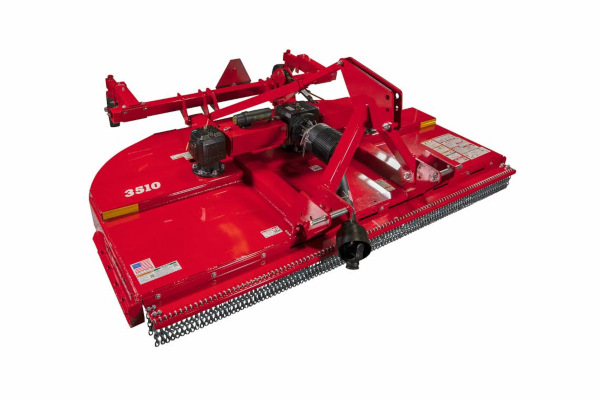 Double tap to zoom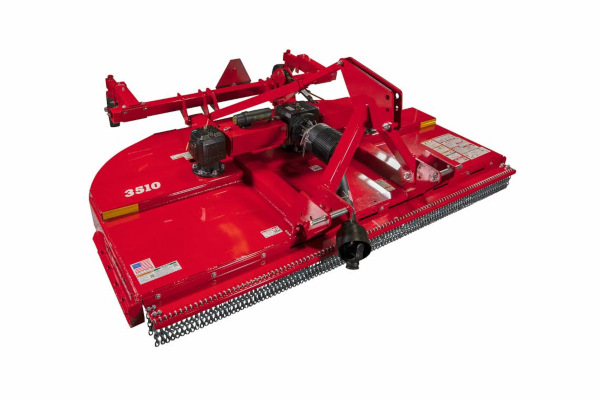 Features
Performance Features
10-feet, 6-inch cutting width
Deflector options
Folding shields over all cross shafts
Wide-angle constant velocity drive-shaft on pull models
Construction Features
Structural steel bracing and reinforced welding at all high stress points
Shields over all cross shafts fold away for quick access to clutch or universal joints
Special rubber-cushioned axle arms reduce shock during operation & transport
Wide-angle, constant velocity drive-shaft on pull models relieves the PTO working angle to reduce vibration
Product Features
Special rubber-cushioned axle arms reduce shock loads during operation and transport.
A wide angle, constant velocity driveshaft on pull models relieves the PTO working angle. This reduces vibration and allows smoother cutting in sharp turns.
All Bush Hog® Multi-Spindle rotary cutters feature structural steel bracing and reinforced welding at all high stress points. Streamlined deck design inhibits trash and water buildup problems.
Shields over all cross shafts fold conveniently out of the way to allow quick access to clutch or universal joints.
Specifications
| | |
| --- | --- |
| Model | 3510 Offset |
| Cutting Width | 10-feet, 6-inches |
| Cutting Capacity | Up to 3-inches |
| Cutting Height | 2 to 13-inches |
| Dimensions (WxL) | 11-feet, 1-inch x 13-feet, 5-inches (Pull) |
| Type Hitch | Pull Type (Self-Leveling); (7-feet, 10-inches Offset Beyond Tractor Center Line) |
| Deck Thickness | 10-gauge |
| Side Bands | 1/4-inch x 10-inches |
| Minimum Tractor HP | 50 PTO |
| Driveline | ASAE Category 5 |
| Cross Shaft | ASAE Cat. 5 Rubber Element |
| Gearbox HP | (3) 210 Center and 210 Outboard |
| Tractor PTO Speed | 540 RPM |
| Driveline Protection | 4 Plate PTO Slip Clutch |
| Height Adjustment for Heavy Duty Axle only | Manual or Hydraulic |
| Blade Holder(s) | Round |
| Blades | 1/2-inch x 4-inches - Uplift |
| Blade Tip Speed | 16,881 FPM/540 RPM; 17,400/1,000 RPM |
| Blade Overlap | 3-inches |
| Tires | Laminated, Airplane |
| Axles | Rubber Cushioned; Choice of Single or Dual Axle |
| Deflectors | Selection: Front chains and read bands or chains |
| Safety Tow Chain | (Pull with Single Axle) 2,624-lbs |
| Warranty | 1-year limited warranty with a 5-year gearbox limited warranty |
| Features | High Blade Tip Speeds, Deep Sidebands |