Bush Hog 4815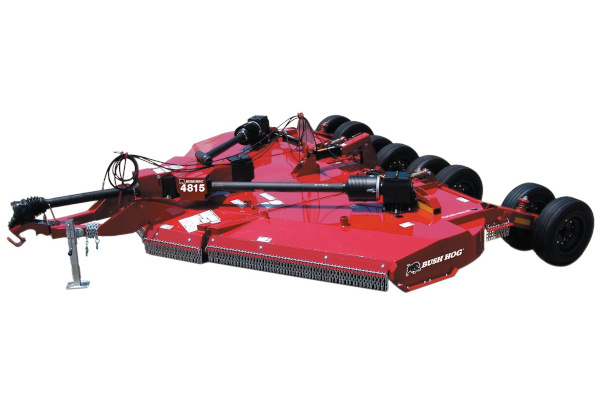 Double tap to zoom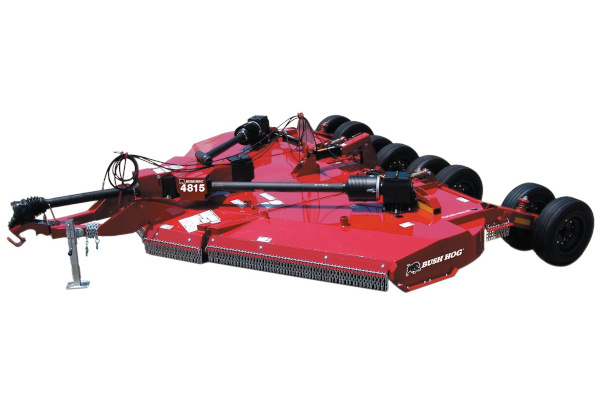 Features
Construction Features
Heavy structure on center section and wings.
Wing skids are 3/8" thick with an outside angle of 45 degrees to stop "ground dig-in" during turns.
All axle spindles are half shafts for quick and less costly maintenance.
Center section blades align closely with outside center tires to closely cut out the bottom of ditches.
Grease fittings and spring steel bushings are at axle pivot points for longer life.
Each cutting gearbox has a 3 inch output shaft with more and deeper splines than competitor models for maximum torque load capabilities.
All drivelines are EZ lube with grease points aligned and the cross bearing fitting is in the end cap.
Safety Features
Highway Safety Lights Standard
Specifications
| | |
| --- | --- |
| Model | 4815 |
| Transport Height | 7 ft., 3 in. |
| Splitter Gearbox | 250 H.P. |
| Gear Box Warranty | 6 years |
| Transport Width | 8 ft., 2 in. |
| Cutting Gearbox | 225 H.P. |
| Cutting Width | 15 ft. |
| Cutting Height | 2 in. to 14 in. |
| Cutting Capacity | 4.5 in. diameter |
| Blade Tip Speed | 16,000 FPM |
| Hitch | Perm-level or ball type |
| Minimum Tractor PTO | 70 H.P. |
| Top Deck Center Section | 11 ga. |
| Side Band | 1/4 in. x 12 in. |
| Bottom Deck Center Section | 7 ga. |
| Deck, Wings | 7 ga. |
| Blades | 1/2 in. x 4 in. |
| PTO Drivelines | ASAE Cat 6 |
| Wing Drivelines | ASAE Cat 5 |
| Wing Adjustment | Turnbuckles |
| Wing Flex | 22° down / 87° up |
| Wing Fee Float | 22° down / 45° up |
| Axle Cushions | Springs at each wheel |
| Safety Tow Chain | Standard |
| Highway Safety Lights | Standard |