Bush Hog 1812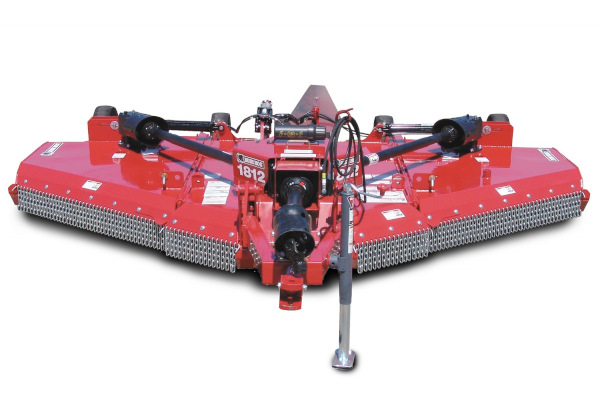 Double tap to zoom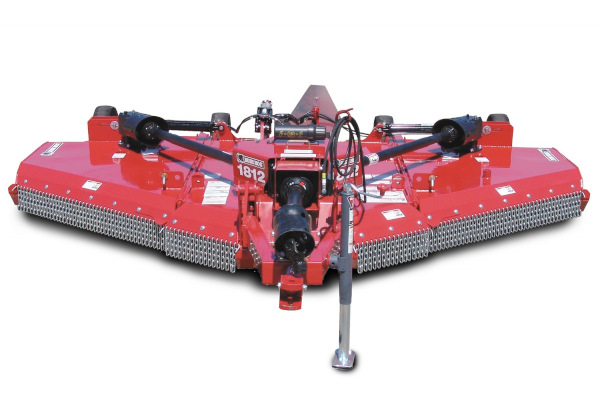 Features
Performance Features
E-Z clean smooth decks are on the center and wings.
Wing "free float" without movement of wing hydraulic cylinder rod extends cylinder life.
Gearbox oil sight gauge allows the checking of the oil level in a few seconds.
PTO driveline holder is standard.
Wheel spindles are in halves for economy and ease of maintenance.
A single hydraulic hose is standard for lifting. Two hoses are optional for lifting wings independently of center section.
Construction Features
Center section cushions are at each axle arm to absorb shocks near the wheels.
Replaceable full length sideband skids give maximum protection and strength to the sideband.
Wheel hub cap retainers are standard to prevent loss of cap and hub grease.
Safety Features
Safety lights for highway travel are standard.

Product Features
Full Length Sideband Skids
Each axle arm on the center section has a rubber cushion to absorb the shock loads near the wheels. Shown with optional dual tires on the center.
Patented oil sight gauge in all three cutting gearboxes for quick and easy monitoring of oil levels.
Specifications
| | |
| --- | --- |
| Model | 1812 |
| Cutting Width:  | 12 ft. |
| Cutting Height: | 2-inches to 12-inches |
| Hitch: | Cast Clevis |
| Tongue Weight: | 1,086 lbs. |
| Estimated Total Weight: | 3,278 lbs. |
| Tractor h.p. Range@ PTO: | 50 to 75 |
| Side Band: | 1/4 in. x 10 in. |
| Blades: | 1/2 in. x 3 in. Hi-Uplift |
| Blade Holder: | Oval Pan |
| PTO Drivelines: | ASAE Cat 4 |
| Center & Wing Drivelines: | ASAE Cat 3 |
| Wing Flex: | 22° Down to 87° up |
| Wing Free Float: | 22° down to 25° up |
| Splitter Gearbox Rating: | 160 h.p. |
| Cutting Gearbox Rating: | 65 h.p. |
| Gearbox Oil Sight Gauge: | Standard |
| Gearbox Warranty: | 5 Years |
| Blade Tip Speed @ 540 pto: | 14,464 FPM Center/13,930 Wings |
| Cutting Capacity: | 1 1/2 in. |
| Decks: | 10 GA. |
| Axle Pivot Points: | Bushings With Grease Fittings |
| Axle Cushions, Center Section: | Rubber Bumper Near Each Wheel |
| Wing Adjustments: | Turnbuckle |
| Safety Tow Chain: | Standard |
| Highway Safety Lights: | Standard |